When Alex and I finally got married, we decided we wanted to wait a year before even thinking about having a child.
That lasted a few weeks!
A New Possibility
The idea of having a baby plagued my mind constantly after we got married.
I thought about how cute a baby would look in my arms. I thought what a perfect addition a baby would be to our new family. I just thought and thought about babies.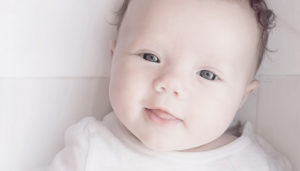 This new possibility overcame my mind, and my resolve to wait a year dissolved into baby hungriness.
I constantly had an internal battle that it was the right time and then 20 minutes' later it was not the right time.
Some days I would ponder and dream about having a cute, button-nosed baby in our little apartment. I would think all day and then I would talk to my husband.
I would ask what his thoughts were about the subject. He would always look at me like, "Where in the world did this come from?! I thought we were waiting a year?"
I guess our resolve stuck with him but missed the mark with me.
Preparation and Faith
I struggled with the concepts of preparing and of having faith. To me they seemed completely separate. But I have realized that these two concepts go hand-in-hand with anything in life.
We were struggling to pay rent, bills, and tuition. We were just married and learning to live together. We were learning how to be financially responsible, keep up on homework, develop our marriage, budget our money, and keep the apartment clean (especially the dishes—which had to be hand washed).
I think I needed faith that I could be a wife before being a mother. The stress of life took over and I soon became afflicted with migraines, sickness, anxiety, and the dreaded weight gain. But I was convinced a baby would help.
Since I was already in pain, it seemed like it would be better to have a purpose for that pain. I would rather gain weight because of a baby than just from not exercising enough.
All you parents must be laughing at me and think I am very naive, but this is what I thought.
Another reason why I thought a baby would help is because in my Patriarchal Blessing it says that I am supposed to be a mother. I took that seriously. Everything I did must bring me closer to becoming a better mother.
I served a mission because I wanted to learn how to teach the Gospel, build a stronger testimony, help others, and become a better mother.
I wanted to finish my bachelor's degree because I wanted to gain more knowledge, prove to myself that I could do it, and become a better mother.
Then I became concerned that I was waiting too long. I had many quotes from General Authorities saying never to wait to have kids for any selfish reason.
General Authorities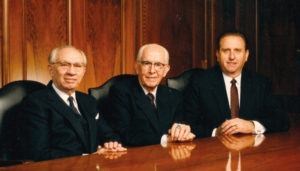 The Church and General Authorities have always encouraged having children. President Ezra Taft Benson said in a Fireside for Parents in 1987 concerning having children,
Do not curtail the number of your children for personal or selfish reasons. Material possessions, social convenience, and so-called professional advantages are nothing compared to a righteous posterity.
When I read this quote, I immediately felt guilty for wanting to finish my education before having kids. Was my desire to finish my education selfish? I only had two semesters left until I was finished, was that too long?
Then I remembered quotes and talks about how gaining an education is so vital and important. My favorite quote is by Elder Nelson,
Your mind is precious! It is sacred. Therefore, the education of one's mind is also sacred. Indeed, education is a religious responsibility. Of course, our opportunities and abilities will vary a great deal. But, in the pursuit of one's education, individual desire is more important than is the institution you choose; personal drive is more significant than is the faculty.
After prayer and talking with my husband, parents, and in-laws, I realized that if I finished my education before having a baby, I was not being selfish. I knew that gaining an education would help me be a better mother.
Not everyone had such an easy decision. Alex, my husband, still had 3 years left of college (not counting his master degree years). For us it made sense that we would not wait that long before having children.
Here are some selfish reasons for not having a baby.
I don't want to mess up my body.
I don't want to give up my time with my spouse for a baby.
I don't want to spend all that money on a baby.
Sleep is too important to me.
Of course one cannot only base their decision to become a parent on whether they are being selfish or unselfish. Communicating with Heaven and receiving inspiration is a vital part of any decision-making process.
Prayer
I would pray and ask Heavenly Father if having a baby was the right thing. Every time. And I mean EVERY TIME. I got a nice warm feeling. Because guess what…having a family IS the right thing. It always will be. I should have asked if should we start a family NOW.
Therefore, every time I prayed about it and got my nice warm feeling, I assumed the Spirit was telling me that it was time.
I would count out nine months and see where everything would fall in place. And then I would remember some important things.
We have only been married a few months
I thought we said we would wait to have a baby for a year?
I only had a year left of college, how about I graduate first.
Nine months from now is in the middle of a semester, awkward.
Neither of us are working…how are we going to pay for a bundle of joy?
People have always told me that when the time is right you will "just know." I supposed that I just had to accept that right then might not be the right time.
Differences in Families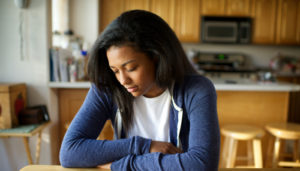 Not only would I pray and seek heavenly help, but I would also seek the counsel of my parents and in-laws. Sometimes this made me more confused because of the differences in our families.
My parents waited over two years before having my older brother. My mother said that those two years were a great time to get to know my dad.  It was a time to learn how they each worked and reacted to different circumstances.
During this past year, Alex and I have learned how to work together during stressful situations. This foundation we have built will continue to strengthen, but I am grateful that we have gained some foundation.
Sometimes I wonder about what it would be like if we did have children already.  Would Alex would know that when I say "Nothing is wrong" it really means "I'm freaking out and something is definitely wrong?"
Alex's parents did not wait long to have children. They have encouraged us to do what we truly want to do and they reminded us that children enriched their lives.
Even though the experiences of our parents both differ, it always reminds me that both options are possible. And in reality the decision is always between us and the Lord.
My Answer
Deciding when to have children can be a very daunting and exciting decision.  And it may be harder than newly married couples imagine. The initial excitement may turn into baby hungriness.  But with help from the Lord, your spouse, parents, and General Authorities; each couple can learn when the right time for a family is for them….Even if that takes a long process of prayer and confusion. But then again, when was life supposed to be simple?
About Guest Author

Twitter •