When I was younger, I wondered what life held in store for me. Each day was an adventure. Discoveries and new realizations were frequent occurrences. Do you remember that? New vocabulary, original experiences, and life's schooling was intense. But the young are resilient, and my decisions taught me lessons that needed to be learned. Childhood was carefree and fun for the most part. Dark, sinister diversions were expelled to the outskirts of town in places we never used to go. Occasionally, we were exposed to the vices of life, but at that point in my upbringing, I didn't recognize them or know them as such. Let me explain with a true example from my own life.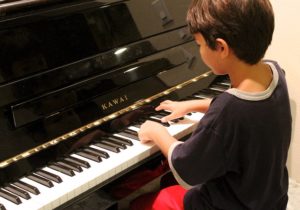 When my son was just a boy, he learned to play the piano at the persistence of his mother. Later he took on the percussion and excelled at drums. In high school, he learned to play the guitar. He used his gift to produce a number of songs. His thought-provoking lyrics and catchy tunes still cheer our home with fun and harmony. I am amazed at his talent. This passion continued into college, and his abilities were noticed by others. The gigs where he played let him pursue his passion and have fun doing it. Upon sharing his music with the family, his grandfather would ask for a copy of the lyrics so he could read the words and follow along the verses and chorus lines. I think the words made the songs even that much better, and Grandpa didn't want to misunderstand any one of them. My son excelled in his music.
It is now ten years later. Since that time, this young man married and had a son of his own—my first grandchild. Honestly, watching them face struggles of early parenting and building a life together has brought back numerous memories. My daughters are doing the same kind of things and experiencing the ups-and-downs of life. They too are building families, completing education, and rearing children. I can step back and behold a wondrous plan that is coming together in its perfect form and implementation. The hope we have in Jesus Christ makes this all possible and relevant in our lives. We are not alone, and the Great Plan of Happiness is fulfilling its role to help us become edified and progress toward the full measure of the stature of Christ even though the world today is much different than when I was a boy.
In those days, good was generally accepted by pretty much everyone or so it seemed to me. I remember reading the following warning in the scriptures and wondering when it would happen:
2 For men shall be lovers of their own selves, covetous, boasters, proud, blasphemers, disobedient to parents, unthankful, unholy,

3 Without natural affection, trucebreakers, false accusers, incontinent, fierce, despisers of those that are good,

4 Traitors, heady, high-minded, lovers of pleasures more than lovers of God;
At the conclusion of a most solemn of the discourses delivered by Christ in the flesh, the Lord said: "These things I have spoken unto you, that in me ye might have peace. In the world ye shall have tribulation: but be of good cheer; I have overcome the world."
In a recent BYU Devotional, Elder Jeffrey R Holland focused on the social, political, and cultural contributions that religion has provided us for centuries, but" (he continues) "I testify that true religion—the gospel of Jesus Christ—gives us "peace in this world, and eternal life in the world to come.
"True religion, the tie that binds us to God and to each other, not only seals our family relationships in eternity but also heightens our delight in those family experiences while in mortality. Well beyond all the civic, social, and cultural gifts religion gives us is the mercy of a ­loving Father and Son who conceived and carried out the atoning mission of that Son, the Lord Jesus Christ, suturing up that which was torn, bonding together that which was ­broken, healing that which was ill or imperfect, "proclaim[ing] liberty to the captives, and . . . opening . . . the prison to them that are bound."
Today there is great emphasis on family history work, but the effort began thousands of years ago. With the amazing advances in genealogy, we are still just beginning to realize the breadth and depth of our calling and the extent of our efforts. Still, technological advances further the great plan of happiness.
"Because my faith, my family, my beliefs, and my covenants—in short, my religion—mean everything to me, I thank my Father in Heaven for religion and pray for the continued privilege to speak of it so long as I shall live. May we think upon the religious heritage that has been handed down to us—at an incalculable price in many instances—and in so remembering not only cherish that heritage more fervently but live the religious principles we say we want to preserve. Only in the living of our religion will the preservation of it have true meaning. It is in that spirit that we seek the good of our fellow men and women and work toward the earthly kingdom of God rolling forth, so that the heavenly kingdom of God may come.

"May our religious privileges be cherished, preserved, and lived, binding us to God and to each other until that blessed millennial day comes."
The Gospel of Jesus Christ is our religion and holds the answers to happiness both in this life and the next.
Now as a grown man, a father, husband, and grandfather each day is still an adventure. Discoveries and realizations continue frequently. And because of the Atonement of Jesus Christ, they always will.
###
About the Author
About Walter Penning
In 1989, Walter Penning formed a consultancy based in Salt Lake City and empowered his clients by streamlining processes and building a loyal, lifetime customer base with great customer service. His true passion is found in his family. He says the best decision he ever made was to marry his sweetheart and have children. The wonderful family she has given him and her constant love, support, and patience amid life's challenges is his panacea.
Twitter •