My son-in-law is an accomplished golfer. I mean, he is not a professional or anything, but he is a good amateur golfer—a lot better than me. He just graduated from college with his master's degree and is now in the job search with several promising opportunities before him.
As such, he and my daughter are now transitioning through the memorable time of making monumental decisions as a couple and pursuing this interesting part of their lives together finding a new home and life's work and staying with us for a short time during this transition.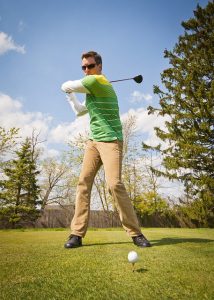 The girls had activities and appointments already scheduled and went their separate ways this morning, so the two of us men went to the driving range to hit some balls.
I will probably never be as good a golfer as my son-in-law Jerimiah, but he never acknowledges his superiority, and we enjoy participating together in something he really loves. His history on the green includes golf classes and tournaments in high school, a natural gift for a perfect golf swing, and years of practice and instruction through his life.
On the other hand, golfing is a sport that I took up as an adult. I haven't been doing it for all that many years, but I enjoy the comradery with friends and share a common interest with others in my family. For me, doing something we enjoy and spending time with people I care about are the reasons why I like golf. My score is not the focus of my efforts, and it shows in my game, but I am ok with that.
Back to my story, Jerimiah and I were hitting balls at the driving range. We both weren't doing as well as we would have liked to, but we persisted. Then a large class of high school students came with their teacher to the driving range. The group included mostly young men and a few young women. They were having fun and obviously had done this before, but the balls started flying in every direction possible. Sometimes they went a fair distance, but frequently they rolled off the tee or the club missed the ball altogether during the swing.
The teacher strolled among his class members and encouraged and instructed some, but mostly he let them have fun associating with one another, and they did. He didn't disparage them for doing a poor job or not hitting the ball. But occasionally he corrected them when they asked for help.
I thought of this experience and decided to share it with you because the implications to our own lives are uncanny. Learning a few techniques to improve our game applies here and now. Like life, our golf game has ups and downs over time. Like golf, our lives are strewn with unexpected hazards, mistakes, and an unending number of do overs, but that's ok. These perils make things much more interesting and ultimately make the game worth playing.
Our great Judge and Teacher knew that we would face opposition in this life. He prepared a plan by which we could benefit from the hardships that are sure to come if we love and follow Him.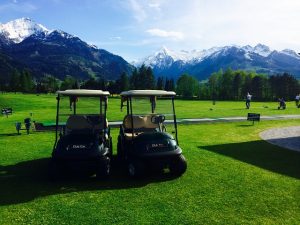 The prophet Lehi taught the necessity of opposition in our lives in mortality.
For it must needs be, that there is an opposition in all things. If not so, my firstborn in the wilderness, righteousness could not be brought to pass, neither wickedness, neither holiness nor misery, neither good nor bad. Wherefore, all things must needs be a compound in one; wherefore, if it should be one body it must needs remain as dead, having no life neither death nor corruption nor incorruption, happiness nor misery, neither sense nor insensibility. 2 Nephi 2:11
A young man was hitting balls on the driving range in the shoot beside Jerimiah and me. "Young man, you are doing a great job. Coming to the driving range regularly and practicing like you are doing today will have enormous impact on the quality of your game. You may not notice it early on, but hang in there and I promise you will see it." I pointed out that Jerimiah started practicing his golf game in high school.
This young man smiled and thanked me for the encouragement. I responded that it was my treat to witness his dedication. Worthwhile activities are never easy.
As we collected our gear and returned to our homes, I thought how the similarities between a game of golf and the challenges, rough, and hazards prolific in our lives.
A friend gave me some good advice about handling obstacles that though it was initially targeted with the intent of helping me improve riding my bike, I have found this principle has assisted me in improving my golf game and my life.
The advice goes something like this. When attempting to navigate the challenges of a rough trail, bikers frequently focus on the obstacles in an effort to avoid them and miss colliding with the same. That may work, but it is not the best strategy. Preferable is to focus on where you want to go and laser in on that path, since the route that will lead you to success and take you to your destination is the one that should get all your attention and emphasis.
When I have to recover my ball from a sand trap or soar across a pond, my focus should be the green where I want my ball to go rather than fearing the hazard that is strewn in my way.
That advice works not only when playing golf but for living life, as well. Focus on your ultimate destination, and the details will take care of themselves.
Our goal is a hole in one with every swing no matter where we are on the course.
Despite struggles, the proper perspective shows the right way.
Obedience is the key to happiness.
41 And moreover, I would desire that ye should consider on the blessed and happy state of those that keep the commandments of God. For behold, they are blessed in all things, both temporal and spiritual; and if they hold out faithful to the end they are received into heaven, that thereby they may dwell with God in a state of never-ending happiness. O remember, remember that these things are true; for the Lord God hath spoken it. Mosiah 2:41
Consider the blessed and happy state of those that keep the commandments of God.
President Howard W. Hunter illustrates opposition by using a story about a Samoan boat race.
Opposition permits us to grow toward what our Heavenly Father would have us become.
About Walter Penning
In 1989, Walter Penning formed a consultancy based in Salt Lake City and empowered his clients by streamlining processes and building a loyal, lifetime customer base with great customer service. His true passion is found in his family. He says the best decision he ever made was to marry his sweetheart and have children. The wonderful family she has given him and her constant love, support, and patience amid life's challenges is his panacea.
Twitter •