I have some random thoughts to share with you. At first you may think they are unrelated. They are not. They are definitely related.
a great stallion at full gallop in a meadow, who—

at his master's voice—seizes up to a stunned but instant halt. . . .

. . . only the velvet ears

prick forward, awaiting the next order.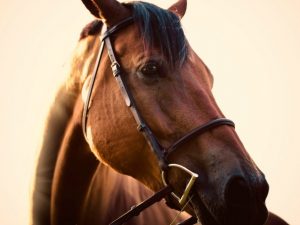 These lines of verse are by Mary Karr, and were once quoted by Neal A. Maxwell.
"Do you see a new picture of meekness being at 'full gallop' but with 'velvet ears'?" asked Elder Maxwell.
Whatever challenges you are facing, the gospel of Jesus Christ has the answer to achieving your goals and attaining the happiness you desire.
There is a quote from a series that I really enjoy that goes something like this:
"I feel like my depression — I feel like it was probably at that point in my life when I changed, that was my greatest weakness, if anything. And to in one day change that to my greatest strength and keep that my greatest strength for two years now, it gives me a lot of confidence.

"And if I can change my greatest weakness in one day, what else can I do?"
Then, this young man relates that he made a breakthrough. He continues with the following realization:
"A few years ago, I made this discovery that if I wanted to, I could prevent being sad by detaching from it. When you love people you can empathize with them more. You can understand what they are feeling.

"And by that you can help them more. The thing is, loving people kind of hurts. It hurts to empathize with people. I thought that as I went on with my mission, that it would get easier, because I'd get used to it. But it doesn't. I want to be — I want to have self-control and self-mastery. But I want to love people at the same time.

"John 11:35: 'Jesus wept.' And the perfect human, the perfect example of manhood, and the perfect example of self-control and self-mastery, wept."
Life can be hard, but the joy that comes from following the gospel dispels the gloom that the adversary throws at us every day. Patience and sometimes pain are essential. They are necessary companions for a life well-lived. But the gospel dispels pain with hope and gives hardship value.
The breakthrough is likely a realization of the worth of hardship and understanding that pain has an important role and value.
Even for a perfect life like our Savior's.
I was recently exposed to a philosophy that I love. The more I hear it, the more I like it—and I think you will, too. I came across this by happenstance one day while browsing Facebook. A good friend shared a link to another post which goes something like this:
I deeply believe that feeling connected and loved by your tribe is one of the greatest healing forces for good in this life. So grateful for my big crazy tribe and the passionate way our family loves and rallies. Feeling blessed ♡
Too often we are competing with our brothers and sisters to outdo, outperform, or covet another's circumstance.
Way back in 1972, our tribe posed for a beautiful family photo. A lot has happened since those days. I can look back at that time and think I really had no idea what life was holding for me and my tribe. But we were together, united, and strong. That is the only picture I still remember in which I was taller than my younger brother.
Life takes us contrasting ways, and we face obstacles and challenges starkly different from one another. But we are still brothers and the unity and accord that held us together as a young struggling family can still bond us together in our later years. Too often, unfortunately, we let pride and jealousy influence our actions, philosophy, and attitudes. Instead of harmony, we may allow emotions to pull us apart and compare, judge, and criticize one another. That's one of the things I love about my father. In the midst of comparisons, criticisms, and cupidity, he pursued acceptance, support, and harmony with everyone. He followed the example of the Savior.
Some years ago, one of our nationally known radio commentators was asked the question, "What message could be broadcast to the world that would be considered of greater importance than any other message?" And he said, after giving the matter careful thought and deliberation, "To be able to say that a man who had lived here upon this earth had returned again with a message from God would be the greatest message that could be broadcast to the world."

And that being true, we have the greatest message—not only that prophets like Moroni,  John the Baptist, and Peter, James, and John have visited this earth, but God the Father and his Son Jesus Christ . . .

(LeGrand Richards, "Stange Creeds of Christendom," October 1972)
I wrote the following to my brother:
"We come from good stock. Our father and mother together combined their talents and goodness to create a family and home, which was the envy of many—not unlike the kingdom prepared for us. I try every day to live up to the great example they set for us. Our children are the source of our happiness now and for many years to come. In fact, they will rise to a level of accomplishment that you and I will likely never attain. But that's okay. Being fathers gives us a different perspective than we once held. Our joy comes from helping make our families happy. Which for us is very interesting since that is exactly where my mother and father derived their happiness and how God increases His.
Family is obviously very important to us both. Thanks for sharing the family pictures of yesteryear, the great times and the great memories. I am fortunate to be your brother now… I always have [been].
And because of the Savior Jesus Christ, we will all be our finest and together forever as family. Even the tough times will have value in our lives.
Lucky to be a part of your family and really grateful for you.
I love you, brother."
Blessed are the meek: for they shall inherit the earth. (Matthew 5:5)
About Walter Penning
In 1989, Walter Penning formed a consultancy based in Salt Lake City and empowered his clients by streamlining processes and building a loyal, lifetime customer base with great customer service. His true passion is found in his family. He says the best decision he ever made was to marry his sweetheart and have children. The wonderful family she has given him and her constant love, support, and patience amid life's challenges is his panacea.
Twitter •