When it comes to seasoning our food there are many herbs and spices to choose from, but first it is important to understand the difference between them.
Herbs are the fresh and/or dried leaves of plants and are usually green in color. Spices are the flowers, fruit, seeds, bark, or roots of plants, often tropical, and come in a range of colors. Their main uses are to add color or flavor to food, in addition to preserving food for later use. But many have medicinal qualities as well.
Most spices have a pungent flavor while herbs are less intense.
Spices have an interesting history, can be found all over the world, and are an essential part of many culinary practices. An Egyptian scroll called the Ebers Papyrus lists plants that were being used for medicinal purposes as far back as 1550 B.C. A few of the spices listed on this scroll are anise, mustard, saffron, cinnamon, and cassia. The study of herbs is well-documented as there is evidence of students studying herbs in Egypt which dates back to around 3000 B.C.
There are hundreds of different spices around the world, but only about 50-60 are commonly used in many different countries.
At this time of the year when so many people are spending time together at family gatherings and other holiday events we use a lot more in the way of spices in food preparations and our favorite holiday baked goods.
There is something inviting about the aroma of freshly baked pies and cookies, the scents of vanilla, cinnamon, and cloves permeating our senses. You can buy imitation flavorings but why would you want to cut corners on such amazing ingredients?
Real vanilla – from the vanilla bean is more than just delicious and aromatic, the vanilla bean contains a wide array of chemical compounds and beneficial oils, which have their own health perks. Studies have shown that it can control blood pressure, reduce heart rate, soothe the nerves, regulate the body metabolism, induce sleep, and build strong bones.
Cinnamon – which can be used in so many kinds of baked goods as well as food such as sweet potato, and squash can (among other things) reduce inflammation, eliminate pain, manage diabetes, eliminate infections, reduce excess gas, and improve heart health.
Anise Seed – is a spice with antioxidant capabilities, that aides digestion, is an expectorant, and is a great source of vitamins and minerals like iron, potassium, copper, and manganese. It helps to increase the circulation and oxygenation in the body while boosting the immune system and improving the quality of the skin.
Cloves – have a very strong taste. They are antioxidants, have antiseptic qualities, and are anti-inflammatories. They also contain a number of organic compounds and oils that are good at protecting against cancer, managing heart rate, balancing bodily fluids, improving digestion, and strengthen the membranes throughout the body. They can preserve an apple, flavor a ham, or add a distinct taste to desserts like pumpkin pie and ginger bread.
Allspice – is another spice that is commonly used in baked goods. It has anti-inflammatory effects and has been linked to reducing cancer, improving oral health, stimulating digestion, facilitating bone growth, boosting the immune system, reducing blood pressure, and acting as an analgesic or anesthetic substance.
The use of spices combined with wholesome real ingredients like butter or coconut oil and organic flour and cane sugar, instead of the bleached GMO versions of these products, will give you not only a delicious way to celebrate the holidays, but also go a long way to protecting your health.
Try new things in your holiday baking. For instance I used to use maraschino cherries in cookies and fruit breads until I discovered how they were made. Now I substitute with dried cherries or cranberries and the results have exceeded my expectations. Below is a family favorite that I have adapted to include healthier ingredients than the original version. Enjoy!!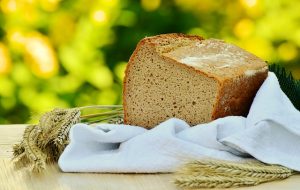 Denise's 3 C Holiday Bread
Combine together
2 ½ Cups Flour
1 Cup Sugar
1 tsp Baking Powder
1 tsp Baking Soda
1 tsp Cinnamon
In a small bowl mix together
3 Eggs
½ Cup Milk
½ Cup Coconut Oil
Stir in with dry ingredients until moistened. Then fold in
2 Cups Shredded Carrots
1 ½ Cups Flaked Coconut
½ Cup dried Cranberries
½ Cup Raisins
½ Cup Chopped Nuts of Choice (Pecans are a good choice)
Pour into prepared baking pans and bake for 40 to 45 mins at 350 degrees F or until a toothpick comes out clean. Cool completely before cutting or storage.
* For a festive holiday tradition we like to bake this bread and give it to our friends. To make it extra special bake it in tin cans instead of standard bread tins. To do this I start saving cans about a month before so that I will have enough. Due to the possibility of sharp edges on the cans use extra care when greasing and flouring the cans. After preparing the cans spoon the batter into them.  Fill the cans about 2/3 full with batter and bake for about 30 mins. The baking time is an estimate only, you will have to keep an eye on the baking time as different size cans will require different amounts of time. Using the toothpick method is the best way to be sure if they are done.
After 10 mins gently run a butter knife around the inside edges of the can to loosen the bread and slide it out onto a clean surface. Allow the bread to completely cool. Put the bread onto the center of a large square of foil and roll it up leaving the ends to be tied together with colorful ribbons or crinkle tie. These make a festive and unique addition to any gift basket!
References:
https://www.organicfacts.net/health-benefits/herbs-and-spices/spices.html
http://extension.psu.edu/plants/gardening/fact-sheets/herbs/herb-and-spice-history
About Denise Mastrocola
Denise is a Michigander turned Pennsylvanian, who has been writing stories since Elementary School. Denise won an award at the annual Lansing Youth Talent Show, when she was in 10th grade, for a short story entitled Procrastination is Fatal, but didn't decide on writing as a career until she was 28 years old. While homeschooling her older children she spent 4 years working through a course from The Institute of Children's Literature. Through the years Denise's children have had a variety of health issues, many of which have been linked to various sensitives; having spent more than 20 years researching and trying different things Denise has a boots on the ground view on healthier living. Denise currently writes for 2 blogs and has several books in different stages of completion. She is planning to break ground in e publishing, and hopes to have her first Historical Fantasy book which is set during the renaissance, "Lisa, My Lisa?" ready by the first of the year.
Twitter •