It's that time of the year when it feels so good to wrap your hands around a mug of hot chocolate, or to sit down to a steaming bowl of soup or stew.
Canned soups, stews, or pasta dishes are convenient and easy to prepare, but convenience comes with a price. It's all too easy to pack in extra sodium and unhealthy fats, not to mention unwanted GMOs when purchasing processed and prepackaged foods.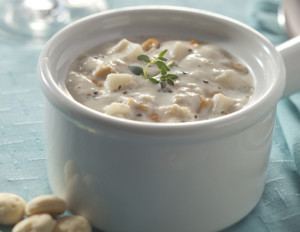 For example, a can of my son's favorite New England Clam Chowder has a whopping 890 mg (37%) sodium per serving. A look at the ingredients list also reveals that it contains soybean oil and soy protein which I usually try to avoid.
The same brand of Split Pea and Ham has 690 mg (29%) sodium and its label shows us that it also contains nitrate cured ham, as well as soy and corn proteins which are most likely GMO products.
The cans were labeled Gluten Free which was what drew me to them in the first place. But in my excitement to find a gluten free product that I knew my son would enjoy I forgot to check the label for other possible hazards.
They were on sale, they were gluten free, and I rationalized that they would make a good food storage item. What I didn't count on was that my son would start eating them on a regular basis, not just on occasion when our schedule was tight and convenience was necessary.
So how do we strike a balance between the occasional need for a quick convenient meal, and serving our families well balanced wholesome foods that we know will not have a negative effect on their long term health?
It takes a little bit of willpower, but with some pre planning you can make it work with a minimum of effort and expense.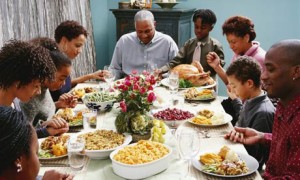 When I am planning my weekly menus, I have started working into my plan soups and stews that can be made out of left over meats, potatoes, and vegetables from meals that were eaten earlier in the week.
If I know I am going to make a roast, chicken, or turkey I carve off a certain amount and set it aside before serving the meal. I put it into a glass dish with a lid and store it in the refrigerator for later use. That way I know I have what I need for a nutritious soup or stew later in the week, without having to worry about whether or not there will be enough left over.
If there are potatoes, carrots, broccoli, or other vegetables left from dinner I put them in another dish to use with the meat that I have previously set aside.
I always plan at least one soup or stew for the end of each week so that left overs never sit too long or go bad.
In my cupboard, or food storage, I try to always have a package of organic broth on hand. I usually keep at least one each of chicken and beef broth. Chicken works well for any kind of poultry and beef broth compliments both beef and pork. I use a mix of broth to water in equal parts for a tasty base for my soups, adding whatever potatoes, beans, or vegetables I may already have on hand from previous meals. If there are no left over vegetables that week I can always add some from the freezer, or I can cut up fresh produce. If you are using fresh potatoes or fresh root vegetables just allow a little more cooking time.
Soups with a clear broth can be made in less than 30 mins.
You can add rice if you like, but leave it to simmer about 10 mins longer.
One of my family's favorite soups is beef vegetable: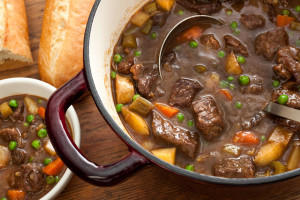 Beef Vegetable Soup
2 Cups organic broth
2 Cups water
½ pound shredded beef, left over from a slow roasted
London broil, or other lean cut.
3 diced tomatoes, or 1 can tomatoes if fresh isn't available
1 Cup frozen or canned GMO free corn
Diced potatoes and carrots
Peas, beans, cabbage, or whatever else you have handy
Combine in a 4 quart pot for 20 mins on a medium heat

Do not overcook or your vegetable will be mushy
*If gluten is not a problem barley can be added to this soup for a delicious hearty alternative, just be sure to add it early in the process.
Follow the package direction for adequate 

cooking time.

Serve with dinner rolls, corn muffins, garlic bread, or other 

family favorite.

Add some apple and orange slices with yogurt for dipping the 

fruit in and you have a healthy, hearty, winter comfort meal that everyone can enjoy!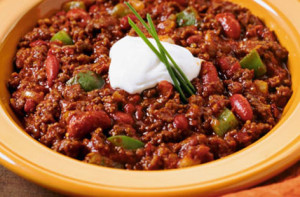 Another winter favorite is:
Chili and Grilled Cheese Sandwiches
Sauté and drain 1 pound ground beef in a skillet
Combine in a 4 quart pot with:
1 large can tomato puree
1 small can Italian or basil stewed tomatoes
1 large can kidney beans
Season with Chili Powder to taste (approx. 3 Tablespoons)
For the cheese sandwiches use your favorite sandwich bread using organic 

butter, spread onto the slices, before toasting them in a skillet.
I do not advise using American cheese, if you want a healthy cheese, as most brands of American Cheese are actually made with oil, not milk. It is possible to find American Cheese that is made with milk, but it is the exception, not the rule, so read your labels, and be aware.  I have found that Muenster and Provolone make delicious grilled cheese that even young children enjoy, and it has been a favorite at our house for many years.   But there is no reason to stop there. Be inventive and layer your cheeses. A three cheese grilled cheese would be a distinctive and healthy change of pace.
So let the wind howl and the snow fly. Inside it will be warm and cozy as you enjoy a healthy meal of your favorite comfort foods, prepared from scratch in your own kitchen, in much less time than you might think!
**While the word of wisdom gives us basic guidelines for health, it leaves the interpretation of those guideline up to the individual members. This blog is not intended to replace your medical professional or the divine revelation of the Word of Wisdom, but rather it is practical knowledge that I have accumulated over the years in my own pursuit of a healthier lifestyle which I am passing along in the hopes that it will benefit others.**
About Denise Mastrocola
Denise is a Michigander turned Pennsylvanian, who has been writing stories since Elementary School. Denise won an award at the annual Lansing Youth Talent Show, when she was in 10th grade, for a short story entitled Procrastination is Fatal, but didn't decide on writing as a career until she was 28 years old. While homeschooling her older children she spent 4 years working through a course from The Institute of Children's Literature. Through the years Denise's children have had a variety of health issues, many of which have been linked to various sensitives; having spent more than 20 years researching and trying different things Denise has a boots on the ground view on healthier living. Denise currently writes for 2 blogs and has several books in different stages of completion. She is planning to break ground in e publishing, and hopes to have her first Historical Fantasy book which is set during the renaissance, "Lisa, My Lisa?" ready by the first of the year.
Twitter •