The beginning of the life of Christ began the lessons that we learn from Him in mortality.  He taught often by telling stories that invited listeners to connect eternal principles with their everyday lives.  My daughter has noticed how scenes from her everyday life with our Down syndrome son connect to help her understand some Christian eternal principles.
Love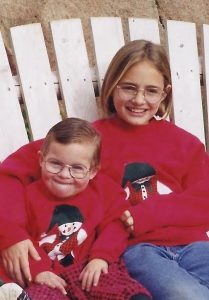 Emily writes: "I love my brother Joey and I know he loves me too.  I can feel it even though he doesn't say it directly.  When I am at home I will often hear him from another room call out 'Sissy, you cute' or 'Sissy smart'.  He loves me even though I live far away and we don't get to see each other very often.  Pres. Thomas S. Monson taught the principle that 'Heavenly Father's … love never changes.  
It is not influenced by your appearance, by your possessions, or by the amount of money you have in your bank account.  It is not changed by your talents and abilities.  It is simply there.  It is there for you when you are sad or happy, discouraged or hopeful.  God's love is there for you whether or not you feel you deserve love.  It is simply always there.' (New Era, Nov 2013) I know that concept can be real because that's how I feel about Joey.  His love for me (and my love for him) is simply always there no matter the circumstances or the time that passes."
Forgiveness
"My love is also there for him no matter what Joey does.  Big or small I will always love him, and am able to always forgive him. One time when I was in high school I got a big surprise. It was a Saturday night.  My mom and I left to fill up the car with gas before the Sabbath.  We left Joey in the family room watching TV with my dad and our other brother.  We were gone about 30 minutes. When we got home I went to my room and found that Joey had trashed the place!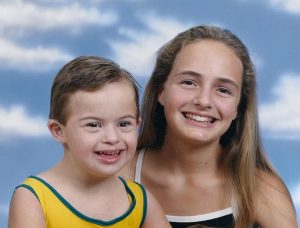 It was like a tornado hit.  Everything that had been neatly organized was now all over the floor.  The sheets were off the bed, the drawers (and even trash) were dumped out, earrings and shoes were found from end to end in the room, and not with their mates.  I cried.  I did not know what to do!  Eventually we cleaned up and got the room put back together.  And I forgave Joey.  Even though that experience was stunning and dramatic, I forgave Joey.  I didn't hold on to feelings of hurt or anger.  And in time we could even laugh about it!
Remembering this experience with Joey makes it is easier for me to understand the Savior's ability to 'freely forgive'. When we turn to the Savior to repent we receive a truly blank slate in return.  Elder Allen D. Haynie articulated this principle: 'I testify that the Savior will never turn away from us when we humbly seek Him in order to repent; will never consider us to be a lost cause; will never say, 'Oh no, not you again'.' (Ensign, Nov 2015)
Joe does lots of little things, and sometimes big things, that can be surprising and exasperating, but I will always forgive him because of how I love him.  I forgive Joey just as completely as the Savior forgives me."
Service
Another story from her relationship with Joe parallels how the Savior feels our love through our service to others. Pres. Henry B. Eyring has said, "When we offer succor to anyone, the Savior feels it as if we reached out to succor Him." (Ensign May 2015)  He described it in a parable about a king honoring his citizens for all they'd done for him. "For I was an hungered, and ye gave me meat: I was thirsty, and ye gave me drink: I was a stranger, and ye took me in."  The people were a little surprised, asking him when they had done all that for him and his response was: "Inasmuch as ye have done it unto one of the least of these my brethren, ye have done it unto me." (see Matthew 25:34–40)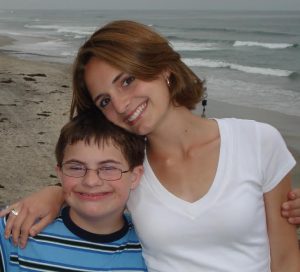 Feel the love Emily has for those who attend to her Down syndrome brother in her words: "I feel so happy when people serve Joey!  A few years back I saw a picture on Facebook of Joey and a boy from our church at a dance.  They were dancing and it was clear they were having a great time.  The caption of the photo said, 'Me and my best friend Joey Thurston'.  
Seeing the love and compassion that boy had for my brother made me feel so much joy. The service rendered to my brother felt like service rendered directly to me.  When someone reached out to him, I felt the benefit as if it was someone reaching out to me.  Similarly, the Savior feels great love when we serve those around us.  He feels joy in the action as if we were serving him directly."
Eternal principles in everyday life
My daughter has an eternal perspective about her relationship with her brother.  She has figured out how her everyday life melds with the eternal.  She says:  "I love Joey and that will never change.  I love him so much that not even his biggest offense could ever come between us. I feel deep love when people love and serve him.
The Savior loves us and that love will never change. He loves us so much that not even our biggest offense could ever come between us.  He feels personal divine gratitude when we love and serve others.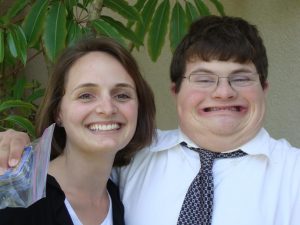 Sometimes I feel sad that I can't talk to Joey and that I can't have a normal, grown up conversation with him. But then I think about a future time when we will both be on the other side of our life on earth.  I will be able to know his full story.  What will we talk about?  What will he say?  How will we feel?  What a great reunion it will be!  
In the same way, I wonder: when we all meet the Savior, what will we talk about? What will we say?  How will we feel?  What a great reunion that will be too!"
Final thoughts
I recently came across something I had jotted down 6 months before our 21-year-old Down syndrome son was born.  "I had told 4 year old Emily that our new baby would have some problems and be different than she and Stephen.  She'd asked good questions about it and seemed more disappointed that it is a boy than any other of its limitations.  
Later that night we were outside and she came running to me with her arms outstretched.  I picked her up and swung her around and she said 'Mommy, I just know I'll love our new baby.'  I asked her what makes her know that.  She said: 'Because he's my little brother'."  And she has proved herself as good as her word.
This might be another real-life story that teaches how we can trust that the Savior is immensely forgiving and has an unfailing love for each of us.  Conceivably we might find it just as natural for Him to say that He does so "because he's my little brother", or "she's my little sister."
This time of year, we commemorate the beginning of the greatest example of love and forgiveness and service to ever walk the earth.  That being the day we first saw Him as a little boy.  But we knew He would always be our older brother.  And that He would grow up to become the Savior of the World.  How could we help but sing for joy, and say "Merry Christmas!"?!
About Jane Thurston

Twitter •