I have really never had a hobby per se.
When I was a boy, my brothers and I at times played war. It was innocuous and all in good fun.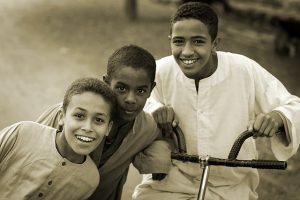 Like other youngsters, I suppose, we would simulate battles with harmless sticks and use metal trash can lids as shields. Though these were rudimentary at best, they served an important purpose in our play.
I have always been fascinated by the description in chapter 50 of Alma, where it describes Moroni guiding his people to make preparations for war. He helped them defend against their adversaries by preparing for the imminent battles to come. He caused that his armies dig up heaps of earth round about all the cities throughout the land, which was possessed by the Nephites.
And upon the top of the ridges of earth he caused that there should be timbers built up to the height of a man. Then upon the works of timbers, they built a frame of pickets. Moroni tells us that this defense was strong and high. Yet he was not finished. They also erected towers to overlook these preparations. Even then, their battles were severe.
What can we learn from this example? We take from this chapter that we too must prepare for the battles of life before our time of need. "When the time for decision arrives, the time for preparation is past," is how President Thomas S. Monson teaches this principle. We are guiding our children and loved ones today through a very real and critical battle for their souls.
Now unlike the simple arrangements in the example of weaponry from my childhood, the onslaught of depravities in our world today require far better preparations. I have always appreciated the allegory of putting on the whole Armour of God delivered by Paul to the Ephesians:
11 Put on the whole armour of God, that ye may be able to stand against the wiles of the devil.

12 For we wrestle not against flesh and blood, but against principalities, against powers, against the rulers of the darkness of this world, against spiritual wickedness in high places.

13 Wherefore take unto you the whole armour of God, that ye may be able to withstand in the evil day, and having done all, to stand.

14 Stand therefore, having your loins girt about with truth, and having on the breastplate of righteousness;

15 And your feet shod with the preparation of the gospel of peace;

16 Above all, taking the shield of faith, wherewith ye shall be able to quench all the fiery darts of the wicked.

17 And take the helmet of salvation, and the sword of the Spirit, which is the word of God:

18 Praying always with all prayer and supplication in the Spirit, and watching thereunto with all perseverance and supplication for all saints;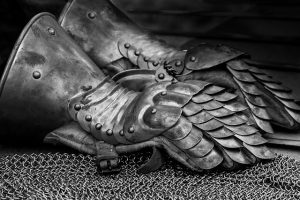 We don't always know when our armour will be needed, but Paul reminded the Ephesians that with this armour we are able to stand against the wiles of the devil. Who doesn't need that kind of help today? We all do and can benefit from this advice.
So let's discuss the fortifications for ourselves and our families as demonstrated by Moroni and enumerated by Paul. These preparations are not all in good fun but rather could be a matter of life and death for our loved ones:
Put on the whole Armour of God, Paul taught the Ephesians, as follows:
Loins girt about with

truth

Breastplate of

righteousness

Feet shod with the

preparation of the gospel of peace

Shield of

faith

, wherewith ye shall be able to quench all the fiery darts of the wicked

Helmet of

salvation

Sword of the

Spirit

Praying

always

Watching

with all perseverance and supplication
During our most recent conference, Elder Mark A. Bragg recounts a touching story about a brave group of fire fighters who fought to save a burning stake center in a Southern California. A battalion commander felt to send his team of firefighters back into the burning building to pull every painting of Christ off of the walls that they might be preserved. That is something I can relate to.
Standing up for Christ in whatever way we can rings true in my mind. The melody of this strategy is familiar. I have heard this song before frequently during difficult times.
As I mentioned, I have really never had an obvious hobby, but I mistake. Perhaps my hobby has been to arm myself with light by seeking the Light of the World.
That's a maneuver I can live with.
About Walter Penning
In 1989, Walter Penning formed a consultancy based in Salt Lake City and empowered his clients by streamlining processes and building a loyal, lifetime customer base with great customer service. His true passion is found in his family. He says the best decision he ever made was to marry his sweetheart and have children. The wonderful family she has given him and her constant love, support, and patience amid life's challenges is his panacea.
Twitter •