Rabbi Geri Newburge warmly welcomes the Philadelphia Interfaith Visionary Women's Council for the final session of 2017's interfaith experiences.  We gather in the Mainline Reform Temple, Beth Elohim, located in Wynnewood, just outside of Philadelphia.  On this Sunday, we will learn about Shabbat, or the Jewish Sabbath.
Before we begin, Rabbi Geri clarifies what Reform Judaism means. "We like to say that we are continually learning and adapting Jewish life and tradition to make it meaningful and relevant. Reform Judaism gives us a framework, but does not dictate what we as individuals do."
People can bring Shabbat into their lives in many ways, just as each of us chooses how to take our own faith traditions and cultures into our lives in meaningful ways. As Rabbi Geri begins to teach us about Shabbat, it becomes clear that this is a people that take their commitments to God seriously and show their dedication through their actions.
As Rabbi Geri begins to teach us about Shabbat, it becomes clear that this is a people that take their commitments to God seriously and show their dedication through their actions.
In Genesis, God created the world in six days and rested on the seventh. The week begins on Sunday, so Jewish Shabbat is observed on the seventh day, Saturday. In Genesis, we also learn that God first created night, then day, which is why Shabbat and all Jewish holidays begin at sundown and go until the following night when three stars appear in the sky.
Why three stars? If three stars are in the sky, night has arrived and the day is ended.
What if it's cloudy and you can't see any stars? Then you give your best guess as to when night has arrived and the Shabbat (or holiday) is ended, which is about one hour after the sun sets.
Candles are lit, prayer is said, and then Shabbat has begun. It is an important distinction that Shabbat does not begin until the prayer has been said. Once Shabbat begins, there will be no fires lit: no candles, no fires, no ovens. No spark is even allowed to start a car, so no driving!
Nothing can be turned on or off during Shabbat, so food is prepared ahead of time and either left in a slow cooker, or left on the stovetop in a pot, set above a low flame which will burn all of Shabbat.
The rules governing Shabbat fall into thirty-nine categories, based upon the building of the tabernacle, found in Exodus. There is no cleaning. No writing. No carrying of money—no carrying of anything! Shabbat is a day of worship and rest.
My family keeps the Christian Sabbath on Sunday pretty strictly, especially compared to many of our neighbors. No shopping, no television, and everything focused on bringing our family closer together and closer to God.
However, as I listen to the devotion shown by those of the Jewish faith, I am impressed by their dedication. So much preparation must occur in advance of Friday night!
On Shabbat, Jews gather to their synagogues for worship. Everyone, even a non-Jew, is welcome to attend a service, a tidbit I file away for later. I know my daughters and husband will love attending a Shabbat service and listening to the Hebrew read aloud.
Synagogues must always have two things in them: a menorah and windows. The menorah is lit Friday evening (the start of Shabbat) as a symbol of the nation of Israel and its mission to be "a light unto the nations" (Isaiah 42:6).
Why windows? This part of our learning touches my heart deeply. Windows are in a synagogue to remind those worshiping not to get too focused on themselves and their worship that they forget to see and be a part of the world around them.
What a beautiful reminder that we are to worship God, but He wants us to use what we learn to bless the world around us! We cannot do that if we are wrapped up in only ourselves and those we worship with!
In the Jewish tradition, there is a teaching, "the beautification of the commandment" which means that when we are asked by God to do something, we should give the best we have. This powerful belief is exemplified by synagogue windows filled with stunningly beautiful stained glass, when the commandment is simply that a synagogue should have windows.  
Rabbi Geri next shows us the Aron Kodesh, or holy cabinet, where many Torahs are kept. Above the holy cabinet burns the ner tamid, the eternal light. On either side of the holy cabinet are two tablets, the ten commandments.
Each Torah is dressed similarly to how a priest is dressed, with mantles and a belt. Inside their Aron Kodesh is a white-mantled Torah, rescued after the Holocaust from Czechoslovakia!
As the Torah is unrolled for us to view, the symbols all run together—no page numbers, no vowels, no capitalizations, no punctuations, no translations! It is beautifully confounding to someone not learned in Hebrew!
The Jewish Shabbat ends with each child receiving an embrace before hands are placed on their heads to receive a blessing: (I looked online to find this blessing and found it to be the same on all the sites I researched.)
For a son: May God make you like Ephraim and Menashe.
For a daughter: May God make you like Sarah, Rebecca, Rachel, and Leah.
Following the above, both receive:
May God bless you and watch over you.

May God shine His face toward you and show you favor.

May God be favorably disposed toward you and grant you peace.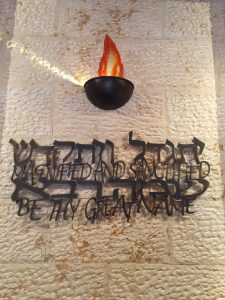 What feelings of love and protection must each child feel as their parents bless them at the close of the Shabbat!
This experience of learning of Shabbat, and all of the other faiths I have learned about this year has been perspective changing. My own faith has deepened. My love for others and my desire to share these new understandings of others' beliefs has grown.
What a wonderful gift in a time when so many different voices try to influence us to be divided! Learning about the beliefs that motivate others to live their lives with passion and faith causes me to live my own faith with more authenticity and strength.
We are different, but we are united in our desire to embrace one another as fellow companions on our paths of faith.
About Elizabeth Latey

Twitter •