Paralyzed by the 'to-dos', I escaped. The walk along a mountain ridge brought clarity and renewed sense of purpose as the sun burst through the clouds with illuminating morning light.
None of the overwhelm had changed. I needed to change that myself.
Sometimes life experiences clearly highlight personal weakness and ineptness. Church callings usually do that for me. I easily identify my gross lacking in the Christlike attributes I attempt to follow.
The Church Is Full of Hypocrites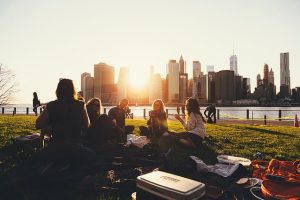 I've recently experienced a round of people who stepped away from the church telling me "The people at church are hypocrites, so I don't go anymore." In every case, I respond. Yep. You're right. The Gospel preaches a community of saints who live the standards on a Christlike level. I don't know anyone who fully does that. So if your definition of hypocrite is a person who doesn't live up to the ideals they espouse, the Church is full of hypocrites.
And here I sit, in your house, the biggest hypocrite I know.
"Nevertheless, notwithstanding the great goodness of the Lord, in showing me his great and marvelous works, my heart exclaimeth: O wretched man that I am! Yea, my heart sorroweth because of my flesh; my soul grieveth because of mine iniquities.

I am encompassed about, because of the temptations and the sins which do so easily beset me. And when I desire to rejoice, my heart groaneth because of my sins; nevertheless, I know in whom I have trusted.

O then, if I have seen so great things, if the Lord in his condescension unto the children of men hath visited men in so much mercy, why should my heart weep and my soul linger in the valley of sorrow, and my flesh waste away, and my strength slacken, because of mine afflictions?

And why should I yield to sin, because of my flesh? Yea, why should I give way to temptations, that the evil one have place in my heart to destroy my peace and afflict my soul? Why am I angry because of mine enemy?
I have gulped at the cup of Grace and still make the same mistakes over and over and over. I have received personal, direct revelation from God but "the spirit indeed is willing, but the flesh is weak." Every Sunday, I approach the Sacrament table with the same sins and foibles I'd promised the week before to rectify.
I am a hypocrite. "For all have sinned, and come short of the glory of God."
Jesus Christ Rejoices over Hypocrites Who Find Him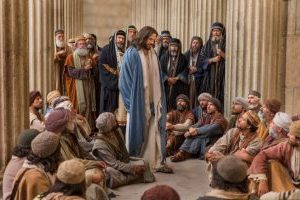 This morning I spent time in Luke 15. And in this attitude of overwhelm in to dos and overwhelm in my imperfections, I read Luke 15:1—words that comfort a hypocrite like myself.
"Then drew near unto him all the publicans and sinners for to hear Him." That's me! I am that group. Because even through my weakness and impossible imperfections, I am drawn to Him. I yearn for Him. I love Him. And I want to be with Him. And He receives me.
And the Pharisees and scribes murmured, saying, This man receiveth sinners, and eateth with them.

And he spake this parable unto them, saying, What man of you, having an hundred sheep, if he lose one of them, doth not leave the ninety and nine in the wilderness, and go after that which is lost, until he find it?

And when he hath found it, he layeth it on his shoulders, rejoicing. And when he cometh home, he calleth together his friends and neighbours, saying unto them, Rejoice with me; for I have found my sheep which was lost.

I say unto you, that likewise joy shall be in heaven over one sinner that repenteth, more than over ninety and nine just persons, which need no repentance.
Church Is a Wilderness of Lost Sheep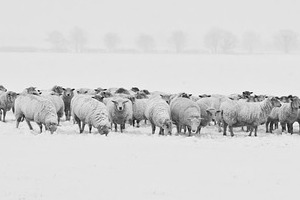 To me, this is what Church is—a wilderness full of lost sheep with each sheep in various stages of "foundness". Each sheep in that wilderness struggles and fails. While the struggles and failures are different for each sheep, if we look for imperfections in each other, they're really easy to find.
Still, regardless of imperfections and strengths and varying levels of "foundness", every sheep must be saved by the Shepherd.
Even though my imperfections and struggles land me in the hypocrite classification, I trust that Jesus Christ's Atoning Gospel path offers redemption and absolution.
On the Path to Fully Live What I Believe
So with hope in that path, I rejoice with Nephi and embrace where I am on the journey, because it's one step closer to where I want to be, and hope to be, than I was yesterday.
Awake, my soul! No longer droop in sin. Rejoice, O my heart, and give place no more for the enemy of my soul.

Do not anger again because of mine enemies. Do not slacken my strength because of mine afflictions.

Rejoice, O my heart, and cry unto the Lord, and say: O Lord, I will praise thee forever; yea, my soul will rejoice in thee, my God, and the rock of my salvation.

O Lord, wilt thou redeem my soul? Wilt thou deliver me out of the hands of mine enemies? Wilt thou make me that I may shake at the appearance of sin? …

O Lord, I have trusted in thee, and I will trust in thee forever.
I trust in Him, because I believe that He can take hypocrites, like me, and carrying them on His shoulders, bring them to the fold of the "church of the Firstborn, and to enjoy the communion and presence of God the Father, and Jesus the mediator of the new covenant." That church is the only church I've heard of that's without hypocrites.
About Delisa Hargrove
I am a member of The Church of Jesus Christ of Latter-day Saints. I have moved 64 times and have not tired of experiencing this beautiful earth! I love the people, languages, histories/anthropologies, & especially religious cultures of the world. My life long passion is the study & searching out of religious symbolism, specifically related to ancient & modern temples. My husband Anthony and I love our bulldog Stig, adventures, traveling, movies, motorcycling, and time with friends and family.