Listen to the Spirit when Taking Notes
When I take notes during the General Conference of The Church of Jesus Christ of Latter-day Saints, I don't write down what the speaker says word for word. In the age of technology, that information is available to me almost immediately after the conference online, and a few weeks later in the Ensign. Instead, I take notes on major points the speaker is making, as well as thoughts and impressions I may have while listening.
Study Your Notes
As I share my notes via social media, it gives me a chance to see what general themes seem to run through the conference talks. Later, I highlight each general theme in my notes with a different color. For instance, phrases that have to do with peace may be yellow, keeping the Sabbath day holy may be turquoise, and counsel on reading the scriptures red. I can study each topic throughout the coming months by looking at my highlighted notes and then referring back to the talks.
Reading my impressions, I ponder and study the things I have written. I pray for understanding as to what I'm to do with that information. Sometimes the impressions are for my own benefit, but sometimes I'm guided by those impressions to help others.
During the April 2017 General conference, this is what I heard:
"In our home we wanted our children to learn to recognize the voice of the Spirit. We believe that happened as we studied the Book of Mormon each day as a family. Our testimonies were strengthened as we talked about sacred truths" (Elder C. Scott Grow, Of the Seventy, "And This Is Life Eternal," Apr. 2017 General Conference).
This is what I recorded in my notes:
"Testimonies are strengthened as you discuss spiritual things."
Notice that Elder Grow said that testimonies were strengthened as his family talked about "sacred truths," but I recorded it as testimonies are strengthened as "spiritual things" are discussed. There is a difference. Elder Grow was talking about the sacred truths of the gospel. My notes could include spiritual experiences which happen to each of us.
I didn't know at the time why I was prompted to write what I did, but I came to know later. Some spiritual experiences are too sacred to share with others—especially outside your family. On the other hand, sometimes sharing a sacred spiritual experience can help someone else. I was about to learn that there were certain spiritual experiences which my Heavenly Father wanted me to share.
Act on the Promptings in Your Notes
I'm involved with a website where people of all ages from all over the world write in asking for advice from senior citizens. I'm one of the senior citizens who answers those letters and shares advice. We get questions about literally everything imaginable. We are under strict rules and guidelines. We are banned from giving legal, medical, or financial advice. We are also banned from proselyting for any particular religion. However, if someone asks a question about whether there is a God, or what we personally believe, we are allowed to answer honestly.
In answering these letters, I never would have thought about sharing sacred spiritual experiences to complete strangers. Not only have I never met these people, but I know absolutely nothing about them. I don't even know in what part of the world they reside unless they happen to mention it in the letter. I have no idea of their background, age, or religious experience unless they tell me in the letter. Why would I share such personal sacred experiences?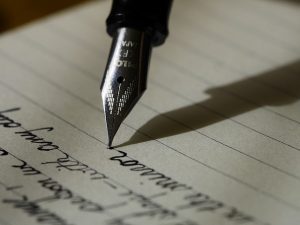 My brother passed away, and I attended his funeral. The very next day, I read a letter from someone who had recently lost her brother and was struggling to know whether or not there really was a heaven, and whether or not she would ever see her brother again. I immediately remembered a very sacred spiritual experience I had after my father died, and I felt the writer would benefit from hearing that story. 
How could I share that experience with someone I knew nothing about? I saved the letter in my queue to think about how I was going to answer it. In the meantime, I reviewed my General Conference notes in preparation for an article I was writing. Guess what popped off the page at me! My notes from Elder Grow's talk made me understand that I needed to share that spiritual experience. I left my article temporarily, went back to the letter queue and shared that sacred experience with this woman I'd never met.
I believe I was prompted to record "spiritual things" in my General Conference notes instead of "sacred truths" for a reason. Heavenly Father wants me to share some things with others. I've received and answered several other letters recently where I was able to share spiritual experiences in attempts to help people with their life situations. Several times I've received follow-up letters from people telling me how much I have helped. Concerning that first advice letter I wrote for the woman grieving the loss of her brother, my editor in Quality Control sent me an e-mail letting me know that I had touched her, and that she knew my response would be well received.
Elder Grow's message was different from the message I received from the Holy Ghost. That doesn't negate what Elder Grow had to say, it just means that the Holy Ghost wanted me to hear a little something extra because I am in a unique position to disseminate information that could possibly change someone's life for the better. This has taken me out of my comfort zone, but I believe it is what Heavenly Father wants me to do at this time.
Read and Study the Transcripts in the Ensign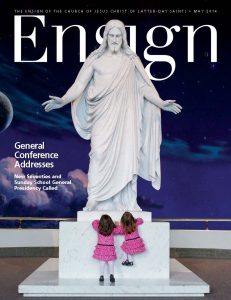 Within weeks after General Conference, we are able to read and study the talks in the Ensign in our homes. As I read the talks, I highlight the words that really stand out to me. After completing reading and highlighting all the talks, I go through the Ensign again and just read the things that I highlighted, sometimes comparing what I highlighted with my General Conference notes.
By this point, I have a pretty good working knowledge of what Heavenly Father wants me to work on in my life, and what He wants me to do.
If You are a Writer
As a writer, I take the knowledge I gain from my own personal study and share it in my articles. By the time I've gone through the processes above, I'm now at a point to begin writing. Depending on the article, there may be more research on the Church website which adds to my study (and hopefully my writing).
Watch It Again
A week or two prior to General Conference, I go back to the most recent conference and watch it again. This allows me to do several things: 1) Refresh my mind of what I heard from prophets and apostles six months prior; 2) Analyze the progress (or lack of it) I've made in the last six months; 3) Motivate myself to continue working; and 4) Prepare my mind and spirit for the upcoming conference.
Attend the Temple
If at all possible, I attend the temple a day or two prior to General Conference. This allows me to be in the right frame of mind to hear the words and soak up the Spirit. I've often heard that we should read General Conference talks in preparation of our temple attendance. I submit that it also works the other way around. If we attend the temple prior to General Conference, we are more likely to feel the words, as well as hear the words spoken in the conference.
I personally believe that in these last days, we need the words of prophets and apostles more than at any other time in history. It's my hope and prayer that we will work to make the most out of our General Conference experience.
Information for the October 2017 General Conference can be found here.
About Tudie Rose
Tudie Rose is a mother of four and grandmother of ten in Sacramento, California. You can find her on Twitter as @TudieRose. She blogs as Tudie Rose at http://potrackrose.wordpress.com. She has written articles for Familius. You will find a Tudie Rose essay in Lessons from My Parents, Michele Robbins, Familius 2013, at http://www.familius.com/lessons-from-my-parents.
Twitter •