I love messages of hope. Our hardships give us empathy for others and opportunities to show gratitude. Perhaps the greatest miracle of all is the hope we have in Jesus Christ.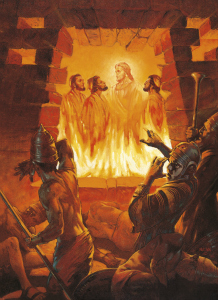 King Nebuchadnezzar demanded that Shadrach, Meshach, and Abed-nego worship the golden image he set up as a god, threatening, "If ye worship not, ye shall be cast … in to the midst of a burning fiery furnace." Then he taunted them with "Who is that God that shall deliver you out of my hands?"
These three devout disciples said: "If it be so, our God whom we serve is able to deliver us from the burning fiery furnace. … But if not, be it known unto thee, O king, that we will not serve thy gods."
They possessed the full confidence that God could save them, "but if not" they had complete faith in His plan. We have the opportunity to show that kind of faith today as well. Though our circumstances may be vastly different, our response and faith can be identical.
My father had a similar experience—in a way—where he was spared as a young man. I have always loved this story, which I asked him to tell me often when I was a boy. And he did.
Dad was a master story-teller. I have many memories of experiences he shared which have helped guide my life. This miraculous experience comes from his journal and to me is further evidence of God's love for us and the protection granted my father, so he could play a vital role in bringing to earth his children and teaching his posterity, who will usher in the Second Coming of our Lord and Savior, Jesus Christ:
There was an experience I had with Mother when I was seventeen. It was when she was working and would go to the merchandise markets in California, Chicago, or New York. The first time I went with her was when I was still in high school. I was out of school, so she invited me to go with her.

She made a reservation for us at the LaSalle Hotel in Chicago. A check was sent and she got back a confirmation. She always had to make reservations early because so many people attended the markets that the hotels would fill up.

We flew to Chicago and drove to the hotel by taxi. We went to the front desk, Mother gave her name and told them we had a reservation and wanted to check in. They told us they couldn't find it. Mother told them, "That can't be, because I sent my check and you sent me back a confirmation for a room with two beds." They looked again but couldn't find her reservation. In all the years, that never happened to her before or after.

This time it was lost. Mother felt like they just had to make a place for us. But they told us they were completely filled up and didn't have one room left. The sympathetic desk clerk told us she had a friend who owned some furnished apartments, and that she would probably have an empty one. She called her friend and made arrangements for us to stay there, so we did.

In the middle of the night, we were awakened by lots of fire engines. They came across a bridge over a river and headed down the same street as we were on. We marveled at how many fire engines came one after the other. We wondered where the fire was.

The next morning, the bold newspaper headlines told about how the LaSalle Hotel, where we were supposed to have stayed, had burned. Fifty-two people had died and two hundred were injured. This was one of quite a few times in my life, when the Lord spared me, and I am most grateful.
I have many memories of my father, which I have come to cherish. He was spared so he could share the love and hope in the Savior Jesus Christ with his family. And that he did. The hope and optimism that he frequently exhibited will always be a favorite memory. He passed more than ten years ago, and because of Jesus Christ, I know we will share experiences, happiness, and miracles with each other again.
And that perhaps is the greatest miracle of all.
About Walter Penning
In 1989, Walter Penning formed a consultancy based in Salt Lake City and empowered his clients by streamlining processes and building a loyal, lifetime customer base with great customer service. His true passion is found in his family. He says the best decision he ever made was to marry his sweetheart and have children. The wonderful family she has given him and her constant love, support, and patience amid life's challenges is his panacea.
Twitter •