When I went to the university, I expect my ultimate goal was graduation. But what I got was beyond my fondest imagination. This was the realization of my life's dreams. And yet, the manifestation of my reality was not what I expected or even comprehended. How could that be?
I supposed because I was focused on studying communications at the time, I didn't follow the typical selection of classes, which meant the majority of my major involved writing papers, composing lengthy prose and working for a time at The Daily Universe, the school's student writing laboratory. The editors, writers, photographers and copy editors are all students, some paid, some reporting for a journalism class. The opinion pieces in the paper are overseen by an editorial board that includes student staff, professional staff, university professors and local professionals.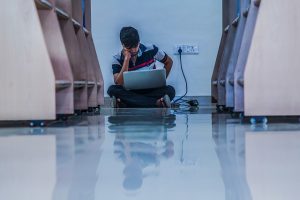 So when I became a senior and was finishing the completion of classes for graduation, somehow I seem to have overlooked freshman English. With the volume of writing, I had done, I thought it was just a formality to go back and take this class. I had to complete it in order graduate, so I registered for this course my senior year. I had no idea what I was getting into.
I was married by that time, and what I thought was going to be an elementary lesson of common principles I already used every day turned out to be a semester-long struggle to maintain a passing grade. The tests weren't the problem. I aced them. It was the compositions. I barely pulled passing grades the entire semester. I couldn't understand. I concluded the instructor had it out for me, or maybe I didn't fathom her teaching style or expectations. My wife sympathetically listened to my complaints.
Then I learned the final examination was going to be an hour-long writing assignment in class. "The paper you will be asked to write will be a culmination of everything you have learned this semester, and since it will have a significant impact on your final grade, a different instructor will be grading your paper."
I remember the day of the final examination. My palms were sweaty as I took my seat in the classroom. We were instructed not to turn the papers over until directed to do so by the teacher. "You will have until the top of the hour. I will announce verbally once we have reached the one-half-hour mark, then fifteen before the top of the hour, and finally with five minutes remaining. When I say times up, you are to put your pencils down and stand beside your seat. I will collect the papers, and class will be dismissed."
"Ready. Begin."
I turned the paper over and read the instructions. We were given three possible topics from which we could choose to write. One of was essentially to tell about the similarities and differences of your parents and how these characteristics made their marriage work. The other two options, I can't remember.
So I made my decision and chose this topic, then I began to write.
My college education had also given me the opportunity to take a few dance classes for PE credit. They weren't particularly eventful, but from them, I learned the discipline requires the participants are in harmony and demonstrate courage, resiliency, and devotion, just like marriage.  
I realized through this process that my parents' lives and love had spilled out on the dance floor in the form of a happy home, children they cherished, and lives of courage, love, trust, and consideration.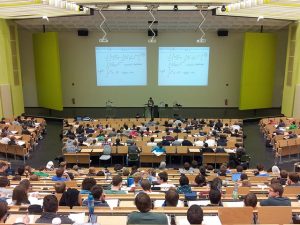 So the following week I went to class, where we were to receive our scores for the exam. Best I can remember, for some reason I arrived that day after the period had already started. I took my paper from the front of the room on the way to my seat. The students were discussing with the teacher their scores and wanted to know if this test was being graded on the curve.
"If the person that got the highest score wants to make that known, it's up to him." Suddenly everyone was looking at me waiting for a response.
"Me?" I stammered, after a long uncomfortable pause.
I looked down at my paper, and for the first time, I noticed a beautiful letter "A" scrawled in red pen across the top of the score sheet. It turns out it was the highest score awarded that semester. I asked if I could have my paperback, but university policy required that examination pages were not returned to the students. I asked the department chair, but the answer was the same.
So a few years later I rewrote the paper for my parents' 50th wedding anniversary. The thing is that I am still learning the dance—not from instructors in a university class setting—but from experts in the University of Life.
Life is a test, and I still have a lot to learn, but it is much better going through our time here with good examples, a Great Instructor, and a partner you love and is the reason for the dance in the first place.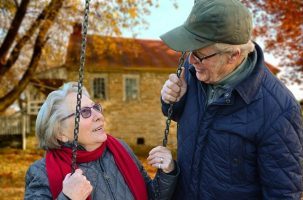 When you get the choice, I hope you dance.
Here is my freshmen English paper, re-written for my parents.
The Dance

I love to dance. The boogie has meant a great deal in my life. It was my good fortune to meet my beloved sweetheart on the dance floor. She swept me off my feet the night we met and continues to do so every day of my life.

There are few things in life that can capture our attention like a couple moving in perfect tempo and grace across the dance floor. Rhythm, strength, beauty, and accord are but a few of the terms one might use to describe the poise and harmony of dancing.

As a boy, I remember being somewhat amazed when I heard my parents mention that they danced the Foxtrot across the ballroom floor. Not because I thought they were incapable of such, but perhaps because it was more than I ever expected. Their lives are a breathtaking performance still.

My parents' examples have come to demonstrate quality of character in a beautiful dance. I have been beholden to witness their grace and charm on life's stage most in the midst of adversity. The ebb and flow of pleasant experiences and harmonious times have not weakened the exhibition. On the contrary, the obstacles they overcame together have made them an even more beautiful couple.

No. I could never have imagined then the immaculate concert performed by my parents day-in and day-out throughout their lives. When I envision their dance through life, I see a couple moving in perfect harmony. Every eye is on them—children, grandchildren, great grandchildren—each measures his expectations for life from the model performed by parents. We gauge our abilities from those we see in our parents and grandparents. The vision and example that I see is comforting:

A tall gentleman who stands straighter than most around him with head held high in the confidence of his Maker. His box frame shelters his partner and provides an example for his family. As our mentor, he is focused, intent, and hardworking, loving, and accepting. His partner, a beautiful and genuine lady with an eye for style and good taste, is clothed in the strength of the Lord. Her deportment is the envy of queens and result of her virtue.

There is beauty in their partnership and distinction in their presentation. Gliding across the dance floor of life as a couple, they are a joy to behold and a model for their family's lives. In a small way, we can each experience the poise and beauty of the dance by witnessing the grace and dignity demonstrated by our parents. We are better people to have witnessed their performance.

It is vital to recognize that it hasn't always been perfect and was never easy. The dance has taken endless rehearsals and hard work. But the important point to note is that a goal was set, an objective achieved, and an expectation exceeded.

"And where do we go from here?" one might ask. The answer is that we carry on. We stand in holy places and continue to move forward toward the flawless, pristine, and serene performance of Him who is our perfect example. Until one day we stand on hallowed ground and feel His embrace—the arms of the Master encircled about us forever in safety, as a family. His love, mercy, and grace are our reward for holding on to the things we know to be right and participating in the dance.
About Walter Penning
In 1989, Walter Penning formed a consultancy based in Salt Lake City and empowered his clients by streamlining processes and building a loyal, lifetime customer base with great customer service. His true passion is found in his family. He says the best decision he ever made was to marry his sweetheart and have children. The wonderful family she has given him and her constant love, support, and patience amid life's challenges is his panacea.
Twitter •