I don't read very often for pleasure, just not my thing.  However, I have always been interested in Amelia Earhart.  A few years ago, I read two biographies about Amelia, back-to-back.  One appeared to be sponsored by her family, and the other by her husband or husband's family.  It was very insightful to read both.
One of the things that impressed me the most was that Amelia's first big break, had nothing to do with her ability as a pilot.  She was asked to fly as a passenger in an airplane to demonstrate how safe flying was – safe enough even for the "weaker sex".  
If I remember correctly, another woman had been asked, but she turned it down.  (Sorry, my books are in the garage due to the constant remodel around here.)  Even though it wasn't necessarily the ideal opportunity Amelia was probably looking for, it was still an opportunity and she seized it.
I volunteered myself for an opportunity at work, before I could talk myself out of it.  I walked into a Director's office and told him I had time to work on a project he was leading and I was very excited about the work; please let me know if he needed my help.  I've worked with him before, and he can be fairly reserved.  So, I wasn't entirely sure of his opinion of me, or whether he would take me up on my offer.  I was pleasantly surprised when he did.
I've had a blast!  I'm not doing glorious work.  I'm not in the lab running a model or calculating data.  I'm not with my normal team deciding the path forward for customer deliverables or staffing decisions.  I'm printing slides and posting them, shredding the old pages.  However, I'm in the room.  I am the youngest person in the room, where everyone else is within 5 or so years of retirement.  I am listening to strategy and technical arguments and sales approaches.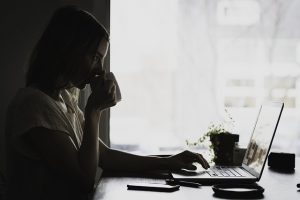 I am watching and learning, and making mental notes. I'm studying how they treat each other, how they manage to get the work done, and how technical options are picked.  I read slides, make comments, and fix things as instructed.  Then, someone suggested I re-phrase the entire technical section because I "had the brains" to do it.  And I took them up on it.  
Then I alone had to break the news to the author, that I had changed all his slides – and I asked for his help in checking them.  Basically, our smartest people need a little help with messaging and "charts-man-ship".  And the goal is to message accurately, to the best-educated as well as the least-educated reader.
I was in the room when the VP and Business Director came by to review.  And I was able to participate, although cautiously & respectfully, in the discussion and the tired, laughing banter of a long week.  I discovered the VP and I have a very similar sense of humor.  And I watched as he gently reigned in some of the egos in the room.
I feel privileged and grateful.  I enjoy soaking in the history of experience and knowledge in the room.  I love being able to contribute, where appropriate.  I have truly enjoyed the opportunity I have been given – even if it may not be glorious.
In all of our striving to compete with each other, or to be considered equal to others, do not forget the utility in learning from others.  Do not forget the utility in doing a little "grunt work" occasionally, if it allows you to be in the same room as the "big dogs" or "graybeards".  It is still a privilege to just be in the room.  And opportunities are what YOU make of them.
About Molly A. Kerr
Molly is on a life long quest to figure herself out. Born to be and educated as an aerospace engineer she is also blessed to be a wife and a mom of two in the present, previously served as a full-time missionary, is consistently called to teach the youth in her ward, is eagerly though slowly doing home improvement as money and time allow, all while gradually learning how to be herself and find peace and balance somewhere in between. Despite her attempts to make "the right" decisions in her life, she has learned to deal with some unexpected challenges over the last two decades. Total tornadoes, really. What she has discovered is that her career has taught her a lot about the Gospel and being a better mother, and the Gospel, when applied to challenges at the office, has made her a better professional. She has also learned that it is okay to be herself, and God still loves (and forgives) her for it.
Twitter •