Once there were two missionary companions who enjoyed being together very much. Elder Bo and Elder Mo worked hard together, sharing triumphs and trials in equal measure. As they became better acquainted, they shared their experiences working with other missionaries in the mission.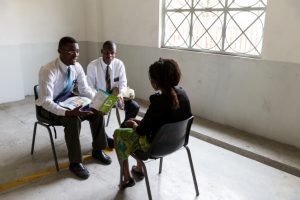 Some were good. Like Elder Bo's experience working with Elder Co, "Elder Co is amazing! He is the hardest worker and so much fun! I really loved working with him!"
Some not-so-good. Like Elder Mo's experience working with Elder Wo, "Elder Wo is so lazy! Seriously, he never wants to do anything! Not even sure why he bothered coming on a mission."
Then, the day came for transfer calls.
Elder Mo was so excited! He was going to work with Elder Co! As he unpacked in his new apartment, he asked about Elder Co's family and the more he learned, the better he liked him!
Elder Bo was not excited, in fact, he was miserable! He was going to work with Elder Wo. This transfer would be a trial and test of endurance. He greeted Elder Wo with a nod and they quietly unpacked their belongings. A week later, there was still an uncomfortable restraint between them as Elder Bo struggled to find a way to endure this companionship.
What causes this difference in these examples? Their first impressions of their new companions were influenced by the words of their former companions.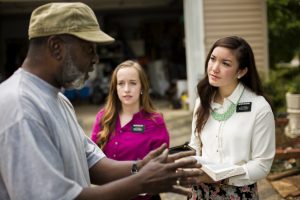 My missionary has been pre-judged several times during his mission. Sometimes to his credit, sometimes not. When the pre-judgment has been a negative one, he has felt uncomfortable with his new companion, but not knowing the reason until they have a frank and open discussion and the pre-conceived judgment is shared. Every time this has happened, the companion has admitted that their negative preconception is wrong.
Missionaries live together and spend every moment together during a companionship. They will see the best and the worst in their companion. Each missionary must choose for themselves which of these experiences to share with others. Just remember that someone is passing along similar information about you. Do you want them to share about your worst or your best traits?
Years ago, I decided I wanted to be friends with a woman in my ward. I reached out to her to schedule playdates with our children. I looked for any and every opportunity to spend time with her. In time, we became dear friends. The reason why I wanted so much to become friends with her is her incredible ability to see the good in everyone. We have been friends for many years and, not once, have I ever heard her say something unkind about anyone.
She has expressed frustration with situations. She has even vented about difficulties with other people, but never to their detriment. Always she has been positive that the difficulty was based on miscommunication or misunderstanding. She is a peaceful friend that I can trust implicitly because I know how she guards the reputation of individuals she isn't close to … so I know I can trust her to be a true friend to me.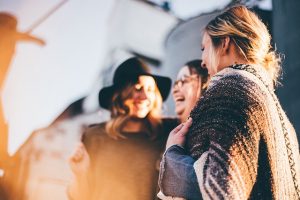 My friendship with her, as well as the example of a mother-in-law who exemplifies guarding one's tongue with kindness, has taught me that we can be close in our relationships without vilifying others. In fact, by always speaking kindly and giving others the benefit of the doubt, we increase the trust in the friendship.
Initially, I struggled with this. Sharing frustrations, even anger, with a friend is part of the benefits of a friend, right? A friend is your port in the storms of life!
I'd like to share how we differentiate it within our home, as, over the years, I've tried to really speak with the law of kindness.
There is gossip, and there is venting.
Gossip occurs when you are sharing a negative experience in order to get the person listening to take your side. You want to elicit their outrage on your behalf. They need to feel fired up about the wrong done to you by the other person! Or perhaps you just want to shock them by the negativity existing in someone they had no idea existed!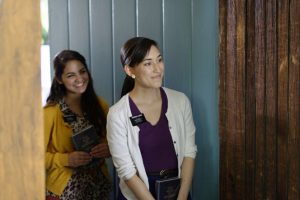 Gossip brings harm to the reputation of the person you are speaking of, as well as to everyone who participates in gossip.
The person spreading the gossip doesn't feel a sense of peace and righteousness. The person listening is left with a negative perspective of the person being talked about that wasn't there prior to the gossip.
No one is benefited by gossip, other than the Father of Contention and Lies: Satan.
Venting is when you are going through a difficult time with someone and you share your experiences with a trusted friend. This friend is someone who you know will keep your confidence to themselves. Most importantly, this friend is someone who will listen to your struggles and then help you find a Christlike, positive path forward.
Each of us needs someone with which we can share our thoughts, even our negative ones! However, we need to choose carefully who we use in this capacity. Choose someone who will continue to point your perspective towards the Savior.
My missionary and I are learning the pitfalls of gossip and learning to live our lives in a more Christlike way—striving to focus on lifting others with our words, even if they are not there to hear the words we say about them.
About Emlee Taylor
Growing up all over the world gave Emlee Taylor an opportunity to see the incredible differences the Lord created in humanity; and even better, the passions we all share as members of the human race: love for family, faith, & a desire to make a difference. Emlee lives life with passion—focusing her time now on raising four children and teaching them to recognize truth and to live true to that truth, regardless of others' expectations. Emlee is passionately in love with her bestest friend and husband of more than 20 years. 
Twitter •