In vision, Ezekiel saw water springing beneath the temple in Jerusalem and flowing down the mountain east towards the Dead Sea, would heal everything, including the Dead Sea.
[T]the waters shall be healed. And it shall come to pass, that every thing that liveth, which moveth, whithersoever the rivers shall come, shall live: and there shall be a very great multitude of fish, because these waters shall come thither: for they shall be healed; and every thing shall live whither the river cometh.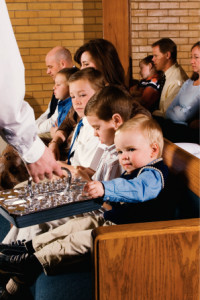 Everything shall live because of the water.  Water of Life.
During His last Feast of Tabernacles feast day, Jesus referenced Ezekiel's vision as He taught the people.
In the last day, that great day of the feast, Jesus stood and cried, saying, If any man thirst, let him come unto me, and drink. He that believeth on me, as the scripture hath said, out of his belly shall flow rivers of living water.
In our generation, the Lord explained the process of flowing living water a little more clearly.
But unto him that keepeth my commandments I will give the mysteries of my kingdom, and the same shall be in him a well of living water, springing up unto everlasting life.
Why Do We Need Living Water?
The Fall brought death into the world. In Moses 6, Moses taught that earthly birth came by water, blood, and spirit.  However, because of the Fall, we die.
That by reason of transgression cometh the fall, which fall bringeth death, and inasmuch as ye were born into the world by water, and blood, and the spirit, which I have made, and so became of dust a living soul, even so ye must be born again into the kingdom of heaven, of water, and of the Spirit, and be cleansed by blood, even the blood of mine Only Begotten; that ye might be sanctified from all sin, and enjoy the words of eternal life in this world, and eternal life in the world to come, even immortal glory; For by the water ye keep the commandment; by the Spirit ye are justified, and by the blood ye are sanctified;
The Savior's atonement transcended and overcome the Fall.  He embodied the living water, blood, and Spirit necessary to become immortal. Immortality is given to all of Heavenly Father's spirit children through Jesus Christ's grace.
That is such an awesome gift! But we have an even greater opportunity, if we choose to accept it.  If we're cleansed by living water and sanctified by His blood, we can "enjoy…eternal life in the world to come."   Life with God. Life that heals and creates life. Life that flows in and through all things.  Living Water.
A first step to being cleansed by living water is baptism.  As we're immersed in water by one having authority, our old selves "die" and we are spiritually reborn. We covenant to be new creatures and live according to Heavenly Father's commandments.
The Woman at the Well
I love that we designate the Samaritan woman Jesus talked to in John 4 as "the woman at the well." Extra-canonical works identify her as Photine and describe her extraordinary dedication to the Gospel, I love meeting her as the woman at the well.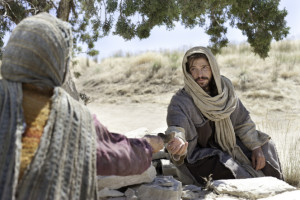 The image of that resonates so deeply with my soul. Here a woman brings a vessel to draw and carry water. It's a task, a daily chore, probably something she's done her entire life.  Are her thoughts distracted?  Regardless of her circumstances, she goes to the well, with a pitcher to be filled.
And Jesus, instead of bypassing Samaria, decided "he must needs go through Samaria." And so on that particular, eternally significant day, Photine met the Living Water at the well of her fathers.
Jesus answered and said unto her, If thou knewest the gift of God, and who it is that saith to thee, Give me to drink; thou wouldest have asked of him, and he would have given thee living water.

The woman saith unto him, Sir, thou hast nothing to draw with, and the well is deep: from whence then hast thou that living water?

Art thou greater than our father Jacob, which gave us the well, and drank thereof himself, and his children, and his cattle?

Jesus answered and said unto her, Whosoever drinketh of this water shall thirst again:

But whosoever drinketh of the water that I shall give him shall never thirst; but the water that I shall give him shall be in him a well of water springing up into everlasting life.
Come and Drink
Am I drinking of His water? Are the "dead" things in my life healed and living? How often do I visit the well? What am I doing to become a "well of living water springing up unto everlasting life?"
Each Sunday, an authorized servant of Jesus Christ passes me a tiny vessel already full of water and invites me to drink. Depending on me and how I approach the Sacrament and my covenant, that water could be just plain water to me and have no impact whatsoever. But by the power of the priesthood, that water is blessed to sanctify. It is Living Water if I present myself a willing vessel.
Behold, he sendeth an invitation unto all men, for the arms of mercy are extended towards them, and he saith: Repent, and I will receive you.

Yea, he saith: Come unto me and ye shall partake of the fruit of the tree of life; yea, ye shall eat and drink of the bread and the waters of life freely;
Come unto Him and drink.
About Delisa Hargrove
I am a member of The Church of Jesus Christ of Latter-day Saints. I have moved 64 times and have not tired of experiencing this beautiful earth! I love the people, languages, histories/anthropologies, & especially religious cultures of the world. My life long passion is the study & searching out of religious symbolism, specifically related to ancient & modern temples. My husband Anthony and I love our bulldog Stig, adventures, traveling, movies, motorcycling, and time with friends and family.