This post, from Collette Brennan of lifebyletty.com, is an introduction to a soon-to-be ongoing series of articles about member missionary work. We love Collette's writing and thoughts on how to share the gospel, and we know you will too! 
Why Do We Share the Gospel?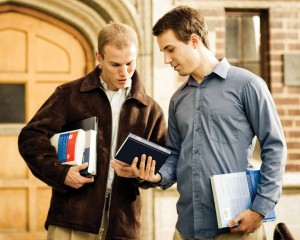 What's up with The Church of Jesus Christ of Latter-day Saints getting all up in everyone's grill? Don't we know that people don't like it when someone "shoves religion in their face"? Everyone else seems to keep to themselves just fine. So why do we believe in member (and full-time) missionary work?
I write this as a preface to any member missionary-related articles to give a clearer picture of why we share the gospel.
What is Missionary Work?
This last month, I was introduced to a new budgeting software that completely changed our financial lives. I was so thrilled about it that I just couldn't keep my mouth shut. I was proselytizing this company so hard that they should have been paying me the big bucks. After a couple weeks, I had to slow my roll and tell myself, "Collette, not everyone wants to talk about budgeting." (But I'm sure you do, so ask me about it later.)
I took a step back and realized how my new budgeting software and the gospel are the same, I mean, for the most part. They both solve a problem, they both make my life a bit easier, and they both make me happy. Turns out that when we find something like that, we want to share it.
In short, sharing the gospel is a very natural and good response to discovering joy. It provides meaningful relationships, a sense of purpose, and an increase of happiness.
What Missionary Work is Not
Let me clearly state what member missionary work is not — or at least, what it should not be. This is not an effort to prove who is right or better out of the mixed bag of religions. And it is not about forcing ideas or a way of life on anyone.
Think of it like a party. It will be a better experience for everyone, host and attendee, if everyone invited genuinely wants to be there. In other words, there is no part of us that wants anyone to be converted to The Church of Jesus Christ unless they actually feel a desire.
Why I Write on Missionary Work
The bottom line is this: God loves each of His children and wants them to find joy. Therefore, His Spirit will be what guides any missionary efforts. No amount of skill can compensate for the power of God in this work.
However, missionary work can be scary and intimidating. It can leave you feeling vulnerable and uncomfortable. My goal is to help build a toolbox so that invitations will be a more positive experience for both the giver and receiver.
This is not about foolproof tactics, conniving, or flattery. That is not how Jesus Christ worked, and it is not how we should work. Instead, this is about reaching out in love and joy to all of God's children.
So join me as we learn together how we can better invite others to "come unto Christ."
Always feel free to share your experiences and ideas in the comments.
About Collette Brennan
Collette Brennan, the self-proclaimed "okay-est" mom you'll ever meet, is passionate about the gospel and how each of us can find the right tools to share it. She is the founder of Life By Letty, a website devoted to helping ordinary moms find extraordinary joy.
Twitter •