A letter written by Rory to his brother (with minor edits by the editor), full of wonderful advice and thoughtful insights on the priesthood and the blessings of being a priesthood holder.
Little Brother,
I want to wish you luck on your assignment to speak to your stake on the topic of "Recommitting as a Priesthood Holder" at the beginning of this new year. What a great topic. I hope that I can add some insight to this topic by sharing my experience. Feel free to share it with your stake if it will help.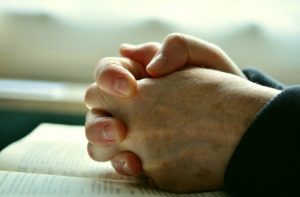 As you know, I was excommunicated in the spring of 2017 for "conduct unbecoming a member of the Church"—conduct that I have since repented of and left behind me.
While I am once again a member, I'm currently in a position where I want to serve others with the priesthood, but am waiting for the time that I can have those blessing restored. While I yearn for that opportunity to serve, I know people who seemingly can serve, but choose not to or serve well below their potential.
My excommunication resulted in the loss of opportunity to offer prayers in Church, to give talks, and to offer sustaining votes. That was especially painful when the entirety of the Church stood in solemn assembly as President Nelson was called and sustained as the prophet of the Lord, and when that same prophet invited members of the priesthood to stand and sing in the priesthood session of general conference when their office was called… but I remained sitting.
I was also unable to partake of the sacrament, as I no longer had any covenants to renew, which also meant I wasn't able to enter the temple or wear my garments. Things that I once viewed as a hinderance on my time or energy became something I craved. Paying tithing, while once a financial strain, was no longer an option and as the provider in my family, we went without that blessing.
Grandfather and I were the only two in our family who served in the United States Military, and what would have been an honor to perform became a heartache as I explained to members of our extended family that I couldn't dedicate his grave as I was no longer a member of the Church.
When my daughter was born five weeks early and unexpectedly diagnosed with Down syndrome, a complex congenital heart condition, and complex bowel issues, I was not able to administer an initial blessing of healing, nor any other blessings for each of her five operations, including a major heart repair. I wasn't able to administer blessings of comfort and counsel to my wife or to our other children.
I also wasn't able to give her a name and a blessing, surrounded by family and friends… I wasn't able to even be in the circle. I could only sit and listen to the blessings offered.
Since I was not a member of the Church during the time of her birth, she was not born in the covenant. We are eagerly awaiting the day when I receive the restoration of blessings ordinance and we can take our older children to the temple so they can witness us being sealed to their baby sister.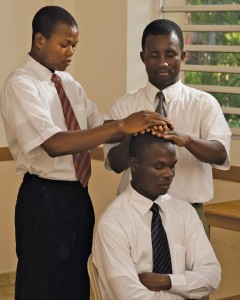 I am grateful for the many men in my life who hold the priesthood, in whom I have had to rely on to bless my family instead of being personally ready each day. They are ready every time I call.
I've had to learn humility and diligence. I have gone to the temple more times in the past year and a half than I had in the past eight years prior to my excommunication—even though I can only walk the temple grounds. I've immersed myself in the scriptures more now than I ever have before in my life, including when I was in the mission field. Service has become a daily observance and we look for opportunities to serve each day, though we never have to look very far.
I have a more sincere desire to study the gospel (specifically the doctrine of Christ), to pray to my Father in Heaven, and to look for and follow the promptings of the Holy Ghost.
I reached out to my mission president for support shortly after I was excommunicated, and he asked me what I planned to do with my time away from the Church. I told him that I planned to not be away from the Church and that I planned to become a serious student of the gospel. He responded in kind with this testimony and counsel:
"I know that God endows serious students of the gospel with a special kind of protection that stems from a knowledge and application of pure doctrine in daily living. Unfortunately, the plain and simple truths (Alma 37:6-7) and the necessary gospel activity that keep us safe in mortality are easily pushed aside under the pressures of life. I would strongly encourage you at this time to consider reducing the non-essential activities in your life and to simplify the essential activities in your life so that you have the time to immerse yourself in a daily regimen of scripture study and meaningful prayer."
This simple counsel has become foundational to how my wife and I approach our daily activities. Instead of adding things to our New Year's to-do plans, our simple resolution is to REDUCE and SIMPLIFY. Our New Year's plans begin with a 40-day fast from social media and a minimization of television and movies, coupled with a 40-day reading of the Book of Mormon. It is our simple but important way to disconnect from the world in order to reconnect with the Lord and with each other.
The call to recommit as a priesthood holder is a call to repentance, a call to turn to the Lord for forgiveness and for change—an opportunity to become.
Christ "went about doing good"; this we know. It is something that some of our finest priesthood leaders do… But more specifically, He taught with power from the scriptures, such as when he was found at the temple at 12-years-old with the doctors, and they were hearing Him and asking Him questions. There was also the time when He overcame the advances of the adversary (His brother, even Satan), by saying "as it is written" for each temptation.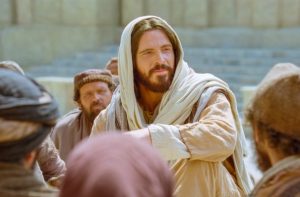 Jesus later announced His divine sonship in Nazareth by reading from Isaiah and announcing that the scripture had been fulfilled. After His resurrection, He met two of his disciples on the road to Emmaus and "beginning at Moses and all the prophets, he expounded unto them in all the scriptures the things concerning himself." He emphasized to the Nephites the importance of recording Samuel the Lamanite's words and He instructed them to search the words of Isaiah.
Is it not our responsibility to know, understand, and apply the scriptures as He demonstrated during His ministry?
In my return to full fellowship with the Saints, it has been disheartening to see friends who once held the priesthood give way to the world and openly criticize the things that they once held sacred. It has been even more disheartening to hear priesthood holders openly dismiss the prophet's invitation to read the Book of Mormon daily, as if it were some hard thing that was asked of them.
The first thing that a man can do to recommit as a priesthood holder is to start by reading the Book of Mormon daily, as that has been an open invitation by every prophet in our dispensation. It is the keystone of our religion. It will get us nearer to God than any other book. It contains the fulness of the everlasting gospel and a strong witness of Jesus Christ as Creator, Savior, and Advocate. Priesthood holders should read and pray individually, and ensure that they read as a family.
The question we ultimately have to ask ourselves is "If it came to the point where the gospel was taught and ordinances were administered exclusively in the home, would I be prepared to take on that responsibility for the benefit of my family and for those I minister to?"
With the new curriculum and changes within the Church, we have an opportunity to change and become in ways that we may not have considered.
I want to be very clear that it wasn't the excommunication that prevented me from using the priesthood. It was my selfish actions that prevented me from righteously using the priesthood. The excommunication was an administrative, though prayerful, decision to aid me in my repentance process.
In reality, I had separated myself from Christ, the Holy Ghost, and the ability to use the priesthood years prior to these formal proceedings. I mechanically performed priesthood and temple ordinances unworthily, and partook of the sacrament unworthily. I literally brought damnation to my own soul as I lost progression toward holier things. I can't recall any significant personal revelations or scriptural insights that I might have received during that time, and the opportunity to become greater than myself was diminished.
I lost the opportunity to gain a testimony that President Monson was a prophet of God, and because of that, his words never moved me like President Hinckley's once did and like President Nelson's now do.
I was truly "left unto [myself], to kick against the pricks, to persecute the saints, and to fight against God" (see D&C 121:33-46) before I decided to repent, which led to my excommunication. During the one year I was excommunicated, I gained more revelation, insight, and spiritual protection than I had in the six years prior when I was wandering in sin and silence, because even though I did not have the constant companionship of the Holy Ghost, I had the Light of Christ and occasional visits from the Spirit. I had a desire to know the glory and mysteries of God and I sought them out. I didn't hold the priesthood, but I had access to the priesthood through my wife's diligent prayers and faithfulness to her covenants. I similarly had access to diligent priesthood leaders, especially a very faithful home teacher (recently promoted to ministering brother)—another responsibility I have longed for.
The prophet is providing us the opportunity to better preside and protect our families within our own homes, and I for one am excited for these changes. After the announcement that home teaching would become ministering and high priests would join the elders, I laughed and told my stake president that I felt like I was getting baptized into a completely different church than the one I left… Not knowing the other changes that would come.
This is an awesome time to recommit as priesthood holders. When I receive the restoration of blessings ordinance this spring, I will be better equipped and ready to assist my family and others with a new perspective on life and the gospel.
In all the things that I lost out on, there are so many more things that I have gained—but that is a letter for another time. I wanted to share all of this with you in hopes that it might help someone. Socrates said to "employ your time in improving yourself by other men's writings, so that you shall gain easily what others have labored hard for," so maybe someone in your audience might come to know that there is wisdom in faithfully exercising their priesthood responsibility.
Moving Forward,
Your Brother
About Rory Mele
Rory is a recently returned member of the restored Church after years of semi-activity and excommunication. He is a husband and father to three, and an advocate to his infant daughter with Down syndrome, congenital heart defects, and other disabilities. He gained a love of writing as a trained Public Affairs Officer for the U.S. Army, and a love for the plain and simple doctrines of the Church through enduring hard things.
Twitter •