How I love reading the Book of Mormon and asking questions based on verses I'm reading!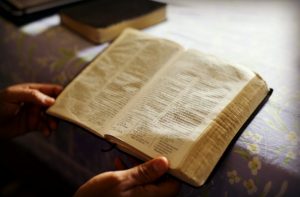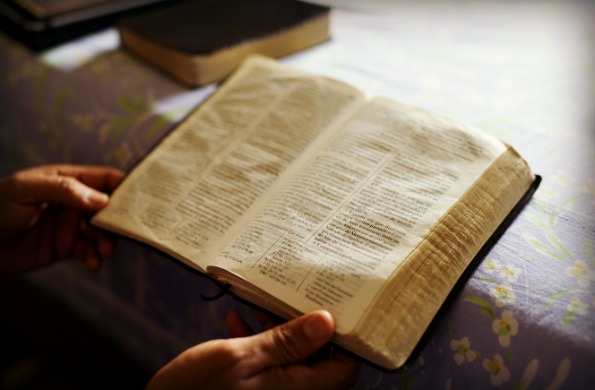 This morning I've been reading in 1 Nephi 3 when Lehi tells Nephi that the Lord wants him and his brothers to go back to Jerusalem and get the brass plates. When speaking to Nephi, Lehi mentions that Laman and Lemuel complained, saying "it [was] a hard thing" that he was requiring of them. Then Lehi explains that it wasn't a requirement from him, but from the Lord.
As I read this, a question popped immediately into my mind: "Is anything too hard for the Lord?" As I read Nephi's response to his father, Lehi, the answer "No" came to my mind just as quickly.
"I will go and do the things which the Lord hath commanded, for I know he giveth no commandments unto the children of men, save he shall prepare a way for them that they may accomplish the thing which he commandeth them" (1 Nephi 3:7).
When obtaining the brass plates seemed impossible, and Laman and Lamuel wanted to abandon their efforts, Nephi and Sam exercised faith. As commanded, Nephi went forward—and because of his faith, the Lord opened the way for him to get the brass plates.
The Lord opened up the way for Lehi and his family many more times as they journeyed to the promised land. To give them direction through the wilderness and lead them to the more fertile parts of the land where they could find food and water, the Lord prepared the Liahona. This miraculous tool led Lehi's family to where they needed to go to hunt for food. Later, when they needed to cross the ocean, the Lord instructed Nephi on how to build a ship.
How to Accomplish Hard Things
However, there is a key in all these things: as with the obtaining of the brass plates, faith proceeded the miracle. The Liahona only worked as the Nephites were faithful. When they allowed themselves to complain or turn from the Lord in any way, they were delayed in their journey, unable to obtain food, and tossed back and forth on the waves of the sea. As soon as they humbled themselves, however, they were once again blessed with guidance and direction and progressed forward in their journey.
Like Lehi and his family, as members of The Church of Jesus Christ of Latter-day Saints, we too are called upon to do hard things. Each week when we partake of the sacrament, we witness to God that we are willing to take Christ's name upon us, to always remember Him, and to keep His commandments. In doing so, we accept His invitation to take His yoke upon us. Elder Neal A. Maxwell, in speaking to BYU students in October 1986, gave the following explanation of what that means for "serious disciples":
Serious disciples are not only urged to do good but also to avoid growing weary of doing good (see Galatians 6:9 and Helaman 10:5).

They are not only urged to speak the truth but also to speak the truth in love (see Ephesians 4:15).

They are not only urged to endure all things but also to endure them well (see D&C 121:8).

They are not only urged to be devoted to God's cause but also to be prepared to sacrifice all things, giving, if necessary, the last full measure of devotion (see Lectures on Faith 6:7).

They are not only to do many things of worth but are also to focus on the weightier matters, the things of most worth (see Matthew 23:23).

They are not only urged to forgive but also to forgive seventy times seven (see Matthew 18:21–22).

They are not only to be engaged in good causes, but also, they are to be "anxiously engaged" (see D&C 58:27).

They are not only to do right but also to do right for the right reasons.

They are told to get on the strait and narrow path, but then are told that this is only the beginning, not the end (see 2 Nephi 31:19–20).

They are not only to endure enemies but also to pray for them and to love them (see Matthew 5:44).

They are urged not only to worship God but, astoundingly, they are instructed to strive to become like him! (See Matthew 5:48; 3 Nephi 12:48, 27:27.)

In the midst of all these things," they are given a Sabbath day for rest, during which they do the sweetest but often the hardest work of all.

(Neal A. Maxwell, "Meek and Lowly," Brigham Young University Devotional, October 21, 1986.)
Looking at this list and contemplating what it implies may seem overwhelming, even daunting. Yet, like Nephi, we can know that the Lord never gives us any commandment, or sets any expectation for us, without preparing a way for our success. He always provides a way for us to be successful in completing any set task He requires of us.
The formula for success is straightforward. Nephi showed us the way.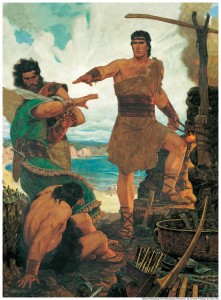 First, receive the Lord's direction as given by living prophets and apostles, the scriptures, and through direct revelation from the Holy Ghost—just as Nephi did.
Second, make the best plans we can with the understanding we have—just as Nephi did.
Third, move forward in faith, trusting in God to open the way before us—just as Nephi did.
That list may seem simple and trite, yet it is applicable to each of the experiences laid out above. It is not meant to trivialize the challenges and difficulties we can and will face in our efforts to apply it. Just like Nephi, we may have to travel through our own wilderness for a while and experience tremendous challenges which greatly try our faith. But like Nephi, as we persevere and trust in God, we can know the way will always open before us. It can take time—the Lord's time—but the way will always open up.
The Lord Always Opens the Way For Us
I know from personal experience that this is true. I grew up in a home where the gospel was taught. However, my father, though he taught the gospel in word, did not live it in deed. He was very abusive verbally and in other ways that not only affected me and my siblings, but others outside my family. He made some very serious mistakes that finally led to his being tried and going to prison for a time.
I was a teenager at the time. As you might imagine, it was a very difficult challenge to deal with. My father's issues were on the nightly news and in the local newspaper. I suffered from soul-deep feelings of embarrassment and shame. I constantly worried about what my friends were thinking—and I felt all-the-way-to-the-core anger toward my father.
Fortunately for me, my friends rallied around me and buoyed me up rather than rejecting me as they could have. Good teachers and kind leaders helped me carry on. Most importantly, however, the Lord carried me as I strove to move forward with faith.
With the Lord's help, I made it through that time, but the anger toward my father festered inside of me for years. I knew I needed to forgive him and let it go. But I couldn't do it on my own.
Finally, I followed Nephi's formula. I accepted the direction to forgive. I then moved forward with faith, trusting that the Lord could open the way. I humbled myself, sought counseling, and fasted and prayed over several months with all my heart and soul. At last, after what for me was one of the greatest struggles of my life, through the grace of Jesus Christ, I was able to forgive past mistakes and let the anger go. For the first time in many years, that immense weight was lifted—I was free.
The Lord loves us. Because He loves us, He allows us (and even expects us) to do hard things, for, as He said to the prophet Joseph Smith, "all these things shall give thee experience, and shall be for thy good" (D&C 122:7).
About Randall McNeely
Randall McNeely is a husband, father of five, and author. He is also a singer/songwriter and has written several patriotic songs, children's songs, and multiple religious hymns. The best known is 'Oh Jesus, Savior of Mankind', which won a Special Recognition award in The Church of Jesus Christ of Latter-Day Saints 2008 Music Submission contest. He and two of his daughters have also recorded and released the children's song Everybody Speaks Smile! Randy has a firm testimony of Jesus Christ. He is the light and the life of the world. It is said and written of Him that "He went about doing good." In doing so, He weaved light into the hearts and souls of all with whom He came in contact, both in word and deed. Randy's desire is to have the same said of him. He wants to have the words and lyrics he writes uplift, inspire, and bless others. To read more articles by Randy visit his Pure Testimony website at www.puretestimony.org.
Twitter •