I am sitting in my office. On my desk, there sits four pairs of earbuds and an AHP1 Alesis headphone. They all used to work well, but over time one or more of the speakers have gone out or at least now work inconsistently. They served their purpose. They were not designed to last forever, I realize, so I grab a new package of ear buds and the problem is solved (at least for a few weeks/months).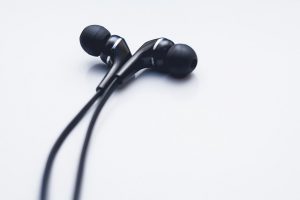 If you don't know, earbuds are in-ear headphones. I grant you, some things were not meant to last in perpetuity. At these times, we adjust or altogether replace them. That's not too big a deal. But in dire situations when success is not optional, we need something consistently dependable.
And in our day, things change so quickly that it seems keeping up is only wishful thinking.
Circumstances have transformed significantly between our day and the time of the apostle Paul (specifically when he wrote his epistle to the Ephesians). Certainly the armor used in that day would vary greatly from the protections we use today. Or would they? Let's talk about that. Shield, sword, spear, and helmet—these aren't so common nowadays, so what do we use as our armor? This is important to know since we are commanded to take upon us the whole armor of God so we can withstand the evils in our day. What do we do?
If I asked how many of you had a shield, sword, spear, or helmet, I think about all I would hear is that a few of us still have a football helmet stashed away in our memorabilia and that's about it. But could it be that these weapons actually have much more value today than we might first expect?
Yes. I think so. See if you don't agree.
The words Paul wrote to the Ephesian saints are still as applicable today as they were then (if not even more so!). Battles that started in heaven millennia ago are still being waged in the lonely foxholes of this planet and in the troubled minds of mankind all across its expanse.
Maybe you're unsure. Let's take a look at a few of the casualties.
Statistics measuring behavior in our day reveal deception, drug and alcohol use, difficulty, world conflict, and personal struggles. Just listen to the conversation in the halls of the local high school and you'll see exactly what I mean.
I don't necessarily agree with all that is said in the various articles on these subjects. I don't have to. The overwhelming negative impacts of the many addictive behaviors and substances today speak for themselves:
They cause harm to individuals and society
They lead to broken marriages and shattered families
They limit people's physical, mental, and social abilities
This is not really surprising since we were warned of these days more than 2000 years ago. The fulfillment of these scriptures only confirms that we are nearing the final hour of the last days.
This know also, that in the last days perilous times shall come.

For men shall be lovers of their own selves, covetous, boasters, proud, blasphemers, disobedient to parents, unthankful, unholy,

Without natural affection, trucebreakers, false accusers, incontinent, fierce, despisers of those that are good,

Traitors, heady, highminded, lovers of pleasures more than lovers of God;

Having a form of godliness, but denying the power thereof: from such turn away.

(2 Timothy 3:1-5—The whole chapter discusses the perilous times of the last days in detail)
So what are we to do? These challenges can feel overwhelming at times, but the Lord has not forsaken us. In fact, He has provided every needful thing for our good.
In the April general conference nearly two months ago, our prophet Russell M. Nelson spoke some powerful words to the men of the Church. He said:
"Brethren, we all need to repent. We need to get up off the couch, put down the remote, and wake up from our spiritual slumber. It is time to put on the full armor of God so we can engage in the most important work on earth. It is time to 'thrust in [our] sickles, and reap with all [our] might, mind, and strength.' The forces of evil have never raged more forcefully than they do today. As servants of the Lord, we cannot be asleep while this battle rages.

"Your family needs your leadership and love. Your quorum and those in your ward or branch need your strength. And all who meet you need to know what a true disciple of the Lord looks like and acts like" (Russell M. Nelson, "We Can Do Better and Be Better," April 2019).
Is that how you are behaving—like a true disciple of God?
Admittedly, we can all do better, but the Lord did not give us that commandment to make life more difficult or because He doesn't have better things to do. He gave us that commandment because He loves us and wants us to enjoy life now, and then return and live with Him in the eternal world to come.
Stand, therefore, having your loins girt about with truth, having on the breastplate of righteousness, and your feet shod with the preparation of the gospel of peace, which I have sent mine angels to commit unto you;

Taking the shield of faith wherewith ye shall be able to quench all the fiery darts of the wicked;

And take the helmet of salvation, and the sword of my Spirit, which I will pour out upon you, and my word which I reveal unto you, and be agreed as touching all things whatsoever ye ask of me, and be faithful until I come, and ye shall be caught up, that where I am ye shall be also. Amen.
There is power in His name. There is power in a prayer. There is protection in following His word. His promises aren't idle words—as we apply His doctrine, we can see the changes in our families, attitudes, hope, and outlook.
You needn't take my word for it. Test His word and you will know for yourself. That is the great promise of the Book of Mormon: you can know these truths for yourself. Millions do.
And when ye shall receive these things, I would exhort you that ye would ask God, the Eternal Father, in the name of Christ, if these things are not true; and if ye shall ask with a sincere heart, with real intent, having faith in Christ, he will manifest the truth of it unto you, by the power of the Holy Ghost.
I personally believe that many of us don't realize the strength of that position. That promise, if true, will teach you the truth of all things. You can know for yourself the viability of the gospel of Jesus Christ and the ultimate destiny of the children of God here on Earth. Did you know that?
"I feel certain that if, in our homes, parents will read from the Book of Mormon prayerfully and regularly, both by themselves and with their children, the spirit of that great book will come to permeate our homes and all who dwell therein. The spirit of reverence will increase; mutual respect and consideration for each other will grow. The spirit of contention will depart. Parents will counsel their children in greater love and wisdom. Children will be more responsive and submissive to the counsel of their parents. Righteousness will increase. Faith, hope, and charity—the pure love of Christ—will abound in our homes and lives, bringing in their wake peace, joy, and happiness" (Marion G. Romney, "The Book of Mormon," April 1980).
Isn't that what we all want?
Everybody is seeking happiness. That may be the greatest endeavor of mankind. Some find it while many do not—but they could. In the gospel of Jesus Christ, our circumstances do not determine our happiness; rather, our happiness is derived by living the gospel and having hope in Him. In turn, that often determines our circumstances and what we do with the things we have been given.
Wherefore take unto you the whole armour of God, that ye may be able to withstand in the evil day, and having done all, to stand.

Stand therefore, having your loins girt about with truth, and having on the breastplate of righteousness;

And your feet shod with the preparation of the gospel of peace;

Above all, taking the shield of faith, wherewith ye shall be able to quench all the fiery darts of the wicked.

And take the helmet of salvation, and the sword of the Spirit, which is the word of God:

Praying always with all prayer and supplication in the Spirit, and watching thereunto with all perseverance and supplication for all saints;
It was true more than 2000 years ago. It is still true today. It will continue to be true in the future.
"True doctrine, understood, changes attitudes and behavior. The study of the doctrines of the gospel will improve behavior quicker than a study of behavior will improve behavior. Preoccupation with unworthy behavior can lead to unworthy behavior. That is why we stress so forcefully the study of the doctrines of the gospel" (Boyd K. Packer, "Little Children," October 1986).
Diversity today is respecting others and granting them the right to believe and live their conscience. Good habits have a way of mechanizing our performance. It works. Demonstrating compassion, showing love and concern, and fighting for others' rights protects both their position as well as our own.
"Hast thou not known? hast thou not heard, that the everlasting God, the Lord, the Creator of the ends of the earth, fainteth not, neither is weary? there is no searching of his understanding."
So you see that the gospel of Jesus Christ works. The armor it provides today deflects adversity and consistently protects us from adversarial influences and unnecessary hardship while simultaneously promoting peace. Its purpose is freedom and happiness—with the very real objective of lasting forever.
Some things were not meant to last in perpetuity, but the gospel of Jesus Christ does.
It has been consistently dependable throughout my life and will be in yours too.
But ye are a chosen generation, a royal priesthood, an holy nation, a peculiar people; that ye should shew forth the praises of him who hath called you out of darkness into his marvellous light.
About Walter Penning
In 1989, Walter Penning formed a consultancy based in Salt Lake City and empowered his clients by streamlining processes and building a loyal, lifetime customer base with great customer service. His true passion is found in his family. He says the best decision he ever made was to marry his sweetheart and have children. The wonderful family she has given him and her constant love, support, and patience amid life's challenges is his panacea.
Twitter •