Everyone loves a good love story—one that tugs at the heart strings and makes you hold your honey a little closer. So when a love story comes along that bridges the gap between this life and the next, it's worth telling. It's not simply a story about the happily-ever-after between two sweethearts—it confirms the happily-forever-after that is promised to us all.
My grandmother and grandfather fell in love and got married in 1939, the year WWII broke out in Europe. They were very young—she was seventeen and he was twenty-one, and they were Germans. He was immediately recruited to fight in the war, and she waited for him. During leave, he came home to her loving arms. They brought three little babies into the word during the next four years.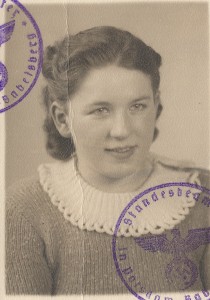 But in 1944, my grandfather was killed. My grandmother was a twenty-two-year-old widow. Then, her youngest child, a little boy, died when he was only seven months old. In 1945 the war ended, and my grandmother and her two little daughters, my mother and my aunt, were left destitute on the communist side of Germany, which became East Germany.
Imagine yourself as a young woman of seventeen, marrying the love of your life, only to find him killed four years later, and then you are alone in a strange country—for that is what communist East Germany was for the people after the war: a strange and frightening land. Imagine the heartache of a lost love, coupled with the devastation of losing a baby and the challenge of raising two small children after your country has been ravaged by war.
My grandmother's soul was raw with anguish during the several years after the war, and I dare say she lost her faith in everything. Fear drove her to act, not faith.
Somehow, she picked herself up, worked as a secretary, and, with the help of anti-communist sympathizers, fled with her daughters from East Germany to West Germany before the wall came up. She was lucky, but she was still a frightened woman. Eventually, with her two daughters, then teenagers, she fled to the United States and remained there until she died.
My grandmother never talked about her life in Germany. She never remarried, nor did she talk about her husband. I never saw any pictures of him except for a military picture. He was an absolute mystery to me. Anytime I tried to talk to her about him, I felt a wall rise up, protecting her emotions, and the conversation would end.
She kept that wall up whenever I tried to talk to her about anything of faith as well, and I quickly learned she had lost faith in God. Who could blame her? After seeing such devastation at such a young age, the scars were too deep and the wounds almost fatal to her spirit. How could she believe in a God of love, when God took her one true love from her? I never pushed the subject—I only prayed that one day she would find peace. We were as close as we could be, given her guarded pain, and I always felt she wanted to heal but didn't know how. When she developed Alzheimer's disease, it was inevitable she would die without the peace the gospel could have brought to her heart.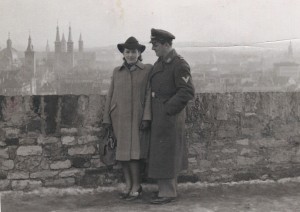 A month before her death, when she was too far gone to communicate, I found a picture of her and my grandfather taken the year they were married. It was a tiny snapshot in an old leather pocket-sized album which she kept in her dresser drawer, and it was remarkable. She was a smiling young girl, looking at the camera, and he couldn't take his eyes off of her—there was no mistaking the absolute adoration in his face. It was so compelling; his love for her had come alive in this one picture! I wished I had seen it earlier. I wished I had a chance to ask her about it, about him, and about how crazy in love he was—because the emotion was so obvious from this 2-inch, black and white picture from seventy-two years ago.
I had the picture enlarged and put on display at her viewing, and everyone who came to pay respects got a detour to the board on which the picture was mounted. I couldn't contain myself as I told the story of his love for her—as if I had known him personally. And all throughout the night, I had this very special feeling that he was there with me, confirming to me that indeed he did love her like crazy still and that he was ready to take care of her. It was a sweet feeling, indistinct at first, but undeniably real.
Two days after the funeral, I went to the Manhattan Temple for my regular temple work shift. During my shift, I had an unmistakable spiritual experience—my grandfather's presence was there with me, confirming to me again (and more powerfully than before) that he loved my grandmother as much as he had when they were first married and that he would take care of her.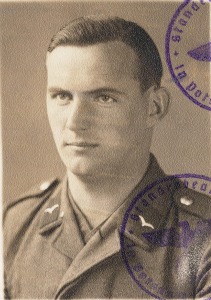 Immediately I thought of how she lived a lonely life, void of love and faith, and how she went to her grave this way. How would she ever be willing to listen to the message of the everlasting gospel with such a bitter history? Would she ever believe that God loved her after a life of hopelessness and doubt? Almost simultaneously I felt my grandfather's presence confirm to me that she would listen to the counsel of her husband and the word of the Lord. She may have died without the peacefulness of faith, but she would not remain that way. It would be my grandfather himself that would teach her the gospel, to show her God's eternal plan, and to help her understand the eternal message she was unable to hear in her earthly life.
You see, my grandfather's mortal life ended in 1944, but his spiritual life began that same year. His body is gone for a season, but his spirit lives on. We, as members of The Church of Jesus Christ of Latter-day Saints, believe that when the spirit leaves the body, it enters a realm called the spirit world where those who never had a chance to hear and accept the principles of the gospel while on Earth have the chance to hear and accept the principles there.
My grandfather has been in this realm for decades, preparing himself to help teach his wife when it was her turn to arrive. He has known what I have known: that my grandmother had a terribly difficult time without him and that she might be less likely to accept the gospel from anyone else. Thankfully, she doesn't have to hear it from anyone else! At the time of her passing, I know he was there to greet her, to take her hand, and to lead her into a happily-forever-after existence where she could learn the principles of eternity and all the love that it entails.
This is the love story of the gospel—life continues beyond the grave. Love continues in eternity. Families are forever. What is bound on Earth continues in heaven. And not only will my grandparents be together for all of eternity, they will have their tiny son to raise together again. Love stories don't get any better than this. We have our Savior, Jesus Christ, to thank for this eternal blessing. We have the temples to perform these sacred ordinances. Love stories can continue for eternity through the gospel of Jesus Christ.
This post was originally published in February 2016. Minor changes have been made.
About Nanette ONeal
Nanette O'Neal loves the gospel and is very happy to share her testimony on LDS Blogs. She is a convert to the church and still feels the spirit burn strong within her heart. She graduated from Mason Gross School of the Arts with a degree in music education and has taught children and adults in the private and public sphere for over twenty years. Nanette continues to study the gospel and the art of writing. She writes weekly inspirational articles on her blog and is currently working on an LDS fantasy novel series, A Doorway Back to Forever. You can find her at NanetteONeal.blogspot.com. Nanette has a wonderful husband, talented son, and three beautiful dogs.