The bridegroom denied access to five unwise virgins, saying they didn't know him. So how do we come to know Jesus Christ?
My mom, Darla Bushman, shared some thoughts about how one of her missionary experiences taught her to know Jesus Christ more completely than she did before her service by ministering to Heavenly Father's children in a way that would bring the greatest joy to her!
My husband and I served for 18 months in the Florida Tallahassee Mission. We were privileged to labor in the Daphne Alabama Ward and the Foley Branch areas of the Mobile Alabama Stake as MLS, or member-leader support, missionaries. It was a wonderful experience, and I'm glad we could do this.
I pondered Doctrine and Covenants 15:6 which tells me that what will be of the most worth to me is to declare repentance and bring souls to Christ so that I can be with them in our Father's kingdom. It says that doing missionary work is the thing of greatest worth for OURSELVES.
In the parable of the 10 virgins, found in Matthew 25:1-12, the five foolish virgins were not allowed to come into the wedding feast because the bridegroom said he didn't know them. The wedding feast represents exaltation in the celestial kingdom, and the bridegroom represents our Lord and Savior Jesus Christ Himself.
In reality, Jesus knows all of us very well.  Alma 18:32 says: "He looketh down upon all the children of men and he knows all the thoughts and intents of the heart for by his hand were they all created from the beginning."
The reason he couldn't let them in is made more clear in the Joseph Smith Translation of Matthew 25:12, which says, "Verily I say unto you, Ye know me not."
Our purpose in our mission was to help people to KNOW Jesus so that they could enter into that kingdom and be with Him and our Heavenly Father through eternity.
How Do We Know Jesus?
How do we come to know Jesus in such a way that we can enter into the feast like the wise virgins did?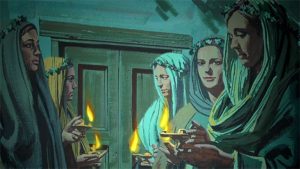 Did they have access to information about Him that we do not have? I think not.
Coming to know the truth of anything is a process, but it is not hard. It's something we all do every day, many times a day, and God has given every person the light of Christ to help him.
In Alma 32, Alma tells us we can start this process of knowing the truth with a desire, which we plant in our hearts like a seed. After we nourish it for a time, it can begin to swell and sprout and soon we can come to a perfect knowledge that the seed is good, or it would not be growing. Over time as we continue nourishing the sprout, it can grow into a beautiful tree.
Elder Lynn G Robbins explained this process marvelously in a worldwide devotional talk given in May 2015. I would like to share some of his thoughts.
He said that two prophets (Alma and Mormon):
testify that it is the Light of Christ that gives us a perfect knowledge of truth. Even the people of the world recognize that they have an inner sense of right and wrong. They acknowledge the Light of Christ in the use of the word conscience, which comes from the Latin word conscientia, or "knowledge within oneself."

With that light as our seal of truth, we continue to progress line upon line, and precept upon precept  "until by the power of the Holy Ghost we may know the truth of all things."
Learning a truth by study and by faith and then acting on it will give us the experience we need to judge right from wrong.
Jesus said that "If any man will do His will, he will know of the doctrine" whether or not it is of God.
Opposition Teaches Truth
Another thing that helps us in this learning process is opposition.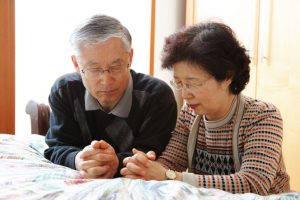 2 Nephi 2:11 tells us that there "must needs be… an opposition in all things."
In general, most people don't like opposition.
But Elder Robbins taught that:
Opposition is indispensable to our education and happiness. …Opposition not only reveals or unveils the truth but manifests its inherent power, joy, and sweetness. For example, it took a taste of the bitter life for the prodigal son to realize what a sweet life he had abandoned back home and had taken for granted in his youth.

Brigham Young: "All facts are proved and made manifest by their opposite."

We realize it is only through pain and sickness that we come to value our health. As a victim of dishonesty, we treasure integrity. Experiencing injustice or cruelty, we cherish love and kindness—all with a "perfect knowledge," having tasted the fruit of each by the light which is in us. The perfect knowledge comes fruit by fruit, through opposition in all things.

Consider several  Christlike virtues, and contrast each with its opposite. As you think of  each one, the Light of Christ in you should affirm to your mind and your heart that each Christlike virtue is sweet, while it's opposite is bitter:

Love versus hate, hostility, opposition
Honesty versus lies, deceit, theft
Forgiving versus revenge, resentment, bitterness
Patience versus short-tempered, hotheaded, intolerant
Humility versus pride, unteachable, arrogant
Peacemaker versus contentious, divisive, provoking
Diligence versus grow weary, give up, stubborn

Elder Robbins testified:

I have come to know the power, truth, and sweetness of each virtue, one by one, through thousands of validating experiences. Good fruit comes with its own inherent proof and validation—its taste! The proof is in the eating, fruit by fruit and line upon line, each with a "perfect knowledge."  And likewise our spirits can taste the light!


When a person is baptized and worthy of the gift of the Holy Ghost, he or she receives a greater endowment of the Light of Christ, as noted in this Book of Mormon verse: "If this be the desire of your hearts, what have you against being baptized in the name of the Lord, … that he may pour out his Spirit more abundantly upon you" . . .

"And he that receiveth light, and continueth in God, receiveth more light; and that light groweth brighter and brighter until the perfect day."

We all know that a greater abundance of light improves our vision.

Thus having greater light with which to see,  we can contrast some of the doctrines that are unique to The Church of Jesus Christ of Latter-day Saints.

God is our Father, and we are created in His image versus not literally our Father; He is incomprehensible, unknowable
His church is a divine organization with prophets and apostles versus abandonment of His established pattern
The Lord is a God of order, governing through those holding priesthood keys versus confusion, disparate voices, "false spirits" (D&C 50:2)
Priesthood authority and being called of God versus an earthly degree in theology; elected, hired, or self-appointed
Ordinances and covenants versus simply live a good life
Children innocent versus infant baptism
The Book of Mormon, a second witness versus the Bible, an only witness
Eternal marriage and families versus till death do us part

Through 68 years in my life, I have "built" or "grown, line upon line, a testimony that these doctrines of the Church are true. They, among many others, "taste" so sweet to me.
Applying Opposition Personally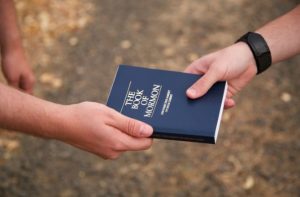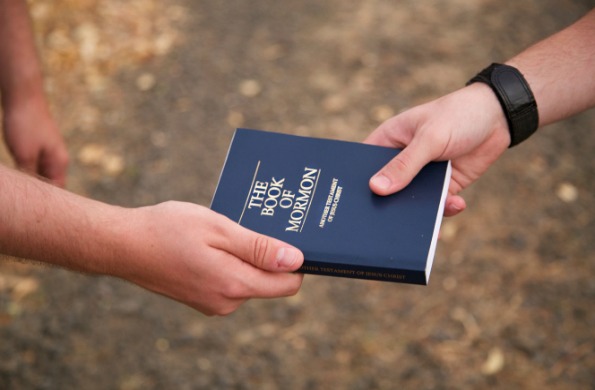 "Our mission brought us opportunities to face opposition and make choices that helped us see things more clearly.  For instance:
Going on a mission versus staying home.
Going out to see people every day versus staying in the apartment or doing other things.
Being persistent versus not going back when there isn't a sign of progress.
Becoming one in purpose with my husband as we prayed together for guidance versus blindly going about our day.
By going on a mission I learned the truth that declaring repentance has been of great worth to me.  The reward is coming to know God and His love for me and all of His children.  It is having experiences that soften our hearts, deepen our faith, and teach us a pattern of relying on Christ.  It is the opportunity to see the gospel in action in the lives of those we teach, changing their bad habits as well as our own.
Knowing Jesus Was With Us Through The Opposition
I know Jesus was with us through our opposition, as I can highlight in a few examples.
One was when our car broke down far away from any help we knew of and immediately God provided a person that came to give assistance and tow us to a truck stop. Then we were guided through each decision and step to take after that, such as who to call in the ward to find out where to take the car to fix the transmission. This person gave us his own car to use for a week while ours was being repaired so we didn't have to stop going out and visiting people! The Lord even blessed us to get the car fixed for less money than we anticipated.
Another time we felt Jesus was with us through the opposition was when we visited a sister and she wouldn't let us in because she couldn't hear us through the door telling her who we were. So after trying a few times unsuccessfully, we called her on the phone. Then she let us in and we had a good visit. Two days later she gave us a referral for a couple.
The husband was one who did not want to listen when the young elders came to their home. He would go into another room. But his courtesy and respect for us helped him to stay and hear what we had to say. He was very receptive, even a golden contact. We were able to teach and baptize him and help his wife return to Church activity.
We also followed the inspiration of the Spirit to teach and work with an inactive member and a widow of many years who became excited to earn the chance to be sealed to her deceased husband. Someone told us she was not really even a candidate for the temple, but we saw the spark of her divine nature in her eyes and kept going back.  After working with her for over a year, we were honored and privileged to accompany her through the temple for her endowment and sealing.
We also kept going back to a part-member family, even when at first the inactive wife didn't want us to come and told us not to talk to her non-member husband about the Church. We saw a light of kindness and love in her eyes which began to grow into an eternal friendship the day we came and helped them smooth out the cement in their driveway over their broken bridge.
We served people in any way we could, hoeing weeds or planting seeds in their gardens, sewing for them, cooking, making birthday cakes, joining them in their family special occasions, giving blessings, listening, explaining scriptures, teaching family history skills, and so forth.
I could go on and on. The list of people we worked with and came to love is very long and we feel very enriched by our experiences with each one of them.  Even if we didn't see a great change in them, I know they have tasted more of the sweetness of the gospel light as they asked us to keep coming back to visit them.
Serving Deepened My Knowing
Because of serving that mission, I KNOW many things even better than I did before:
I know that Jesus Christ is the Way, the Truth and the Light, our Savior and the Son of God.

I know the worth of souls is great.

The Church of Jesus Christ of Latter-day Saints is the true Church and kingdom of God on the earth.

We need the Church and the ordinances to come to know Jesus as we should.

Opposition helps us to see things more clearly.

Greater light helps us to see things more clearly.

A believing, soft heart helps us to see things more clearly.

Doing good helps us gain more light so we can discern the truth.

The Book of Mormon is the true word of God and Joseph Smith is a true prophet.

We have a true and living prophet of God and following him will help us know Jesus.
The prophet Alma states that the seed or desire planted in our hearts can grow and mature into the tree of life. The angel taught Nephi that the tree of life is a symbol for Christ. If we follow Alma's counsel of planting and nourishing the seed until it becomes the tree of life within our hearts and souls, the image of Christ will be in our countenance.
And we will KNOW HIM because we will be like HIM, and He will personally welcome us through that impressive door into the great and wonderful wedding feast to our exaltation.
About Delisa Hargrove
I am a member of The Church of Jesus Christ of Latter-day Saints. I have moved 64 times and have not tired of experiencing this beautiful earth! I love the people, languages, histories/anthropologies, & especially religious cultures of the world. My life long passion is the study & searching out of religious symbolism, specifically related to ancient & modern temples. My husband Anthony and I love our bulldog Stig, adventures, traveling, movies, motorcycling, and time with friends and family.