Peter and John walked towards the temple and saw a lame man begging for alms. Peter and John "fastened" their eyes on the man and told the man to look at them.
And he gave heed unto them, expecting to receive something of them.

Then Peter said, Silver and gold have I none; but such as I have give I thee: In the name of Jesus Christ of Nazareth rise up and walk.

And he took him by the right hand, and lifted him up: and immediately his feet and ankle bones received strength.

And he leaping up stood, and walked, and entered with them into the temple, walking, and leaping, and praising God.
Why this man on this day?
Peter and John offered the lame man something amazing—he just had to reach out in faith and take Peter's hand.
This healing at the temple gate caused quite a stir.
Jesus generally waited for people to approach or call on Him before performing these types of miracles. But Peter and John fastened their eyes on that man that day and performed a miracle.
Jesus told His disciples to preach to every person! I feel like the Holy Ghost directed this encounter.
And he said unto them, Go ye into all the world, and preach the gospel to every creature.

And they went forth, and preached every where, the Lord working with them, and confirming the word with signs following.
As I pondered about the lame man being offered a miracle and accepting it, I considered my own faith in accepting Christ's grace and miracles. Do I reach for the outstretched hand? Do I reach out to others?
A distinct memory of someone my companion and I stretched to lift came to mind. I pulled out my mission journal to read the account and found other stories during that timeframe also recorded. Each of these people impacted me that day in 1993 and also really brought this story to life for me. I'm so grateful I wrote them down.
Sister Bonham and I crossed their paths in specific ways. We stretched out our hands as missionaries of the Lord.
Mr. Anderson
Friday, 2 April 1993 found me and Sister Marcy Bonham tracting a modern apartment building in Dundee, Scotland. The stairwells and hallways relied on sunlight during the day, but clouds obscured the sun. We knocked the door at a semi-darkened doorway.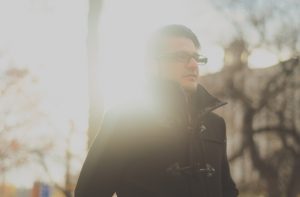 Mr. Anderson opened the door. He was a somber young man in his 20s. He invited us into his home after we explained that we wanted to share a message about Jesus Christ's gospel. He led us into a tidy, well-kept living room flanked by windows. The sky suddenly didn't seem so dark as the afternoon light filled his flat.
We sat and, after introductions, began teaching him about Jesus Christ and His glorious plan of salvation.
Mr. Anderson told us that he'd been terminally diagnosed with AIDS. He didn't feel confident to stand in the presence of God. He felt engulfed by despair.
The Holy Ghost filled our hearts with compassion for him. We knew he could find hope in and through Christ.
He loved the truths that we taught him and he quickly grasped the doctrines. But he did not believe that He would be accepted by God. He had no hope and couldn't believe that the hope we talked about applied to him.
His rejection of hope devastated me enough that I still remember everything about teaching him—the pain in his eyes, where Sister Bonham and I sat, and especially the sadness I felt as he verbalized his hopeless sorrow.
James
I searched my journal for reflections on teaching Mr. Anderson, and saw another entry about teaching James that day. I'd forgotten about James.
We'd taught James and he'd received a witness that he should be baptized into The Church of Jesus Christ of Latter-day Saints. But James vacillated in his resolve. I didn't record his complaint, but I did record that I told him his complaint was "a load of rubbish and God would remind him one day that Sister Bonham and Sister Bushman taught him and he knew the truth and rejected it" (not my typical MO).

Joe
We were a little downcast but only for a second! We prayed and went tracting.  We walked up this one street we'd never been on. We passed a house and then went back and turned in. Knocked. Nothing. Knocked again. We stood there talking to each other. Turned to go. We both felt like we shouldn't go.

We walked around the house in time to see the back door shut, so we ran back to the front door and knocked two times. The door opened and a man said no.

I felt desperate to teach! I said we came from America to teach him and he needed to listen. We felt inspired to tap his door. He let us in.

Joe is his name. He felt the Spirit. He said he would read and pray! The discussion slid off our tongue as the Spirit directed.

We left Joe on a high at 9:00pm!
Bus Stop Woman
We met a woman at the bus stop. She said we could teach her until her bus came. So we did.

We totally walk around all the time saying how blessed we are. We are blessed!
I wrote about feeling guided by the Holy Ghost as a missionary. We followed those promptings as best we could. I learned that every person would choose how they'd respond to the Spirit of the Lord. Each of these wonderful people felt the Holy Ghost that day.
I can also choose how I respond to the Holy Ghost's promptings.
I want the Lord's messengers to find me at the temple. I want to accept every miracle at the hand of the Lord. His grace makes all things possible and I believe it!
About Delisa Hargrove
I am a member of The Church of Jesus Christ of Latter-day Saints. I have moved 64 times and have not tired of experiencing this beautiful earth! I love the people, languages, histories/anthropologies, & especially religious cultures of the world. My life long passion is the study & searching out of religious symbolism, specifically related to ancient & modern temples. My husband Anthony and I love our bulldog Stig, adventures, traveling, movies, motorcycling, and time with friends and family.