"You look exactly like your dad!"
While my parents served an 18-month mission in the Santiago Chile East Mission, I visited them twice. The first time was with Daciana to "pick up" our returning sister Destinee who flew at the end of her 18-month mission from her mission in Buenos Aires, Argentina, to Santiago, Chile to see our parents. The second time was eight months later with Desirée and Dionna as Dionna received her endowment with our parents present in the Santiago Chile Temple in preparation to serve her 18-month mission in Buenos Aires, Argentina.
Our parents served as Member and Leader Support missionaries. They didn't relax their pace at all when we arrived. We rode buses up into the Andes to visit their members in beautifully colored, often dirt floor, always welcoming homes. We hit the pavement of Santiago going to their teaching appointments and dropping in to see their members.
At nearly every single introduction, I heard, "Wow! She looks just like you!" spoken to my dad. And to me, "You look just like your dad!!" And they all thought it was hilarious that a daughter looked just like her father.
Not only do I look like my dad, but I also perpetuate many of his idiosyncrasies. Both of our mouths are always open in some kind of expression, usually talking. We have similar intonation. We both think we're hilarious and help others think so, too. We stand similarly.
And so, the Chileans thought I was the exact likeness of my father.
I really like my dad, so I didn't mind. To be honest, I thought I was similar to dad, but not exactly like him. But on both trips, two other sisters were present in those moments and I don't recall people saying my sisters looked exactly like our dad.
Created in the Image of God
I've reflected on this experience, and my physical inevitability, over the succeeding years. Looking exactly like my dad takes on new meaning when I read the scriptures about relationships like Adam and Seth where Seth looked and was exactly like his father.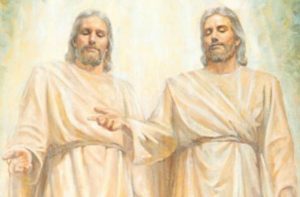 As I read the New Testament and hear the Savior's description of the Father, I learn even more about being in the likeness of my father both physically and characteristically.
If ye had known me, ye should have known my Father also: and from henceforth ye know him, and have seen him.

Philip saith unto him, Lord, shew us the Father, and it sufficeth us.

Jesus saith unto him, Have I been so long time with you, and yet hast thou not known me, Philip? he that hath seen me hath seen the Father; and how sayest thou then, Shew us the Father?

Believest thou not that I am in the Father, and the Father in me? the words that I speak unto you I speak not of myself: but the Father that dwelleth in me, he doeth the works.
In Genesis 5, Moses taught that we are all in the likeness of God.
This is the book of the generations of Adam. In the day that God created man, in the likeness of God made he him; Male and female created he them; and blessed them, and called their name Adam, in the day when they were created.
Moses 2 captures God's intention that we be created in His likeness.
And I, God, said unto mine Only Begotten, which was with me from the beginning: Let us make man in our image, after our likeness; and it was so.

And I, God, created man in mine own image, in the image of mine Only Begotten created I him; male and female created I them.
How Are We Created in God's Likeness?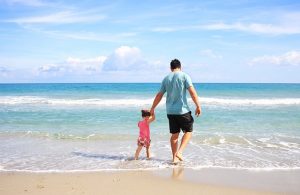 How do you understand those verses?
Do you see physical attributes representing the image of God? Do you see Him in divine characteristics and idiosyncrasies? Do you see the likeness of God in spiritual gifts?
Consider these verses about our innate divine characteristics.
From Doctrine and Covenants 88:
And the light which shineth, which giveth you light, is through him who enlighteneth your eyes, which is the same light that quickeneth your understandings;

Which light proceedeth forth from the presence of God to fill the immensity of space—

The light which is in all things, which giveth life to all things, which is the law by which all things are governed, even the power of God who sitteth upon his throne, who is in the bosom of eternity, who is in the midst of all things.
And from Doctrine and Covenants 93:
The light and the Redeemer of the world; the Spirit of truth, who came into the world, because the world was made by him, and in him was the life of men and the light of men.

The worlds were made by him; men were made by him; all things were made by him, and through him, and of him.
Light is part of our spiritual DNA. We have the opportunity to gain more light and increase our likeness of God.
And that which doth not edify is not of God, and is darkness.

That which is of God is light; and he that receiveth light, and continueth in God, receiveth more light; and that light groweth brighter and brighter until the perfect day.

And again, verily I say unto you, and I say it that you may know the truth, that you may chase darkness from among you;
Becoming the Likeness of the Father
Images are a constant hot topic, especially in the Old Testament. Mankind began to create images in the likeness of things that were not God. They did not perpetuate or worship His image.
Ye shall make you no idols nor graven image, neither rear you up a standing image, neither shall ye set up any image of stone in your land, to bow down unto it: for I am the Lord your God.
Because we are children of God, we create. The challenge for us is to know who we worship and what we worship. Then we can take our inherently divine DNA, and through the Lord's merciful guiding hand and generous grace, we can accumulate more light, engraving the image of God on our countenances.
I say unto you, can ye look up to God at that day with a pure heart and clean hands? I say unto you, can you look up, having the image of God engraven upon your countenances?

Beloved, now are we the sons of God, and it doth not yet appear what we shall be: but we know that, when he shall appear, we shall be like him; for we shall see him as he is.
The whole purpose of the Father's plan was to enable His children to become exactly like Him—in glorified resurrected body, in holy, sanctified personality, in exalted everlasting burnings.
I love my dad! I'm grateful for the experience of being exactly like my earthly father because it taught me that I can gain a fulness of the likeness of my Heavenly Father.
As for me, I will behold thy face in righteousness: I shall be satisfied, when I awake, with thy likeness.
About Delisa Hargrove
I am a member of The Church of Jesus Christ of Latter-day Saints. I have moved 64 times and have not tired of experiencing this beautiful earth! I love the people, languages, histories/anthropologies, & especially religious cultures of the world. My life long passion is the study & searching out of religious symbolism, specifically related to ancient & modern temples. My husband Anthony and I love our bulldog Stig, adventures, traveling, movies, motorcycling, and time with friends and family.