This is part two in a two-part series dealing with the theme of abuse (specifically child abuse) and how to heal from it — for both the abused and their loved ones who strive to comfort and care for them. Read the first part here.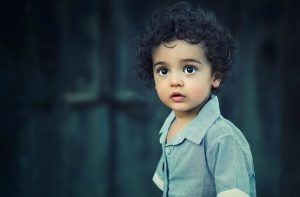 I refer to my oldest son as the "child of my heart," always tugging at my heart with each experience he encounters. My youngest son is the "child of my mind," challenging me to understand deeper lessons. I see aspects of myself in each of my sons. Through the years I have learned how they see themselves in me, too.
When he was a child, my oldest son preferred to observe others in silence rather than being directly involved in an activity. It was like he wasn't willing to try something until he had watched others long enough that he felt he could accomplish it. He seldom verbally expressed himself. For years, the only way I was aware of his feelings was if I would keep guessing several different feelings and when he burst into tears, I knew I'd finally found the one he was experiencing. It wasn't that he didn't want me to know his feelings, he just had no idea how to identify them, much less express them.
Like me, he is an experiential learner… All the while testing the limits of his ability to tolerate pain. It is sometimes very difficult to observe how well he models my behavior. While he continues to struggle with his pain, he is gradually coming to understand that he was a victim of abuse. The abuse isn't who he is; it did not irrevocably define his destiny. It's something that happened to him.
He is beginning to realize that he doesn't need to create a life where he continues to feel victimized. He doesn't have to learn in pain unless he believes he deserves to. He can choose to learn his lessons in a haven of love and peace when he is ready.
As a single dad, he is a hard worker and provides love and protection for his two little girls. He is a private person and prefers to deal with his pain in solitude. Occasionally he reaches out to me for feedback and then retreats to the safety of his own thoughts and ponders his choices. He reflects to me my own tendency to explore my weaknesses to discover my strengths.
Even though life may feel to him like a seemingly endless struggle, I believe he will come to appreciate the priceless value of his journey. I remember a t-shirt I gave him once that reflected my perception of him. It said: "Fear will take you further than courage. Just not in the same direction."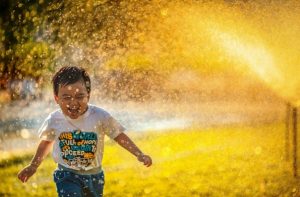 By contrast, my youngest son focuses on his strengths and allows his weaknesses to gradually become transformed into strengths. He appeals to my desire to seek wisdom in each lesson I encounter. He has a wonderful way of "cutting to the chase" by stating the obvious about a situation I can't seem to grasp.
I remember his comment to me when he was about 20 years old as he observed my manner of examining each fragment of my pain as I struggled to make sense of it. When I learned of his abuse, I wanted to help him come to grips with his pain. He said, "Mom, peoples' problems are kinda like zits. Some people like to pop their zits. Other people prefer to leave them alone and let 'em just dry up and go away. So, don't be trying to pop my zits! Okay?!"
From the very beginning, he has lived his life in bright colors, huge exclamation points, and grand gestures. He wasn't a bit shy about expressing himself and asking for what he wanted. There were times when he mirrored me so well, I was sure he was going to drive me crazy!
His initial reaction to the abuse seemed self-destructive. He stuffed his pain behind his anger and his creative ability to act and dance. He defied anyone who sent him the message that he was going to fail. In his own way, he set out to prove them wrong.
Gradually he chose to believe he deserved a life of happiness and productivity. The anger seems to be much less as he and his gentle wife co-create a home of love and stability for their three little girls. He enjoys the challenge of jet ski racing and is a consistent winner. It provides a wonderful channel for his creative energy. The t-shirt I gave him reads: "You can give me all the reasons and excuses you want to. The bottom line is… You Can't Beat Me!"
As different as they are, the one quality my sons seem to hold in common is an intense love for their children and a desire to create a world for them which will be based on respect for personal boundaries and an increasing awareness of the importance of unconditional love for self and others. I will always remember how excited I was to see my sons walk across that threshold into fatherhood.
A Child is Born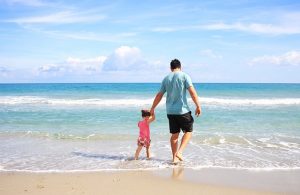 How do you express the sensation of
watching your child become a father?
You view that complex doorway from the side of experience,
you wonder if he is aware his formerly casual outlook
on life has forever slipped away.
Has he contemplated the far reaching reality
that he will perhaps never again have the luxury of thinking
"Hey, don't bug me, it's my life"?
Does he realize that from this day forward,
there will be a "piece" of his soul exploring
the universe virtually out of his jurisdiction?
Here is a being, an intelligence, who has
the inherent right to be a free agent.
An agent who, within a very short amount of time,
will insist on the undeniable privilege of thinking and acting
in harmony with her own comprehension.
Has he yet pondered how her presence in his life
will carve out channels in his soul that will alternately
be filled with joy and pain? How he will anguish as she
runs laughingly through the meadows of her life, unaware of the
lessons that are concealed in each experience?
How long before he desires to voluntarily undergo all
her painful lessons if she could only be spared?
And yet knowing each lesson will prepare her for the next.
The compassionate reality is:
All anxiety of this responsibility will be
totally washed away in the years to come
every time she stands next to him and proudly says,
"He's my dad!"
By Sonja Lorrigan Hopkins
March 19, 1991
I am grateful for the opportunity I have to be Grammy to these beautiful little girls. They provide a wonderful mirror for me and help me remember to nurture the little girl that is inside of me. I always wanted to have daughters and that dream is realized as I feel their eager arms around my neck and the see the glistening eyes and broad smiles as they exclaim, "Grammy!"
Shortly after writing this poem, I had an experience that led me to this insight about my inner child, which in turn led to much learning in the years to come.
My Little Girl
My child bearing years were prematurely suspended
after the birth of my second son.
All those dreams of a little girl to love
had long since been tucked away in my heart
along with visions of pink pinafores, pastel hair ribbons,
and all the little squeals expressing her delight
at a newfound treasure.
For years I continued to have the inner sense
of wanting to sit and wait at the window,
expecting to see her, at any moment,
running down the path to my open arms.
How could I have been so sure she was coming?
Then, one day….. There she was…..
Standing in the shaft of sunlight
filtering through my kitchen window.
I could see every detail —
Tiny tear-stained face;
Cotton dress, faded, limp, torn;
Thin, stringy hair hanging in uncombed clumps.
My tender heart reached out,
Preceded only by aching arms which scooped her up
As my inner barricade shattered!
Years of deprivation gushed forth!
A massive outpouring of tears,
loneliness,
sadness.
Gradually I discovered I was embracing thin air…
The realization flooded in:
I did have one more child to bear!
I had finally given birth to my inner child!
The little girl inside me had been unable to come forth.
She was entangled deep within my resentment,
Patiently waiting for me to release the pain
And grow up… So she could.
By Sonja Lorrigan Hopkins     
June 10, 1991  
About Sonja Hopkins
Sonja lives with her husband, Dale, on Anderson Island, Washington. She and her husband are Church Service Missionaries serving in the Addiction Recovery Program, focusing on pornography and sex addiction. She is also a certified life coach and teaches "Life Skills for Emotional Self-Mastery" in her stake twice a month. She does not teach you only to process something traumatic done to you in the past; rather, she helps you learn to feel it, heal it, and LET GO of whatever you still do to yourself and to others in order to cope with what was done to you in the past.
Twitter •