You know Him by many names:
Savior
Redeemer
The Prince of Peace
King of Kings
And many, many more.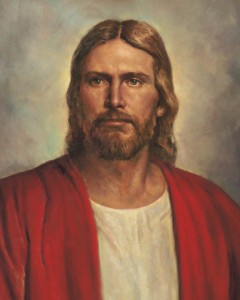 In fact, the Bible Dictionary lists dozens of names for Jesus Christ. We are told repeatedly that we can reach heaven only through Him. Jesus said, "I am the way, the truth and the life: no man cometh unto the Father, but by me" (John 14:6).
Even then we may fail to grasp the immensity of the gospel in our lives and enjoy the strength of our position. There are many things outside our reach without the help of Jesus Christ.
I attended an early morning priesthood meeting a few years back that emphasized this truth. It is hard to imagine that it has been so many years already! Our stake president recounted a phrase and a sentiment that has never left me. I believe it articulates the higher vision we should always cherish.
He shared with us his notes from a sealing of a relative, performed by Robert L. Backman, an emeritus member of the Seventy. This general authority was born in 1922 and was 91 years old at the time of this sealing. He was very spry and in what appeared to be excellent health.
From my notes, I recall he discussed the privilege we have to share in the priesthood of the Son of God and use it to build one another, lift others to the Savior Jesus Christ, and foster greater confidence in Him. We husbands have the express role of testifying of Him and receiving His help in our responsibilities as a husband and father. I jotted down the sentiments he shared and words of a beautiful prayer we men can speak in behalf of our spouse:
"Manifest in our marriage is the highest order of the priesthood. Heavenly Father, we are so grateful for the Owner of the priesthood and grateful to be given the opportunity and responsibility to return to Thee. Please give me the strength and ability to lead this Thy daughter and our family back unto Thee."
He continued, "May the Lord continue to sustain you as you serve Him in diligence. He has not left us alone but instead gives us great power, help, and support in all aspects of our lives."
"The highest order of the Melchizedek Priesthood is patriarchal authority. The order was divinely established with father Adam and mother Eve. They are the fount and progenitors of all living, and they will appear at the culmination of earth's history at the head of the whole sealed family of the redeemed" (Encyclopedia of Mormonism, "Patriarchal Order of the Priesthood").
Elder Backman continued by speaking words of encouragement to the newlyweds and emphasized the need for:
Communication
Compromise
Consideration
Commitment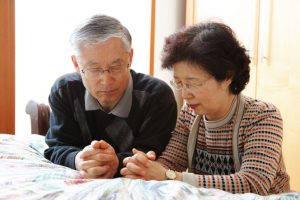 He warned of pride, selfishness, and immorality, which he felt were lessons taught well from the Book of Mormon.
He counseled them to pray nightly. He told David, the new husband, to pronounce a blessing upon his wife as the patriarch of the family. As I remember it, Elder Backman said something like, "Now David, you hold the Melchizedek Priesthood. I invite you to kneel down with Julie, take her hand, and say, 'Heavenly Father, Thou hast given me the Melchizedek Priesthood, and I have made a covenant to use that authority to bless and strengthen Julie. I thank Thee for entrusting her to my care. Bless me to be able to fulfill this covenant responsibility with honor, to protect and guide her and our children, and to bring them back into Thy presence."
He said, "If you live worthily, the ceremony you just experienced will be repeated."
He told them, "Be where the Lord can find you," which is actually the title of an article in the May 1982 New Era about Elder Backman's life. He speaks of missions. One of my favorite quotes from this article follows:
"But Elder Backman was not like most of his friends. He chose to serve the Lord. 'There are so many decisions you make as you go along and you really can't say why, except that somebody was on your shoulder making suggestions. And I can say without any hesitation whatsoever that anything good that's happened to me since, I can trace directly to that missionary experience. I feel so strongly about that that whenever I have a chance to talk to young people, I tell those boys that if they miss that chance to serve a mission, they're cheating themselves out of the greatest experience of their lives. I feel that keenly about it. I've had a lot of schooling since then, but I don't think I could have gone to any university in the world for any length of time and have the experience equal what that two-year period in my life did for me. I don't know whether I did any good. I didn't baptize a single soul on my mission, but I sure converted me.'"
I also love this quote in a June 1975 New Era article Elder Backman wrote about the blessings of the temple sealing:
"I pray with all my heart and soul that you great young people will prepare for a temple marriage. It requires firm faith, personal integrity, prayerful thought, maturity, unselfishness, moral courage—all the great virtues that lead to happiness and fulfillment. It requires being a Latter-day Saint in every respect. Nothing is worth the risk of being denied the privilege of a celestial marriage.

"From my own experience I can promise you that your preparation for those precious five minutes—and for eternity—is worth it. So live that you may count on such a beautiful beginning to an eternal marriage, confident that your Father in heaven loves you as his children and has prepared the way for you to return to his presence as joint heirs to exaltation and eternal lives."
To the young men of the Church, Elder Backman said the following:
"If you would only realize how vitally important [temple marriage] is to your eternal goals, you wouldn't consider being married anyplace else; and that would affect who you date and how you date and would influence the entire fabric of your moral and spiritual life.
Perhaps the best part of the gospel of Jesus Christ to me is that I can fall short and I am not lost or a failure. As a young man so beautifully said in his testimony today during church, "Christ has already won. As we align ourselves with Him, there is no way that we won't win as well."
That is the secret of the gospel. The purpose of life is not perfection. The purpose of life is humility. As we accept the Savior Jesus Christ as our Redeemer, even in our insufficiency, we can share in His perfection for now. That is true for me and my spouse and my children and my parents, brothers, sisters, friends, and all men and women everywhere if they will accept and try to follow Jesus Christ. It is a perfect plan.
We cannot do it without the Owner of the priesthood. With him, we cannot fail.
About Walter Penning
In 1989, Walter Penning formed a consultancy based in Salt Lake City and empowered his clients by streamlining processes and building a loyal, lifetime customer base with great customer service. His true passion is found in his family. He says the best decision he ever made was to marry his sweetheart and have children. The wonderful family she has given him and her constant love, support, and patience amid life's challenges is his panacea.
Twitter •