Do you trust the Lord in all things? Especially in the small things?
I've really been focusing on how "much" I trust the Lord. Do I follow the promptings of the Holy Ghost? Do I second-guess suggestions? Do I really believe that the Lord will be an integral part of my life? Do I act like it?
When possible, I really like planning ahead. I don't like functioning in chaos that could have been not chaos with a little foresight. I understand that mortality isn't a planned clean sweep to eternal life, so I expect bumps and detours, but I plan ahead when I can.
The Search for Cupcake Liners
I had the opportunity to serve in a way that really excited me. Elder Jeffrey R. Holland planned to visit our stake conference! My friend happily accepted the opportunity to plan the luncheon between Saturday sessions of stake conferences. The luncheon had specific invitees. I wasn't one of them.
But I make yummy brownies and when I offered to do any errands or anything preparatory to the luncheon, my friend asked me to make those brownies. Of course! I was delighted!
She envisioned the brownies in an orange cupcake liner to celebrate fall and match the decorations.
I looked some up on Amazon to show her some options. She suggested I just get some from Walmart. No stress. That seemed pretty obvious and easy.
I went to Target on Monday and looked for orange cupcake liners while I was there. It's Halloween. It's Target. The thought that there wouldn't be orange cupcake liners never entered my wildest imaginations.
There were no orange cupcake liners. Hmm. There were scary pumpkin, spider, bloody, ghoulish cupcake liners. There were no orange cupcake liners.
No big deal. I would go to Walmart to find orange cupcake liners.
Starting to Stress About the Small Things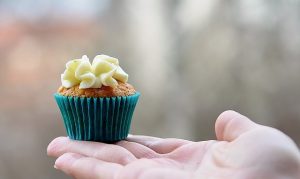 By midweek, I'd been to nearly every store in my town and surrounding towns looking for orange cupcake liners. It was too late to order from Amazon because I needed to make brownies for Saturday. One-day shipping doesn't apply to Hawaii.
On Friday, I planned time to go check stores again in case they'd gotten a shipment of new stock in. Target is the furthest from my house. I didn't intend to go there again.
"Target."
I mulled the thought over. It wasn't my thought. It was a chance to put my trust in the Lord in all things, including small things, into practice.
I reasoned that it might be that I needed to stock up on Stig's special food because it might not be there when we needed to get more next week. That's happened before.
So I went to Target. Stig's food was in stock. I turned my search to cupcake liners. I found cupcake liners in three locations. No orange cupcake liners. I couldn't even find any that I felt I could use. It was all fun, "scary" Halloween themed.
Perplexed, I headed back towards the front of the store to pay for the dog food and leave. A Target employee parked her "returning items to the shelves" cart perpendicular to the wide main aisle I was on.
As I neared her cart, a packet of polka-dotted cupcake liners caught my eye at the bottom edge of her cart. In the middle of the polka-dots were some teal blue liners that would go well with a Fall theme. I asked the employee if I could have them. She said I could and quickly added that she didn't have any more of them. I knew that because I'd been all over that store!
I thought it was a long shot, but felt compelled to take them anyway.
Trust the Lord
I paid for everything and left the store feeling kind of disappointed that I didn't find what I expected to find. "Trust the Lord" came to mind. I felt like it was just a reassurance that I'd listened even though what I expected and needed didn't happen. I decided the prompting was for the dog food since I planned to be out anyway. (I don't go shopping very often.)
So I started bouncing to other stores and bought every cupcake liner that remotely looked like Fall because there were no plain orange cupcake liners in Ewa Beach or Kapolei today.
When I got home, I texted pictures of my purchases to my friend. Could these work with her decorations?
After a little back and forth, she asked what colors the polka-dotted liners were. I'd focused on the teal liners in the middle of the package when I sent my picture so she couldn't see the colors. Not thinking they would be remotely what she could use, I took a picture capturing their pretty colors.
Her response?  "PERFECT!! I love those polka dots. So fall and fun! Extremely cheerful."
What?!
"Trust the Lord" meant those liners were the liners! The Lord knows I despise shopping! He told me I was finished after the first store! But I didn't actually understand the message (and didn't ask for clarification) and spent the next couple of hours buying random cupcake liners.
When I told my friend how I randomly found liners barely visible in the bottom of a return cart, she texted, "The Lord is on our side."
Indeed, the Lord is on our side. And I can and should trust the Lord in all things, especially the small things!
About Delisa Hargrove
I am a member of The Church of Jesus Christ of Latter-day Saints. I have moved 64 times and have not tired of experiencing this beautiful earth! I love the people, languages, histories/anthropologies, & especially religious cultures of the world. My life long passion is the study & searching out of religious symbolism, specifically related to ancient & modern temples. My husband Anthony and I love our bulldog Stig, adventures, traveling, movies, motorcycling, and time with friends and family.