I drive a minivan.
Yup, I'm one of those moms.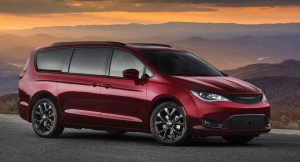 Recently, I bought a new Honda Odyssey with a crazy feature that's almost like autopilot.  At first it freaked me out, but now I think it's the coolest thing in the world. I simply take my hands off the wheel and watch my car steer itself. It makes me super happy to let it do all the hard work for me… Until about three seconds later when the car flashes the sign "Steering Required."  
How rude! Why even add a feature like this if I am not allowed to use it? I just want to watch a movie or take a nap while I drive; is that so much to ask? Apparently we haven't arrived at that magical day yet; however, one day while watching the annoying flashing sign, I had a little epiphany.
How many times in life do we take our hands off the wheel and quit trying to steer? Do we take our eyes off of our destination and give up? Or do we simply need to let God do the steering? 
I have noticed in my own life that there are times when the simple act of trying to put one foot in front of the other is impossible, when even the daily tasks that would normally be manageable now seem insurmountable. When these life moments hit, I find that the only way through is to let go of the wheel and pray for my Savior to take over.  
Unlike my predictable minivan, He won't send any signals telling me that I can't rely on Him that way I need to. He doesn't ask me to put my hands back on the wheel until I'm good and ready. He is patient with my struggles and understands where I've been and where I am going. He wants me to reach my final destination, my end goal of returning to live with Him.  So from time to time, He steers for me. 
Let us not be so quick to rely on ourselves and our own abilities. Sometimes we need to, as the familiar saying goes, "Let go and let God." He will guide us, sustain us, and always (if we let Him) steer us through this often difficult journey to find our way home to Him. 
"As explained in For the Strength of Youth: 'The Lord will make much more out of your life than you can by yourself. He will increase your opportunities, expand your vision, and strengthen you. He will give you the help you need to meet your trials and challenges. You will gain a stronger testimony and find true joy as you come to know your Father in Heaven and His Son, Jesus Christ, and feel Their love for you' ([2011], 43).

When we obey God's commandments and involve Him in our plans, we become who we need to become—not who we thought we wanted to be.

Here are a few people who, with God's help, found a better path than the one they had picked for themselves" (David Dickson, "Let God Be Your Architect," New Era, January 2016).
About Janette Beverley
Janette Beverley is a lover of life, family, music, and the gospel of Jesus Christ. She has a bachelor's degree in psychology with an emphasis in marriage and family therapy, and has five amazing children and one equally amazing husband. Janette is excited to be writing for LDS Blogs and sharing her love and passion for finding the miraculous among the mundane, the awe-inspiring among the obvious, and the uplifting among the underestimated. To read more of her work, you can visit Janette's personal blog here.
Twitter •