When I was a young man, I didn't really appreciate the good life that I had and the opportunities given me—not fully. I failed to realize that my situation was so sublime and simply assumed that everybody enjoyed the life that I did.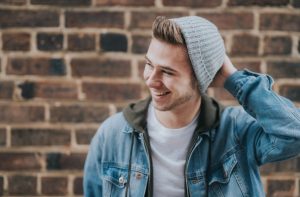 That is not so uncommon. It's difficult, nigh impossible, for the young to appreciate their lives and feel complete joy early on. We all gain perspective, insight, appreciation, and wisdom with time and experience. It doesn't come easy. We learn how to experience joy.
I once read a quip that a man who doesn't read has no advantage over the man that can't read. This perspective may sound pretty stern, but I have thought a lot about that claim and I think I agree. Obviously, if you are reading this article, you might think that sentiment doesn't really apply to you, but it correlates to everyone more than we may first realize—and not just to literature. Anything that we take for granted and fail to recognize or appreciate brings less satisfaction and joy than we could otherwise have.
When I was a boy, people would frequently ask me if my dad was always happy. Yeah, I guess he was. He always exuded confidence, friendship, and kindness, even during difficult times. My friends and other acquaintances would ask me, "Does your father always smile?" to which I would respond, "Yeah, pretty much always." I asked him once how this was possible. He said, "I just think of all my blessings and I can't help but smile in appreciation."
He understood a principle that we can also share: Even during difficult times, we can have joy. That is not hyperbole, and it is not an emotional strategy. It is actually the result of recognizing the strength of our position and the resources at our beck and call. My dad is very special, but he is not alone. I see many who carry this attitude of optimism and hope like him. A good example of this is the revised Young Women's theme just announced in the recent 189th Semiannual General Conference of The Church of Jesus Christ of Latter-day Saints.
The new Young Women theme states:
I am a beloved daughter of Heavenly Parents, with a divine nature and eternal destiny. 

As a disciple of Jesus Christ, I strive to become like Him. I seek and act upon personal revelation and minister to others in His holy name.

I will stand as a witness of God at all times and in all things and in all places.

As I strive to qualify for exaltation, I cherish the gift of repentance and seek to improve each day. With faith, I will strengthen my home and family, make and keep sacred covenants, and receive the ordinances and blessings of the holy temple.
This is just one example. In the midst of the chaos of this world, these young people are striving to follow the Savior and become lights to those around them. We can learn a great deal from our children and the youth in the Church. Maybe that's why Jesus Christ taught that except we be converted and become as little children, we shall not enter into the kingdom of heaven.
Roses are very beautiful and are among the most popular of flowers. A simple rose signifies many things. Its grace and beauty stimulate our hearts and minds, while its fragrance captures our senses and emotions. Lovers share this symbol to express their affection for one another. Those grieving lost loved ones offer this flower to represent choice memories and express thoughtful gestures in hopes of achieving some kind of heartfelt connection.
For me, however, it's more than that—much more significant, actually. The gift of the rose—and all flowers, really—is sharing the knowledge that a greater power is present and mindful of our every challenge. He designed the world and its creations based on this principle. The truth of the matter is that this simple flower, a rose, represents both good times and happiness—but it also comes laden with thorns.
Thorns can represent the difficult times and the hardships of our lives. Just as the petals provide incredible beauty, the thorns reveal hardship. The unique truth of a rose is that it comes with both. And the Creator of heaven and earth—and the rose—intended it just that way. We don't get to experience or enjoy the fragrance and beauty without also acknowledging the thorns. Yet I think there is a lesson in that for us all: Hardships have a purpose and make life still even more beautiful.
Now, I am an old man. I often forget dates, overlook opportunities, and inadvertently miss important occasions. I don't hear soft voices and struggle to see without my glasses. But I do not fail to recognize and appreciate the good that I have been granted in life. I have a sweet wife and blossoming family and opportunities beyond my fondest dreams. I far too often fail to express my love and appreciation for all my blessings. I simply need your forgiveness, since I cannot assume that everybody enjoys the life that I do—but everyone deserves it. 
Thank you, Lord, for making my life beautiful. 
About Walter Penning
In 1989, Walter Penning formed a consultancy based in Salt Lake City and empowered his clients by streamlining processes and building a loyal, lifetime customer base with great customer service. His true passion is found in his family. He says the best decision he ever made was to marry his sweetheart and have children. The wonderful family she has given him and her constant love, support, and patience amid life's challenges is his panacea.
Twitter •