I believe we can all agree that our world right now is a bit crazy. However, one benefit of this is that from unique circumstances comes unique thought and insight. One might argue that Joseph Smith could never have received such eloquent revelation as Doctrine and Covenants 121-123 without being thrust unjustly into a cold prison for five months. Indeed, sometimes the only positive thing from a unique, difficult situation is the unique lesson that is learned.
The key lesson I have learned during this time is trust.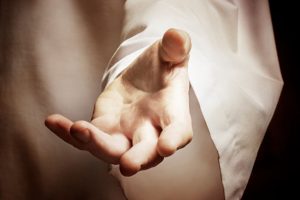 It can be incredibly hard to trust sometimes. It involves putting your well-being into the hands of another. The natural protective measures within us rebel against this — we don't know if this other person or thing will support us, so we naturally hold back. Trust, then, is something that takes practice.
Lucky for us, we don't have to rely only on imperfect people to put our trust in. We have a promise that if we "Trust in the Lord with all [our] heart," He will "direct our paths" (Proverbs 3:5-6). We are also told that "whosoever shall put their trust in God shall be supported in their trials, and their troubles, and their afflictions, and shall be lifted up at the last day" (Alma 36:3). We know that Jesus Christ is perfect, infallible, omnipotent — He will not, indeed cannot, let us down when we trust Him. He will support us when we lean on Him; He will catch us when we fall.
Now, if there's one thing this current world has taught me, it's that trusting this is easier said than done.
Let me share a parable to illustrate. Imagine you are on the bank of a river. The day is calm, the water is crystal clear, the birds are singing. You see a strong, sturdy bridge in front of you made of clean-cut stone. A man stands on the other side and asks you to cross over to him — he assures you that the bridge is safe and nothing will hinder you. You cross over without a care in the world.
Now things change. The day is no longer calm. Rain is pouring, thunder is roaring, the wind is blasting by. The river is raging and pulling logs and foliage with it. The bridge is now nothing more than a few pieces of rotten wood strung together by old twine and looks like it will fall apart any moment. The man is still on the other side of the river. He asks you to cross over to him, promising that the tattered bridge will support you to the other side. You look upstream and see a large wave coming. How can you muster the courage to cross that bridge?
And here is found the lesson that I have learned: trust is illogical. It often does not make sense. Evidence does not support it, reason does not encourage it, observation does not justify it. Relying on physical and mental faculties alone, one cannot sufficiently trust in the Lord to life and salvation. And when we describe trust as being necessary for faith, we can then admit that faith in God is not a logical thing. It does not make sense in a worldly view.
How then can we ever trust in God when so many factors tell us it's impossible? In this is another lesson that I have learned. When seeking to trust someone, you must examine two things:
Their dealings with you in the past

Their overall character
Let's see how this works with Jesus Christ. What are His dealings with us in the past? Generally, we can read the scriptures and see how He has pulled through for God's children every single time. We can follow Alma's counsel: 
"I would that ye should do as I have done, in remembering the captivity of our fathers; for they were in bondage, and none could deliver them except it was the God of Abraham, and the God of Isaac, and the God of Jacob; and he surely did deliver them in their afflictions." (Alma 36:2)
The Bible and Book of Mormon are replete with examples of how God has saved His children. Certainly, we can examine those and trust that He will do the same today.
All of us can also look at our own personal lives and see how Christ has supported us up to this day. I look back in my mission journals and find countless examples of how Christ helped me in my endeavors to share the gospel and serve others. I can look back to high school and find how Christ helped me manage a busy workload and succeed in my talents. I can even look back to my days as a young teenager and how Christ helped me to find my place among my peers. One could look at my life and call these things "the effect of a frenzied mind," but no one other than me experienced them, so aren't I the only one who can accurately decide if divine aid was involved? And my decision is that, yes, it was divine aid.
After we look at the past and determine that Christ has kept His promises thus far, we can examine His character and determine if He will do so in the future. I find no better way to do this than by reading of His ministry in the New Testament. We know that "he went about doing good" (Acts 10:38). Indeed, the good He did was done amidst intense persecution. No matter what was thrown His way, He still did good! His character never faltered and never broke, even until the very last moment upon the cross when He said "Father, forgive them; for they know not what they do" (Luke 23:34). Someone with character like that is in every way trustworthy.
So then, here we find ourselves in turmoil, both on a global scale (pandemic) and maybe even on a personal level (stuck in quarantine, strained relationships, etc.). We are, in effect, asked to cross that river on a bridge that seems uncrossable. The only assurance we have is the promise of the man on the other side. Good thing that the man is Christ, and we know that "God is powerful to the fulfilling of all his words… For he will fulfil all his promises which he shall make unto you, for he has fulfilled his promises which he has made unto our fathers" (Alma 37: 16-17). 
During these tumultuous times, we should look to the scriptures and find what Christ has promised us. Among other things, He has promised us peace, safety, well-being, joy, and eternal life. If our focus is on these promises — and living worthy of them — rather than worrying endlessly about the sad state of the world, we'll be okay. If we trust in the Lord, we'll always be okay.
About Adam Simpson
Adam Simpson is a man of many unique talents, from dancing to ultimate frisbee, from drumming to writing. He was born and raised in Layton, Utah, the middle child surrounded by two sisters. He served a mission in Sydney, Australia, and now attends school at BYU. His love for writing comes from a love of philosophy and a love for God.
Twitter •