I want to tell you about someone I completely love and admire, someone who has taught me more about the innate desire to fit in and include others, have a distinct purpose, and make a difference with her talents than anyone else I have ever known. I want to introduce you to Flora Patton.
I met Flora Patton when I moved to Ewa Beach. We attended the same ward. She came sporadically because she didn't drive and her husband, who isn't a member of The Church of Jesus Christ of Latter-day Saints, worked so many hours during the week that he was so tired on Sunday morning.
Flora had amazing home and visiting teachers who always responded to her need for a ride to church when she felt like going. She loved sacrament meeting but often left afterward because she said she didn't always understand what was being said in Sunday School and Relief Society and felt ashamed that she couldn't follow everything.
The Lord Knows Ways Each of Us Can Serve — Even If We've Never Done It Before
Flora is super extroverted and doesn't shy away from the limelight. One very in-tune Relief Society counselor proposed to call Flora to be the Relief Society chorister. Flora had never led the singing before but eagerly accepted the calling. The counselor and president spent time with Flora teaching her how to lead the music for Relief Society.
With such an important purpose, Flora began attending every Sunday and really participating in class discussions as well as leading the music. Flora brought her whole heart to class. She was often very real in expressing personal disappointments and frustrations and wondering aloud about her own imperfections and ability to live a righteous life. In those times, the class rallied around her, patiently sharing from their own lives and bearing testimony of the Lord's mercy and grace. Flora's confidence in the gospel continued to grow.
Finding Ways to Be With Other Sisters
Flora loves being at church and having church activities. She always has an idea for a church activity. Always.
When any activity was canceled, Flora took the news really hard. She draws strength from being around others. She felt that she could share her talents and ideas best at church by instigating activities, bringing super delicious food, or just being with her community of saints.
At one point, our Ladies Night Out was almost always prompted by Flora's insistence that we needed one. She wants to celebrate everyone's birthday, welcome everyone who moves in, and say goodbye to everyone who is leaving by going out to eat with the ladies.
Ironically, the person she looked to plan the thing (me) was happily a hermit. I told her often (pretty much after every single event) that I couldn't plan another night out again immediately. She nagged me until a date for the next outing was set with a virtual invitation sent out to the ward ladies.
Then she'd call to remind me to pick her up, earlier than necessary, so we could arrive and be present when everyone arrived. She always remembered anyone who had attended but who didn't attend that night. She missed them all and wanted to plan another outing immediately so everyone could attend again. Flora finds great fulfillment in sisterhood.
Wanting a Meaningful Calling
The Relief Society chorister calling went away with two-hour church. Not having a calling or a way to serve at church frustrated Flora. She wanted a way to serve Heavenly Father and her brothers and sisters at church. She found such identity as a member of The Church of Jesus Christ that way and Flora often lamented to me that she didn't have a way to serve on Sundays.
Trusting In Herself to Acquire the Skill
Our sacrament meeting chorister graduated from high school and headed off to college. The bishop called Flora to serve as the chorister. She was in heaven. I picked her up early for church and we practiced leading the songs on the way to the chapel.
She grew more and more confident. I started adding songs with different time signatures. Every time she would say, "Oh, I don't know how to do that one but I will learn."
I've never met anyone so able to see their lack of knowledge and use it to propel them toward greater knowledge. Even though she felt nervous about making mistakes, that fear never paralyzed her. She believed in herself and wanted to do her best. Always.
Wow. I admired her for her tenacious perspective.
All Sunday Callings On Hold Because of COVID-19
Then COVID-19 shut down our regular worship services. Flora really struggled because she filled her spiritual cup at church. In June when I checked on her, she told me, "I'm mad that I can't go church. Satan is stealing my testimony."
My ministering partner Cheri and I met with Flora for lunch. I'd learned that church would start again, and we would only go once a month, but we wouldn't be singing hymns. I explained the situation and gently set her expectations that she would not be a chorister for now because no one would be singing hymns.
She was so devastated.
She called Bishop Lee right away to let him know how she felt about not being able to do her calling when church started.
Bishop Lee had an amazing spiritual prompting. He asked Flora to stand in her chorister spot as I played the songs but to not move her arm or sing. He said that would let the members of the congregation know that it was time to ponder the song lyrics.
Delighted, Flora called me to tell me what Bishop Lee said. Wow! How inspired to meet the needs of this wonderful woman! Flora was so happy to lead the congregation in reverence.
With the state's mandate of 99 people or less, our ward split in half on the Sundays we met. I played for both meetings and asked Flora if she wanted to attend both with me. Flora felt fine attending her assigned meeting at 11:00 a.m. for two reasons—she doesn't like getting up early for 8:30 a.m. church and her beloved home teacher returned from his time as mission president and he and his wife were assigned to the same half of the alphabet section as she was.
Flora's Shining Light
Flora shone during our first sacrament meeting back. She was so proud to serve the Lord in her called way. She loved it so much.
A few weeks later while driving her somewhere, Flora expressed her sorrow that we weren't meeting every Sunday. She really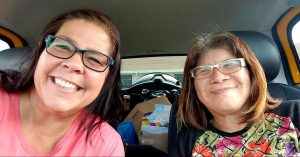 missed testimony Sundays because she bore her testimony every month. I asked her to bear her testimony to me. "Here? In the car?" she asked. "Yes. I'd love hear it!" So she did.
She shared how happy she was that her beloved home teacher, President Walker, and his wife, Sister Walker, returned. She mentioned folks who had moved and how she wished we could have done a Ladies Night Out to let them know we would miss them. She said how much she missed being with everyone every week. She said how glad she was that she could still do her calling.
We talked about how inspired Bishop Lee was to suggest that option for her. I told her I didn't think any other ward in the whole church had someone doing what she did. She beamed and said she knew Heavenly Father knew how much she loved to help.
Last Sunday our ward met again for sacrament meeting. Flora excitedly came to the stand and asked me about the songs. She looked so happy.
Then the opening song was announced and Flora, with grace and dignity, stood and reverently walked to her cherished post. She beamed.
I couldn't stop watching her as I played. Her absolute commitment to her calling and determination to serve the Lord touches me so much. Also, knowing that our bishop cared so much about Flora that he found a way for her to serve in a way she felt was meaningful testified how impactful little things can be in people's lives.
During those moments of watching Flora serve with such love and happiness reminded me that we are in the hands of the Lord and He blesses our lives with the things we need. Flora needs that calling. I need Flora.
Going Three Hours Early to Get a Seat and a Parking Spot
My all-time favorite memory with Flora was the day Elder Jeffrey R. Holland and Sister Patricia Holland spoke at our stake conference. I tend to get to church buildings really early on those kind of days. I had no idea what to expect as far as other people's plans, but know that parking can be tricky for stake conference anyway and expected a lot of people to go early.
I called Flora to see if she wanted to ride with me to stake conference and said I wanted to get there around 7:00 a.m. The meeting was at 10:00. She instantly said she would (she doesn't usually like getting up early, as I mentioned before). She wanted to sit right in front of the pulpit so she could hear and understand Elder Holland's talk.
So I picked her up at 6:30 a.m. and we drove to our stake center in Waipahu. The parking lot was almost completely empty. We laughed hysterically about the emptiness and then hurried into the chapel to get her perfect seat. She sat rows away from Elder Holland and directly in front of the pulpit. She told me she heard and understood every word of his talk. Our souls were so filled that day.
She shared the sweetest testimony on Facebook on the pictures I posted. Our prophet has asked us to identify how we #HearHim and I want to record this particular time when Flora did, quoting her own post.
My post: My good friend Flora and I REALLY wanted to get a parking space and a good seat for today's stake conference with Elder Jeffrey R. Holland!!! 3 hours before was early enough.

Flora's posts: Man. Im sooo proud and its was worth it. the Stake Conference. Elder and Sister Holland did very Awesome Job. i was. like wow. hes knows everything. of life. what other church must do and get it. done. I always get into Trouble. of myself.

Well i have and need to go. because our Heavenly Father Jesus Christ and Holy Ghost. Whisper my ears 2 times. before that. I was going Craft Fairs. in Ala Moana. but. Holy Ghost whisper my ears. to hear. Sister and Elder Holland. good strong best Testimony. of the Gospel. so Delisa Bushman Hargrove. is da best kind friendly ask me if i need a ride. i was going catch the bus. and after that. whisper my ears again. go catch a ride with Delisa. i went get up. 4:40am. to kill time to ride with her. im glad me and Delisa went early to get good spot of early Parking and im glad i got good front seat to see him. give a good Testimony. Talk. im happy n proud.
Let Your Light Shine
I love the Lord's admonition to let our light shine. He didn't say "If you have a light, let it shine." He said, "You have a light, let it shine."
Let your 

before men, that they may see your good   so shine , and   your Father which is in heaven.
Flora shines her light. She knows she has something to share and her deepest desire is to share it. And today, I want to acknowledge how much my good friend Flora Patton's light has blessed my life and how I have glorified my Father in Heaven because of her and her light.
I love you, Flora. Mahalo.
About Delisa Hargrove
I am a member of The Church of Jesus Christ of Latter-day Saints. I have moved 64 times and have not tired of experiencing this beautiful earth! I love the people, languages, histories/anthropologies, & especially religious cultures of the world. My life long passion is the study & searching out of religious symbolism, specifically related to ancient & modern temples. My husband Anthony and I love our bulldog Stig, adventures, traveling, movies, motorcycling, and time with friends and family.