After a few days of sporadic and rushed scripture study, I realized I had not really prayed to ask God for help as I tried to learn more about overcoming fear with faith. Well, I had prayed, but it was more of a general prayer that my heart was not really into. I had not prayed specifically for anything. If we pray to God and ask for general things, sometimes He gives us general answers. But specific prayers bring specific answers — I learned that as a missionary.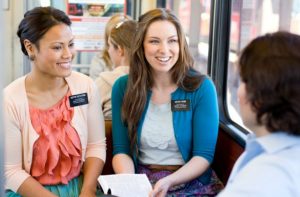 More than six years ago now, I was living in Colorado as a proselyting missionary. I was trying to teach as many people as possible about Christ and His role in their life. However, I was not teaching many people. My missionary companion and I decided that if we had faith and worked for our goals, it would happen.
We set a goal to hand out one Book of Mormon each day that week. She and I imagined a specific type of person we wanted to give the Book of Mormon to that night:
A man

who had heard of the Book of Mormon before

who was kind to us

who was receptive to our message about the Savior and His restored gospel

who would let us teach him more right when we met him

who would invite us back to continue teaching him
We asked God to meet this type of person that day, and we included the above characteristics about our future friend in our prayer. The day went along well, but we had not reached our goal yet. When it was 8:40 p.m. (we were supposed to be back at home in 20 minutes) and dark, my companion and I needed more help from God. We stood under a streetlight in a neighborhood and asked God to know which home to approach. As soon as we opened our eyes, the porch light of the home across the street came on. So we went there and knocked and a man named Mike opened the door. As we got to know Mike, we learned he was:
A man (duh)

who had heard of the Book of Mormon

before. He had actually read it all the way through because he was curious what Latter-day Saints believed (um, awesome!)

who was kind to us

who was receptive to our message about the Savior and His restored gospel

who let us teach him more right when we met him

who invited us back to continue teaching him, and he wanted his wife to hear next time too
I know, incredible right?! It was — God really does keep His end of the deal.
My companion and I praying so specifically was not demanding, greedy, or selfish. God wants to bless us! Because He loves us so much. Like Jesus said in Luke 12:32:
"Fear not, little flock; for it is your Father's good pleasure to give you the kingdom."
It is not selfish to pray and ask God for things you need or want in your life. So ask away! That is why a central message of the scriptures is "ask and ye shall receive." It is why Christ, again teaching of His nature and the Father's character, taught in Matthew 7:7-11:
"Ask, and it shall be given you; seek, and ye shall find; knock, and it shall be opened unto you:

For every one that asketh receiveth; and he that seeketh findeth; and to him that knocketh it shall be opened.

Or what man is there of you, whom if his son ask bread, will he give him a stone?

Or if he ask a fish, will he give him a serpent?

If ye then, being evil, know how to give good gifts unto your children, how much more shall your Father which is in heaven give good things to them that ask him?"
Heavenly Father and Jesus Christ love us and want to bless us!
I have a toddler-aged son and I want to buy him all the toys he wants, all the cute clothes he likes, all the food he enjoys, and all the books he likes reading. I wish I didn't have to do any chores so we could play at the park and with toys all day every day. I wish we could make cookies and enjoy eating them forever. My son doesn't do anything to earn this feeling from me. I want to give him things he enjoys because I love seeing him happy just because he is my son. I am an imperfect, human mother. Therefore, how much more do our Heavenly Parents ache to give us everything we want and wish for? It must be excruciating for our Heavenly Father and Mother to let us make mistakes, to allow us to reject them, to not stop or prevent all our suffering. God's love is eternal, pure, and powerful. 
My study of choosing faith over fear lacked a specific prayer, and therefore, specific guidance and answers.
I prayed again and told God what I wanted to study. I explained why I needed to understand faith and fear better. I believe He listened as I told Him how I would use that knowledge to help myself and others. I asked God to teach me specific things about faith and fear:
what it feels like when I'm choosing faith over fear

to help me feel more faithful and brave

to keep away fearful thoughts or worries

to help me learn more about Him and Christ so I can have better faith in Him

to guide me to verses and speeches from Church leaders to I can study about faith

help me to remember what I already know about faith in Him

to remind me that I have done brave things before by choosing faith over fear
I told God I needed to understand choosing faith above fear soon.
Within a week, God has given me answers and comfort every day. Feelings, speeches at church, articles of a speech at a university, thoughts as I talk out what I'm learning to my husband, others' blog posts, friends' Instagram captions, an email from a missionary, and coming across great Bible verses — the Spirit has been gently teaching me. I now have so many more things I want to study about faith! When His answers come, I feel His love and concern for me. And I'm already feeling much braver and more faithful.
I encourage you to offer a specific prayer. I believe God will answer your prayer in a specific way. Remember, God blesses us at the best time for our eternal learning. He does this because he is a perfect, loving parent.
Elder Holland taught that God will bless us:
"Some blessings come soon, some come late, and some don't come until heaven. But for those who embrace the gospel of Jesus Christ, they come. It will be all right in the end. Trust God and believe in good things to come."
About Kristine Hoyt

Twitter •