Christmas is only a few days away. I'm really beginning to feel the spirit of Christmas. The warm and joyful feeling in my heart is growing, and I love it. One of the things that has increased the feeling of love in our home is the White Stocking.
You've got to hear this. Last Christmas my mom gave me a white stocking. Inside it was this poem, and it was such a beautiful and touching gift that I want to share it with you.
The White Stocking
By Regina Slaugh
There were packages wrapped for the young and the old.
Each stocking was filled, and the Christmas story told.
Every child would be happy, no grown-ups were slighted.
Each soul was remembered, and we were delighted.
But when the first rays of Christmas were dawning,
The littlest child discovered the stocking.
Oh, we were surprised, now where had it come from?
And where had it been when the others were hung?
While we were remembered with presents a plenty,
The little white stocking was hanging there empty.
In all of our efforts to love and remember,
Who had we missed for our gift this December?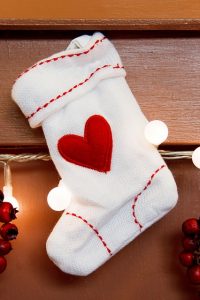 Remember on Christmas we honor the birth
Of our Savior divine and His life on the earth?
Well, this stocking so white with simple gold trim
Started each of us thinking of giving to Him.
So then all at once we began to explain,
That surely this stocking had a meaning quite plain.
We should include in our holiday giving,
A gift to the Savior, the King of all Living.
Now each Christmas Eve we all gather together,
And write down our gifts to Him on some paper.
Next into the stocking our papers will go
Goals to help faith and obedience grow.
We try to remember the gift that we've given
And make it a part of our everyday living.
Then our gift to the Savior will last all year through,
Until next Christmas Eve, when we write something new!
New Tradition
This year we are going to do as the poem says. We are starting a new tradition! I am so excited to see what my family decides to do.
And I am excited to have a chance to give the Savior a gift I can focus on all year long.
About Abby Christianson
Abby is capable and caring. She is learning more about Autism and parenthood every day. Having completed training to be an RBT (Registered Behavior Technician) for ABA therapy she is beginning to understand her son. And even though she is the first to admit she makes a lot of mistakes, she is so grateful to be on this journey. She comes from a family with many autistic members. She invites us to join her, as she shares her adventures. She wishes to emphasize that Autism is a difference not a defect. If you or a family member have autism, Abby wants you to know that the challenges can be overcome, and there are blessings in autism. You or your loved one are not sick or broken. Together we will teach the world this new language.
Twitter •