"And Jesus sat over against the treasury, and beheld how the people cast money into the treasury: and many that were rich cast in much. And there came a certain poor widow, and she threw in two mites, which make a farthing. And he called unto him his disciples, and saith unto them, Verily I say unto you, that this poor widow hath cast more in than all they which have cast into the treasury: For all they did cast in of their abundance; but she of her want did cast in all that she had, even all her living." (Mark 12:41-44)
The Paradox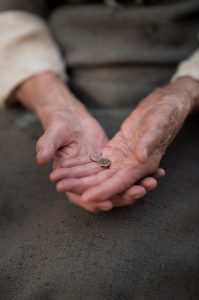 At first glance, this story may be confusing. How could a mere pittance of an offering by a poor widow compare to the riches cast in by those who are far wealthier than she? This is the beauty of the teachings of Jesus Christ. There is far more depth to the message than one may first realize, if we have spiritual eyes to see. This story is not about giving money—it's about dedicating our hearts to a cause far greater than our own.
How Jesus Taught
Jesus Christ, our Savior and Master, used parables and stories to teach the higher laws of the gospel: obedience, sacrifice, consecration, and love. Parables are short, symbolic stories designed to teach a religious truth. In this case, the tale of the widow's mite is not a parable, but an actual event taken from the Bible. The widow was a poor woman who had so little left in life that to give any money to the temple treasury was an act of great sacrifice and dedication. In comparison, the scribes and Pharisees were rich beyond measure. For them to give of their riches was not a great sacrifice to them personally. They could give generously because they had wealth beyond measure with plenty in reserve. True, their substantial donation helped build and maintain the temple, which was extremely important. But as far as personal sacrifice, there was no comparison between the two. Herein lies the symbolic teaching of this event—a life dedicated to the Lord is worth more than all the money in the world.
The Comparison to Ourselves
Most people set out to do good things each day, be it through work, acts of kindness, or by accomplishing worthy goals. But we fall short of these goals, often times more than we'd like to admit. We feel our "offering" to God's kingdom, similar to the offering of the widow's mite, is cheap in comparison to what others give. For this reason, the story of the widow's mite can touch our hearts so deeply. We see ourselves more readily in the widow, and we wonder if our offering is good enough.
Willingness to Give All
King Benjamin, a great man in the Book of Mormon, gave an inspirational speech about the willingness to give. He taught the blessings of imparting to the poor according to what a person had. In other words, those who had much should give much; those who had little should give little; and those who had nothing should feel in their heart that if they had something, they would give (Mosiah 4). The emphasis here is not with the amount but with the desire—having the willingness to make the sacrifice and exercising trust that the Lord will bless us when we take the leap of faith.
Promised Blessings of Sacrifice
This widow knew something the other donors did not. She had an understanding of the miraculous love of the Savior. She understood the higher law of consecrating all to the Lord. She had faith that her act of giving would not go unnoticed and without blessings for her in return—both temporal and spiritual. Her action helped her grow closer to Heavenly Father, far more than the rich donors could. For this reason, Christ was able to conclude that the widow cast in more than the others.
Often what is overlooked in the story of the widow is "the rest of the story." What happened to her after she left the temple? How must she have felt having been praised by the Savior Jesus Christ Himself for her simple, yet profound act of sacrifice? I'm sure she was blessed with the assurance that His words were true. She probably held them sacred in her heart, even tucked them away someplace safe in her mind to reflect upon later in times of emotional want. And then she most certainly went on to live another day. It may not have changed her circumstances on earth. She may have felt hungry again the next day and for days to come. But spiritually speaking, the effect of Christ's confirmation of her worth solidified her role in the eternities.
Our Eternal Blessings Far Outweigh Our Sacrifices
Our Savior loves us with all His heart. He understands our circumstances, whether we are in a season of abundance or whether we feel the heat of the refiner's fire. He of all people knows the pain of sacrifice. But through His Atonement, He took away the uncertainty of its outcome. Christ rose from spiritual and physical death, and so will we. This is the gift He has given us. Through our little moments of sacrifice here on earth, whether they measure a farthing to some or a fortune to others, feeling the Savior's love and knowing of His redemptive power makes it all worthwhile. The blessings will come to all of us. Sooner or later, they will all come. We have Christ to thank for this miracle.
Are there times when you think your offering to the Lord is a mere pittance in comparison to what others may give? Don't feel that way. The Lord doesn't, so why should you? In His eternal plan, your devotion to Him is not measured by money. It is measured by love—eternal love, from which flows an endless fountain of blessings in this life as well as the next.
This post was originally published in May 2014. Minor changes have been made.
About Nanette ONeal
Nanette O'Neal loves the gospel and is very happy to share her testimony on LDS Blogs. She is a convert to the church and still feels the spirit burn strong within her heart. She graduated from Mason Gross School of the Arts with a degree in music education and has taught children and adults in the private and public sphere for over twenty years. Nanette continues to study the gospel and the art of writing. She writes weekly inspirational articles on her blog and is currently working on an LDS fantasy novel series, A Doorway Back to Forever. You can find her at NanetteONeal.blogspot.com. Nanette has a wonderful husband, talented son, and three beautiful dogs.