Welcome to Family Movie Night.  This week I am featuring Walt Disney's 22nd beloved animated classic The Many Adventures of Winnie the Pooh.  I admit you may have a hard time getting your older children to watch a Winnie the Pooh movie but in many ways that is a real shame for this film is more than just a movie for toddlers.
Many Adventures of Winnie the Pooh is actually the combination 3 animated shorts that were made from 1966 to 1974:
Winnie the Pooh and the Honey Tree-  Tells the story of Pooh bear trying to get honey from out of a tree.  He climbs the tree and then disguises himself as a rain cloud because 'you never can tell with bees'.  In the latter section he gorges himself on honey and gets stuck in Rabbit's door and can't get out.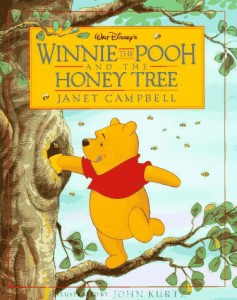 Winnie the Pooh and the Blustery Day- An Oscar winner for Disney and won Walt Disney a posthumous award.  It is the best of the 3 and features 2 main sources of conflict. First is Pooh hearing about 'Heffalumps' and 'Woozles' stealing honey.  He has a dream about them and it is pretty dark for a movie for such small children.  It has surrealist touches that remind me of Elephants on Parade from Dumbo.  The second plot revolves around a great storm that disrupts the 100 Acre Wood and a search for Owl's new house.  It is sincere, touching, funny and even scary.
Winnie the Pooh and Tigger Too- Rabbit becomes frustrated with Tigger's bouncing and develops several schemes to take the bounce out of him.  It's a sweet and funny story about how we should never try to change who people are because that's what makes them special.
The Many Adventures of Winnie the Pooh was directed by Disney great Wolfgang Reitherman who animated and produced many films but was the director for greats like Sleeping Beauty, Jungle Book and 101 Dalmatians.  In this film he does a terrific job making the 3 shorts flow so they feel like one narrative.
The ending is especially powerful and a favorite of mine.  Christopher tells Pooh  he can't 'do nothing any more' even though it is what he loves most of all.  He is basically telling Pooh he is growing up and he asks Pooh "will you forget me?" and Pooh promises "I won't forget you Christopher.  I promise".  I love that moment.  I think all of us worry about being forgotten by those we love and there is something great about being remembered at our most innocent before the cares of the world weigh us down.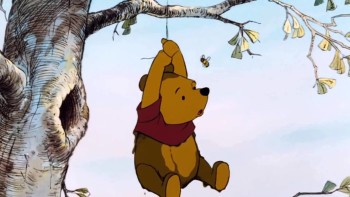 As I was re-watching the film today I couldn't help but think of Pixar's recent masterpiece Inside Out.  In many ways they are similar.  They both have themes of growing up and feature characters that symbolize emotions.  In Pooh we have Owl who is brains, Eeyore who is sadness, Piglet who is anxiety and sweetness, Kanga who is the Mother and Pooh who is a child.
I watched a documentary about Elmo and the creator said 'Elmo means love' and when he is in a scene it is almost always to give a character a hug or express love in some way.  I think you could say the same thing about Pooh but it is about childhood.  Pooh is essentially a child.  He takes everything at face value and doesn't understand sarcasm or cynicism at all.
Just like a little child would see a piece of candy that he wants and go towards it no matter the peril, Pooh see's a bee and follows it up a tree to get honey.  When Christopher tells him "you don't get honey from a balloon" he simply says "I do".  That to me is very childlike and innocent.  I love it.
Many Adventures of Winnie the Pooh is also not afraid to introduce grown up themes like nightmares, fears, rejection, depression, disagreements and even anger.  But it also never dwells in those moments long enough to change the tone so that's why it works so well.
The music from the Sherman Brothers is some of the best in all of Disney including the iconic theme and the voice work by all is great especially Sterling Holloway as Pooh and Paul Winchell as Tigger (who would go on to play Tigger till 1999).  Sebastian Cabot is a lot of fun as the narrator giving jokes to the adults with a lot of 4th wall humor.
The animation is the best of what is called 'The Sketch Era' perhaps because it is essentially a story being read out of a book so an illustration quality makes sense.
Overall Grade- A+
Last year I tore the MCL in my knee and decided, since I was bedridden, to review the Walt Disney Animated Studios Canon (54 films as determined by Disney).  Check my blog for reviews to this and the rest of the 54 films.
About Rachel Wagner

Twitter •