Be forewarned spoiler alert in article and video.  If you want to know nothing go watch Hachi and then read/watch my thoughts.
Many of my friends will probably find this week's Family Movie Night pick a little strange.  I admittedly have a bit of a phobia when it comes to animals and have never owned a pet in my life (my brother and sister were both deathly allergic to all animals with fur and feather which is a big part of my anxiety).  That said, I do think animals should be treated well and loved and I do enjoy a good animal movie!   With everything from Old Yeller to Lady and the Tramp, to My Dog Skip, man's best friend has often proven a great vehicle for telling a good story in a movie.  This week's pick, the 2009 film Hachi, is no exception.
Hachi stars Richard Gere and is based on a Japanese film called Hachi-ko, which was in turn based on a true story of a dog that waited for its master at the train for 9 years after he had passed away. There is even a statue at the train station where Hachi waited in Japan.
Such a simple story may seem like a stretch for a feature film but it is all about the relationship between Hachi and Richard Gere's character, Parker Wilson.   Parker is a professor and each day he takes the train to his job.  There's a real sense of community at the train station with the hot dog salesman, other vendors and Jason Alexander as the head of the railroad station.  Parker finds Hachi as a puppy at the station and to avoid him being taken to the pound he takes the puppy home- much to the chagrin of his wife Cate played the great Joan Allen.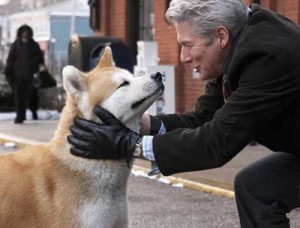 Parker and Hachi have an instant bond so much so that Hachi does not want to be left in the backyard when Parker leaves for work so he repeatedly follows him until it just becomes part of their routine. Hachi see's Parker on the train and is there to meet him when he gets off in the evening.  
This kind of story is usually sullied by lame slapstick or some villain who wants to take the dog but not in Hachi.  In fact, a lot of the movie is told from Hachi's point of view, which I thought was new and different.  The sections from his perspective are done with different sepia like filter.   You can sense the longing for Parker by looking at the world through Hachi's eyes.  
The love between Parker and Hachi is very sweet and touching and I think it is good for kids to see examples of such unconditional love.    When Parker dies unexpectedly at school Hachi is waiting as usual and of course his owner and friend never return.  It is very sad but I don't think that is a reason to not watch the film as a family.  
I get nervous when the only films we feel are appropriate for children are comedies that make them laugh.  Film should be a vehicle for helping all of us and especially children feel understood and process all kinds of experiences in life.  It is strictly entertainment and laughs than I think we are missing out from the rich experience the art of cinema can provide.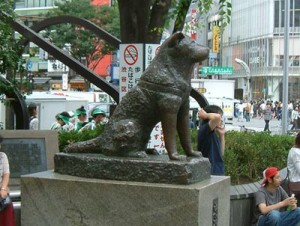 There is also a difference between a film that is depressing and one which is sad.  Depression is deadening, dulling, flat.  Sadness can actually be quite inspiring and uplifting (I mean think how often we cry in testimony meeting or when people are bearing witness at church?).  I think Hachi falls clearly in the inspiring side of things.  Like I said it's a film about unconditional love and unending loyalty.
The performances by Gere and Allen in particular put Hachi above the Hallmark level of sentimental story.  I wonder if Gere kept one of the dogs from the movie.  They seem so close that I would believe it.  In some of the special features he talks about how the film became a real passion project for him and you can sense that closeness in the performance.   
The film also looks great which we can attribute to director Lasse Hallstrom (academy award nominee for Life as a Dog and Cider House Rules) and cinematographer Ron Fortunato.  Like I said, I particularly like the way we got the story from both Parker and Hachi's point of view.   Seeing things through Hachi's eyes particularly works for the ending, which you will need a box of tissues for!  It's very good stuff!
Also, Hachi is an extremely rare G rated live action film.  It's seriously almost unheard of these days, so there is nothing to offend anyone!
As we go about this Family Movie Night series I will talk about the Disney classics but I hope to introduce you to films like Hachi which may have fallen through the cracks.  It's totally worth a watch.   Please let me know in the comments section what your family thought of Hachi if you get a chance to see it.  Thanks
About Rachel Wagner

Twitter •