Merry Christmas!  The holiday season has officially arrived and at least for me that means a large helping of Christmas movies and TV specials.  I will try to profile a few in this column but make sure to check out my blog for lots of holiday reviews.  Last year I devoted an entire month to Scrooge Month looking at 35 different versions of Christmas Carol and this month I am going to be looking at the Rankin/Bass films and specials that are often holiday themed.  You can find me at http://54disneyreviews.com
That said, today I want to talk about one of the great classic Christmas movies, 1954's White Christmas.  This is a great example of a film knowing its strengths and maximizing them.  They have great songs by Irving Berlin, 2 great singers in Rosemary Clooney and Bing Crosby and 2 great dancers in Danny Kaye and Vera Ellen, so what does the film focus on?  Why the song and dance numbers of course!
The story is pretty corny but the core elements of singing and dancing combined with the charisma of the stars make it a joy to watch.  It is about 2 soldiers (Crosby and Kaye) who are first seen hosting a Christmas talent show for their fellow officers. This is where Bing Crosby as Bob Wallace sings the title tune.  It is a musical movie moment worthy of the overused word 'iconic'. You can sense Crosby's yearning and the beautiful tamber of his voice is really quite breathtaking.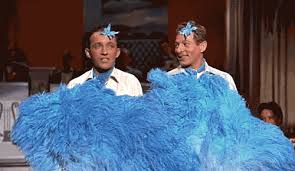 Then the talent show is interrupted by an attack and Phil (Danny Kaye) saves Bob's life from a falling building.  Phil then makes Bob promise to work him into his song and dance act when they get back home as a form of payment for saving his life.  Zoom forward to after the war and the two are working together and performing in Florida.  They get an invitation from a friend in the army to see his sisters perform nearby and it turns out to be Betty (Rosemary Clooney) and Judy (Vera-Ellen).
The girls are going up to Vermont to perform for the holidays and Bob and Phil follow them. To their surprise the hotel the girls are singing at is owned by their former Major General Waverly played by Dean Jagger.  Unfortunately there is no snow and the inn is falling on hard times.  Bob and Phil decide to practice their show up at the inn and then put on a tribute to the General who is feeling unneeded and unloved.  There are miscommunications between Betty and Bob and a fake engagement for Phil and Judy but it is all mostly window dressing for the great song and dance numbers.
The best dancing sequences are Best Things Happen While Your Dancing, Minstrel Number and Choreography.  During these numbers it feels like Singin in the Rain or American in Paris- an old school Hollywood musical where the plot stops for terrific dancing.  I have no problem with that at all.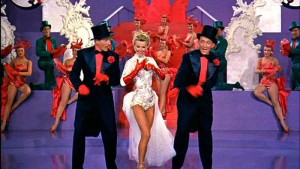 The best singing portions are Snow, Count Your Blessings, Love, You Didn't Do Right By Me, Old Man and of course the title song. There are also humorous song sequences including Sisters and Gee, I Wish I was back in the Army.  The silly moments are mixed in pretty well with the sentimental and even the saucy Didn't Do Right sequence where Betty feels jilted by Bob.
The supporting acting is strong in the film with Jagger stealing your heart as the general and Mary Wickes as his nosey housekeeper turning in fine work.
It's not the most original story but it doesn't need to be.  It's a pleasant, happy, old-school musical for the holidays.  It doesn't have anything awkward like Holiday Inn and isn't sad or downbeat like Show Boat or Oklahoma (all films I like very much).  I wouldn't put it on the same level as Singin' in the Rain but it is in the ballpark.  
Is this a favorite of yours?  Please share with me your experience in the comments and what's an old school musical that you like?  Do your kids like this kind of musicals or do they find them too old fashioned and boring?  I hope not and I hope you have a White Christmas!
About Rachel Wagner

Twitter •