Back in 2014 I debated whether to see Penguins because I actually have not seen any of the previous Madagascar films.  The first one came out when I was just home from my Mormon mission and wasn't really in a movie-going mode yet.  Then I didn't hear great things and so I never bothered to see any of them.  (I am not a big Chris Rock fan and I really dislike the Shrek movies so not much appeal. But I had set the goal to see all the animated movies, so I decided to go and check it out.  And you know what? It's actually really funny.  It reminded me of the first Naked Gun movie. Just one joke after another and they all made me laugh.  It's not as inventive or creative as Lego or Mr Peabody and Sherman which also made me laugh but I was thoroughly entertained by the film and the kids around me were laughing long and hard.
Like I said, it is a spoof on spy movies with the penguins Skipper (Tom McGrath), Kowalski (Chris Miller), Rico (Conrad Vernon) and Private (Christopher Knights) on the case to track down an Octopus named Dave (John Malcovich) who is trying to kidnap the penguins because all the zoo patrons think they are so cute.  Our intrepid crew is aided by a band of high tech super spies called the North Wind led by a wolf named Classified who is voiced brilliantly by Benedict Cumberbatch (not that many celebrity voices in this, which was refreshing).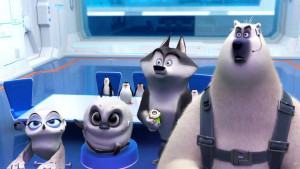 They go through all kinds of hijinks but the plot is really secondary as is the animation, which does the job it needs to do.  With a movie like this you either think it's funny and laugh or you don't.  Everyone has a different sense of humor, so all I can say is that I laughed a lot. So job well done!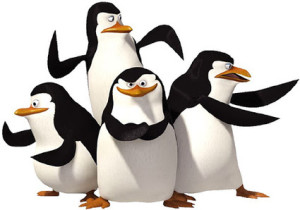 It also doesn't have any of that cheeky 'wink wink' tawdry humor other Dreamworks films have (like Shrek).  I really hate that.  Most of the jokes are word humor like when they make fun of Dave's ordinary name for a super-villain or when Dave skypes in and his audio doesn't work.  It's a very tightly written funny script.
I'd be curious to know if you all found it funny. Like I said, humor is so subjective and there isn't a ton else to recommend this film.  Let me know what you think!
Overall Grade- B (I'd give Peabody and Sherman a B+ and Lego Movie an A+ because both made me laugh a lot and were more visually inventive than Penguins but they are all great fun!)
About Rachel Wagner

Twitter •