When you give birth to a handicapped child people start coming out of the woodwork from government agencies, the county health department, experts of various kinds . . . I think the hospital has some responsibility to let them know about the birth.  When my Down syndrome son was born I didn't want to be bothered with these people and their philosophy of "early intervention".  This was the third child in our family.  I already had a lot going on, you know?  
For the first year or so I think that county health nurse came once a month.  She'd evaluate physical development and take some notes.  "I don't have time for this," I thought.  I later learned that for
some people having a handicapped child is so disappointing that they don't treat the child very well. Apparently this nurse is mostly coming to check for abuse and the rest of it is just window dressing. It is a noble cause and I would have been more receptive with that knowledge but I understand now why they can't tell you that.
Directed by someone in this bevy of people my son started early intervention (development) classes at 4 months old.  They did a lot of things there that I didn't see the need for.  They said it would help him so I attended.  Even though none of the kids had any teeth we were instructed to put different instruments in our children's mouths and simply move it around.  The sticks varied from just a post with bumps on it to a full-on toothbrush eventually.  There was a 2-foot square piece of plywood covered with carpet they would lay the child on.  This device would sway from ropes tied to its corners.   We sat in a circle and the teachers blew bubbles into the center.  
Developmental Delays
Low muscle tone makes Down syndrome babies kind of "floppy" and is one thing that contributes to the earliest measurable developmental delays in Down syndrome children.  One day as my son sat with his bottom on the ground but slumped forward with his face near the floor a physical therapist adjusted his hips in such a way that made him straighten his spine and he sat up instantly.  That's when I started to get on board with these people.  So come to find out, I also could develop and become educated over time in this place.
The sticks stimulated the muscles in their mouths to tone up both tongue and cheeks for when there would be food in there and tolerance for when there was need for a toothbrush.  The swaying platform allowed for the child to internalize the need to balance and anticipate movement so they could eventually learn to walk.  And the bubbles . . . some of the kids would reach for them as they floated up and away, some would at least watch them go.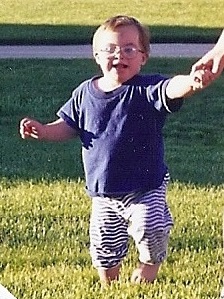 Joe did absolutely nothing, over and over, week after week, with my bored 3 year-old stumbling on and off of the uncontrolled platform until they asked me to stop bringing him, so now we were into babysitters and expense – all for something that accomplished nothing as I supposed.  I could sit on the floor and do nothing with my baby at home without all this trouble . . . but there's more to the story of the bubbles.
At age 12 months my son was prescribed (don't ask me how they do that), then fitted with eyeglasses and we made one of our regular twice weekly runs to the school.  Ho hum, big sigh, time for the circle with bubbles again.  I wish you could have seen the look on my son's face with the first bubbles that emerged.  He had never seen them before!!  He immediately reached for one, and with both hands he reached and began tracking them with his eyes to catch up to them.  His whole being seemed to marvel at this wonder.  It was such a delight to watch him bounce and stretch and show ambition, animation and interest.  I was finally catching on to what these people had known for a long time.
My Own Weakness
Unfortunately there was one more place I would again exhibit my own developmental delay.  Folks at the school set aside time on each visit to work on sign language.  I evaluated and made a conscious decision that I didn't want to encourage the sign language component for Joey.  I reasoned that my son would be less motivated to learn to talk if he could get by in this way and I wanted my son to talk!
Again, my heart wasn't in it, but we stayed.  They'd demonstrate with their hands – I'd move Joey's hands to imitate their movements.  He made no response or indication that he had any idea what was going on.  We never practiced at home other than to show the other members of our family what the signs were.  Week after week, my lack of interest, physical and mental delays:  we just worked our way along in our life.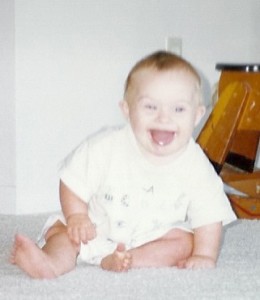 In those first couple of years if you were lucky you could coax a smile out of Joey but you had to wait for it.  Once in a while he'd turn his head in the direction of a sound.  He never cried or showed either satisfaction or dissatisfaction except when he was in your arms and someone handed him his blanket to go to bed and you could just feel him totally relax and put his head on your shoulder.  Sweet as it was, that was it.  
One day with Joe on his father's lap we were celebrating Grandma's birthday with ice cream cones. My husband took a lick off his cone and then held it down in front of Joe to see what he'd do.  He took a lick.  Conversation went on around the table when I noticed Joey with each hand folded so the fingers were touching the thumb and bouncing the tips of the fingers of his hands together.  "More …" I said, "He's signing 'more'!!!"  It still gives me chills to think about it.  
The first time we ever really knew what he wanted, what his opinion was of something.  The first time we experienced what was in his mind!  We knew his own original thought!  It brings tears to my eyes to recall it.  We communicated with our boy!  We signed and licked and laughed – what a great night.
Listening to Experts
Do you think I learned my lesson about listening to the experts?  My son did eventually learn to talk but it was a very long way off.  And in the meantime we could interconnect with our son and know for a fact how we could make him happy.  He learned to walk at age 3.  Early intervention on balance and posture had helped with that.  He's quite an artist, and the number of pairs of glasses we have gone through in twenty years will tell you that we value his ability to see clearly very much.  If it hadn't been for "early intervention" who knows how long it would have taken for us to learn these things, if ever.  
I didn't like having people coming and going in my house early on in my son's life.  I was tired and I was uninformed.  I am so grateful now for all those people and all their training that they shared with me and my son.  I regret now that there are some with whom I may have seemed impatient or perhaps even not been too nice to on a given day.  I have even come to terms with the hospital telling these people all about us without my permission.  (Though maybe I did give them permission; those first few days were kind of a blur.)  
There are a lot of new things to learn when a handicapped child enters your home.  I am grateful that there are those who have gone before and who set me up to be in a time and place where their knowledge could make life easier for me and my son. Though I "fought the system" at the beginning I learned that those early intervention programs made a world of difference in his future quality of life.
About Jane Thurston

Twitter •