This week we enter Pixie Hollow once again and talk about the 3rd and one of the best in the Tinkerbell films- Tinkerbell and the Great Fairy Rescue.  Because it is straight to DVD, I feel the Tinkerbell franchise does not get the credit it deserves. They consistently have good stories, characters and animation; and, so far I've liked all of them but there are a few things that make Fairy Rescue special.  
For starters, unlike Tinkerbell and the Lost Treasure, Fairy Rescue features all of the faeries as well as having a good story for Tinkerbell.  The main plot is that Tinkerbell gets the chance to go to the Mainland with the other Nature fairies.  This is a dream of hers, which she normally doesn't get to do with her job as a tinkerer.  Unfortunately, when she gets to the Mainland she finds the human gadgets too fascinating to resist.  She ends up in a little house built by a little girl named Lizzy who is fascinated with fairies.  
Lizzy's father doesn't believe in fairies and gives her a field book for her to make other scientific observations.  Tinkerbell is at first terrified of Lizzy but after a bit she warms up to her and they start communicating. Lizzy uses her field book to write down all of the information she is learning about the fairies to show her father.  Unfortunately, he still does not believe her until he actually see's one later in the film.
Meanwhile Vidia, who is partly responsible for Tinkerbell's capture, rushes to find the other fairies and get back to rescue Tink.  Vidia, Rosetta, Iridessa, Fawn, Silvermist, Clank and Bobble all start out to find Tinkerbell but it is raining heavily and the fairies wings don't work when wet.  This forces the team to be creative and build a boat.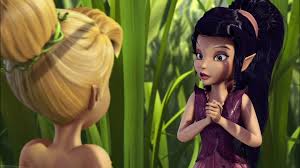 Once they find Tinkerbell they all must work to save her and another fairy that gets captured with Lizzy as an ally.  Lizzy even gets to fly at one point! 
There are a lot of things I like about this story.  First of all, the animation is great.  I particularly loved the water scenes on the boat.  They are very well done.  For a budget of only $30 million all the character design and action is great.  
I also like how we get a story split up between Vidia and the fairies and Tinkerbell and Lizzy.  Both sides work equally well. With the fairies you get action and excitement.  Things are tense but not too tense and Clank and Bobble are always good for laughs.  Also there is interesting lesson that Vidia learns to be more peaceful and not try and teach Tink a lesson.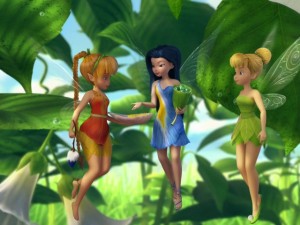 Tinkerbell and Lizzy learn to not make quick judgments of others, to communicate without words, and to marvel and others differences instead of fearing them.  Also, Lizzy's father learns to believe in things he can't see or prove- to have faith.
Like all the Tinkerbell films, the voice work in Fairy Rescue is great.  We have all our returning cast which includes Mae Whitman, Pamela Adlon, Lucy Liu, Raven-Symone, Kristin Chenoweth, Rob Paulsen, Jesse McCartney and more.  They are all great.  There are also new performers for just this film that are wonderful like Lauren Mole as Lizzy and Michael Sheen as Dr Griffiths.
While Tinkerbell movies are never going to be at a Pixar level of animation or storytelling, I think they do a pretty great job. They are engaging stories, well told and Tinkerbell and the Great Fairy Rescue is no exception.
I think particularly your girls will really enjoy it.  The Tinkerbell movies are more feminine oriented, but I don't see any reason why boys couldn't be prevailed to watch it as well.  It's also not boring or stupid for adults to watch with kids.  I think if you give it a shot you will find them a lot better than you expect them to be.  At least that is my experience.
Let me know if you like the Tinkerbell movies and what you think of The Great Fairy Rescue.  I would love to hear some feedback on what films I pick and my reviews.  Thank you in advance.
About Rachel Wagner

Twitter •