When you become a movie fan you start to notice certain things can sink or save a movie.  Sometimes it's a great performance.  Other times it's a beautiful setting.  Sometimes it's great dialogue.  In the case of 1982's Annie it all comes down to the music. Without the music it might actually be kind of morose and gloomy but the songs brighten the whole thing up and make it a delight.
Directed by John Huston Annie takes the famous play based on the radio show and adapts it to the big screen.  It tells the story of Little Orphan Annie who as the name suggests is an orphan in 1933 New York.  She lives in a dive with a bunch of other girls who are treated horribly by the headmistress Miss Hannigan.  In this version she is played by Carol Burnett.
Miss Hannigan is a beast of a character.  She practically runs a sweat shop in the orphanage, making the girls clean and sew day and night.  She is drunk most of the time and tries to seduce Daddy Warbucks in a somewhat tawdry way.  This is tempered by the performance of Burnett who is so likable and endearing as a performer that we give her a bit of a pass when she is cruel and mean.
Plus, you quickly have a bright and cheerful song to break up the mood.  Some of my favorite are 'It's a Hard Knock Life", "Never Fully Dressed Without a Smile", "I Think I'm Goona Like it Here" and more.   Burnette hams it up in "Little Girls" which is her best scene by far.  They add new songs from the stage show but I don't particularly love any of them.  They add 2 reprises of "Maybe" , which is one of the more tender songs  but I feel they could have made "Tomorrow" a bigger moment.  It is a bit forgotten squashed into a conversation.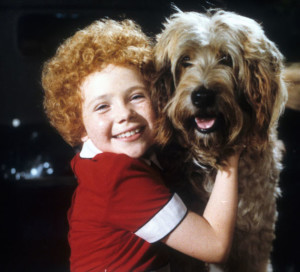 But the music is so important in creating tone.  They make it easy to gloss over the films cheese factor and weaker moments.  The performances also help in addition to Burnette you have Albert Finney as Daddy Warbucks, Aileen Quinn as Annie, Bernadette Peters, Tim Curry, Ann Reinking, Edward Hermann and more.  
Aileen Quinn and all of the girls are clearly Broadway veterans both in their natural acting and beautiful singing voices.  It makes me smile whenever I hear those girls sing.
On this rewatch I did notice more adult moments than I had seen before.  Like I said, Miss Hannigan can be quite inappropriate,  vulgar and mean.  Plus, Annie is kidnapped and chased up a bridge where she is hanging for her life.  It's pretty tense stuff for small kids.  I was surprised how many awkward moments there were.  
That said, I think much of it will probably go over the kids heads, as it did mine.  I think they tend to focus most on the music like I did.  I think the thing that makes the songs work is they are right in a little kid's singing range so they are easy to belt out as loud as they can.  It makes them great for kids to feel like a Broadway pro.
I will also say the Disney version in 1999 is cute with Kathy Bates as Miss Hannigan but steer clear from the 2014 version, which I thought was awful.  They change the music around and Cameron Diaz was horrible in it.  Stay away!
In this version John Huston has done a great job crafting an old fashioned feeling musical that is very entertaining for both kids and adults.  I think you will really enjoy watching it as a family.  There aren't any little boy characters but I think your little boys will still find characters to enjoy and relate too.  
The only thing to consider is if you want to have little girls singing Annie songs for the two weeks after you see it as a family.  I can almost guarantee it will happen!  There's just something infectious about these great songs.
What's your favorite song from Annie?  Was there a musical you really responded to as a child? Let me know in the comments section.  Thanks so much.
About Rachel Wagner

Twitter •