Certain movies are easy targets for cynics and critics who won't give them much of a chance to begin with.  The Barbie movies are probably a prime example of such films.  Not only is the titular heroine a doll that feminists hate but little girls love but they are the dreaded DIRECT TO DVD!!!  They must suck then!  But you know what? If you can have an open mind I think you will see the effort put into them for their target demographic of little girls.  
I hope to review many of the Barbie movies but today we are going to start with the 2nd in the series (first is Nutcracker which will wait until the holidays) Barbie as Rapunzel.  This film was released in 2002 and the animation is rough but I still think there are things to like within this version of the classic fairy-tale.
Barbie as Rapunzel starts off in modern times with little sister Kelly getting frustrated with her paintings.  Barbie tells her sister a story of a girl who had a magic paint brush- Rapunzel.  In this version, Barbie as Rapunzel is captured by Mother Gothel who tells her she was abandoned and should be grateful to be cared for.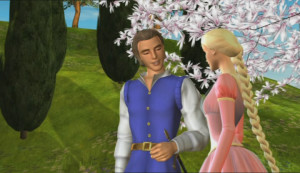 In kind of a combination of Cinderella and Rapunzel, she is forced to work for Mother Gothel but luckily she has 2 friends a dragon named Penelope and a stressed out rabbit named Hobie.  Penelope's father is aligned with Gothel as well as a ferret slimy ferret named Otto.
One night Rapunzel finds a passageway underneath the staircase which takes her to the town.  She meets a little girl named Katrina who Rapunzel helps rescue.  Katrina's brother is conveniently Prince Stefan but Rapunzel doesn't know that's who he is.  
Rapunzel also finds a magic paintbrush that seems to be a gift from her parents.  If she paints with the brush it transports her to wherever the painting is.  This allows her to go to the ball, meet the Prince and the story goes from there.
There are a lot of unexpected strengths in the Barbie films which might be easily overlooked.  First of all, Kelly Sheridan is wonderful as the voice of Barbie.  They also always get other great voice talent including in this film Anjelica Huston as Mother Gothel (was there ever perfect casting or what!).  Everyone fits their characters and it flows well.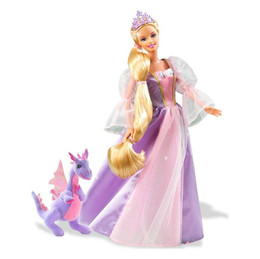 They also do a good job in the music (at least in these early films.  Barbie as Rapunzel uses the London Symphony Orchestra playing Antonin Dvorak's Symphony No 9 to help with the score.  I wouldn't expect that kind of soundtrack in a direct to DVD film.
The story is also solid.  It's a fairy-tale but they make it their own with a few little flourishes here and there.  Like in Barbie as Rapunzel the paintbrush element and combining Cinderella into the story was very creative and helped it feel different.  
I also liked all of the sidekicks and funny friends I thought were cool as well.  It's creative to have a dragon and bunny as friends.  Who would have put that combination together?  
Of course, there are definite downsides to this film.  The animation is rough.  Sometimes it is tough to look at it is so badly rendered.  Remember this was the very beginning of the computer animated films so I try to cut them some slack.  I suppose it is one example where as an animation fan I am willing to forgive bad animation.
In general I find kids don't mind the unrendered animation and get used to it pretty quickly.  If it is a deal breaker for you as an adult I understand that but I still find it watchable and enjoyable.
Either way it is nice to see a series that could be super silly actually care about what it is putting out there for little girls. There is real effort that goes into the Barbie Movies and I think it shows.  I look forward to reviewing more of them over the months.   If you have a favorite please let me know in the comments section below.
At the very least I can confidently say that the Barbie movies are leaps better than the Bratz movies!  That's for sure.  
About Rachel Wagner

Twitter •