Today I am doing a bit of catch-up.  Over on my channel I am reviewing a Batman film this week and Superman next but I wanted to combine those for an article next week.  It will coincide with Batman v Superman opening in theaters, so I hope you will enjoy it.
Anyway, I thought I would review for you a film I missed writing up in December-  The Nightmare Before Christmas.  It might seem like an odd fit for March but it is kind of an odd fit for any time so why not?  It's one of those films that is part Christmas, part Halloween, part musical, and part everything, so it works.  
A lot of people think Nightmare Before Christmas is directed by Tim Burton but he only produced the film.  It was directed by Henry Selick who would go on to direct Coralline in 2009.  It is a stop motion animated film and it was a real game changer in the world of animation. It embraced a darkness and spooky imagery I had at least never seen as successfully executed in a film.  Certainly there are moments of darkness in films like Pinocchio but to have an entire landscape of darkness and make it work is truly phenomenal.
Nightmare Before Christmas gets a long way on its world building alone.  Selick is able to create a land of holidays.  Jack Skellington is king of Halloween Town which is responsible for putting on you guessed it Halloween for all the humans.  
One day he stumbles upon a hub that takes him to all the holidays.  He chooses Christmas Town and is blown away by what he finds.  It's a world of lights, packages, bows, giving and Santa Claus.  Jack is in love with Christmas and what impresses him the most is how happy everyone seems to be.  He even sings his feelings!: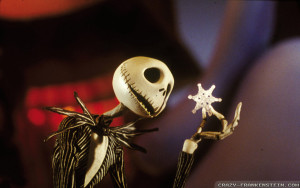 What's this?
The streets are lined with
Little creatures laughing
Everybody seems so happy
Have I possibly gone daffy?
What is this? What's this?
It is this enthusiasm that makes Jack such a likable character.  He is so excited by what he sees that he rushes home to tell his followers in Halloween Town all about it.  Innocently he assumes he can duplicate this cheerfulness in his town and so he decides to do his own version of Christmas.  
In any other story Jack would be the villain but he means well so it is hard to hate him.  In fact, he's so likable and sweet. Listen to him describe a stocking with glee:
Listen now, you don't understand
That's not the point of Christmas land
Now, pay attention, we pick up an over-sized sock
And hang it like this on the wall…
What a splendid idea, this Christmas sounds fun
Why, I fully endorse it, let's try it at once
He just wants to be happy and spread joy.  How can you not like that?  Jack also has a girlfriend named Sally who is a creation of Frankenstein and she sees Jack's folly and tries to warn him.  She sees he is trying to be something he isn't but he is so excited she is unsuccessful.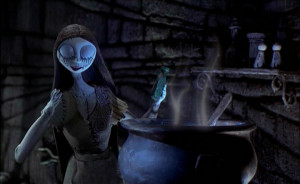 The rest of the story plays out the way you might expect but it is all done so beautifully that it is completely captivating.  The visual style and movement of the stop motion changed animation forever.  The music by Danny Elfman is haunting, funny and sometimes quite tender.  It stops it from being scary because it is so self-contained and all the characters are so sincere.  
All the voicework is top notch including Chris Sarandon (spoken) and Danny Elfman (singing) as Jack and Catherine O'Hara as Sally.  I don't particularly like the Oogie Boogie section as I think it comes across as too mean spirited for the film but other than that it just works.
Obviously Nightmare Before Christmas isn't for your toddlers or very small children but older kids have been shown to be able to handle it.
It also teaches a nice lesson about not trying to be somebody that you aren't.  You may see something another person has and it looks bright and fun but it may not be for you.  Kids need to learn to be who they are meant to be and not copy anybody else. I love these words from Jack as he realizes the mistake he made:
Well, what the heck
I went and did my best
And, by God, I really tasted something swell
And for a moment, why
I even touched the sky
And at least I left some stories they can tell
[spoken] I did!
And for the first time since I don't remember when
I felt just like my old bony self again
And I, Jack, the Pumpkin King
[spoken] That's right! I am the Pumpkin King!
That's a powerful statement when you think about it.  Jack tried, he did his best and for a moment he 'even touched the sky' but he has learned where he belongs and what he needs to do.  It's quite a moving journey we are able to take with this character and I think that journey is sometimes lost in the grand ghoulishness of the production design.
Nightmare Before Christmas is not available at the moment to stream on Netflix but it is available to rent on the major platforms.  If for some reason you have not seen it definitely give it a watch.  It is a very important film in the history of animation and something special to share with your kids when they are old enough.  
About Rachel Wagner

Twitter •