As an animation addict it can be easy to discount properties that are deemed as 'cartoons'.   This word sometimes designates a lower level of quality than the grandness of animation.  It was with this thought that I never really paid much attention to the Cartoon Network's slate of offerings including their popular Powerpuff Girls series.  However, recently I started watching some of their shows and with the announcement of a Powerpuff Girls reboot I decided to give the Powerpuff Girls Movie a shot.  To  my pleasant surprise I really ended up enjoying the film (and the new series that started last week on April 4th).
Powerpuff Girls Movie was a flop when it came out but there's more to it than you might think.  It's an origin story for the girls but also pokes fun at a lot of different superhero tropes. Even the actual creation of the girls jokes around with the mad scientist gone awry story we so often see.  The dialogue is also full of parody of superhero films and is very funny.
In the story we get Professor Utonium making the Powerpuff Girls out of sugar, spice and everything nice to help the people of Townsville fight its crime problem.  These girls are Bubbles, Blossom, and Buttercup and they each have different personalities that complement each other very well.  Buttercup is probably my favorite because she's a realist but still sweet.  Bubbles is very cute and Blossom is the voice of reason in the group.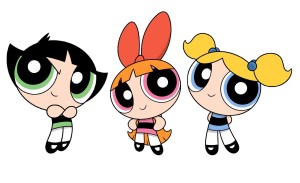 The story isn't too complicated but it basically is about how the people of Townsville react to the Powerpuff Girls.  At one point they cheer them on, and at another they are afraid of their powers and even imprison Professor Utonium.  The girls flee to a moon in outer space because they feel they can't help the people of Townsville the way that they want.
There is also a monkey named Mojo Jojo that gets the serum and turned into a super evil monkey.  He builds an army of monkeys and tries to convince the girls he is on their side.
The animation in the Powerpuff Girls movie is beautiful, bold, striking and right out of a comic book.  I like that you can see the layers in the 2D animation on top of the backgrounds.  It's something you lose in the CG dominated animation world.
The voice cast is also excellent with Cathy Cavadini (Blossom), Tara Strong (Bubbles), and EG Daily (Buttercup).  Some of the best voice actors in the business provide supporting work such as Jeff Bennett, Tom Kenny and Rob Paulsen.
Powerpuff Girls Movie teaches a nice lesson about being who you are made to be- not hiding or being fearful of the world.  But it is not a super message heavy film.   It's more just a fun superhero movie with cute little girls.  There is a fair amount of destruction but it is all so comic book influenced that it didn't bother me.  
I bet it is a film that not many little kids have seen but it holds up and I think they will all enjoy it.  It has something for both boys and girls.  Boys can enjoy the action and defeating Mojo Jojo and girls obviously will like the Powerpuff Girls.  Parents can laugh at the moments of parody.  
Let me know what you think.  Are you going to be watching the new show or do you have no interest in the Powerpuff Girls Movie? (by the way, there is no reason you have to watch the show to enjoy the movie).  What's your favorite of the Cartoon Network shows?  
Regardless, enjoy watching Powerpuff Girls Movie.  It's a fun sweet little film for the entire family.  
About Rachel Wagner

Twitter •