Nostalgia is a tricky thing when it comes to movies. Some movies require it to be enjoyable and some movies are bolstered and made better by it. The Peanuts Movie, for instance, is a film that was made better by nostalgia.  I really loved that film on its own merits but my nostalgia for all things Peanuts made me especially love it. With the recent LDS film, Saturday's Warrior, nostalgia may take viewers a long way in enjoying the film.  However, as someone who has little to no nostalgia for Saturday's Warrior, it isn't a great movie.
As most of you know Saturday's Warrior is based on the popular stage play written by Lex de Azevedo and Douglas Stewart in the 70's.  Azvedo wrote all the songs, which are definitely the strongest and most memorable aspect of the film.  For this revamp, they added some new songs.  So it's not exactly like the original film.
The story starts in the pre-mortal spirit life where the family is gathered to say goodbye as each of them leave to join their earthly family.  The oldest two, twins Jimmy and Pam, promise the youngest, Emily, that they will make sure their parents don't get tired of having kids before they can have her, the 8th child.
Then Julie, the second daughter, sings to her love Tod that they will find each other on earth. The last group is Wally Kestler who is desperate to go on a mission and convert the world.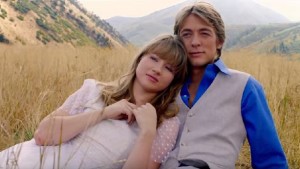 Once they get to earth, things get more complicated with the appeal of that darn old rock and roll music (gets you every time!) and Jimmy gets dragged into a band that is up to no good.  They even start singing a song literally called 'Zero Population' criticizing his big family and threatening the birth of little Emily.
Meanwhile Tod hasn't been born with the gospel and is an artist and poor Elder Kestler doesn't have much luck on his mission (until he meets Tod…spoiler alert).
The main appeal to this movie is the songs.  If you have nostalgia for the songs than you will probably enjoy it.  There is no attempt to lessen the camp at all and this is true for the songs.  Aside from having popular Mormon singers like Alex Boye involved, they feel like they are straight from the 1970's.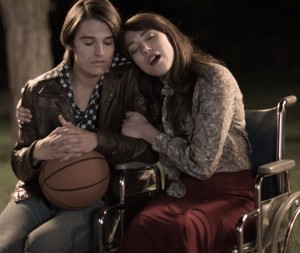 I guess you either go with that kind of vintage feel or you don't.  There's also no attempt to update the production either.  It might as well have been shot on the Brady Bunch set with how low budget, 1970's it looks.  That has some appeal but wears thin after a while.
One thing that was weird is the camerawork seemed off the entire time. I am wondering if there was something wrong at my screening.  It felt like everything was chopped off.  You'd have characters talking and their foreheads would be chopped off of the shot.  It was very weird but when I watch the trailer I don't see that happening.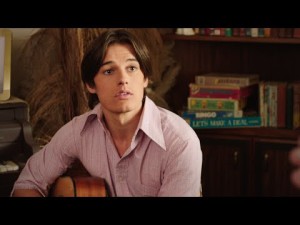 The acting feels amateurish and it is a religious film where the Mormon way is the right way and the other is the way of the devil.  Not a whole lot of in-between.  If you are looking for a subtle movie about faith this is not the film for you. It's very cheesy but I knew that going into it.  No surprises there!
To be honest it all feels like a Mormon episode of Saved by the Bell.
If you are a big fan of the music than you will probably enjoy it.  I had fun with it on that level but I can't really recommend it.  It's not a good movie but not the worse thing I've seen either so take that for what you will.
I give it  2/5 stars
About Rachel Wagner

Twitter •