Because it is constantly evolving in front of us I don't know if most moviegoers appreciate what Marvel has done with their movies in the last 8 years. I mean how often is the very concept of cinema reinvented?  That's essentially what Marvel did with their cinematic universe. Now everyone is trying to jump on that train but nobody has been able to do it 1/10th as well as Marvel with the Marvel Comic Universe (MCU for short). Recently I have watched all of the Marvel movies in both phase 1 and 2 and in my opinion they haven't made a horrible film. Sure there are ups and downs (4 I only gave 2 stars to) but they are all watchable to one degree or another.
I thought it would be fun for this week's family movie night to talk about the first entry in the MCU, "Iron Man".
I would currently rank "Iron Man" as the 5th best in the MCU but I give it a near perfect score. It is an extremely entertaining comic book movie.
"Iron Man" tells the story of Tony Stark who is the charming egotistical owner of Stark Industries which produces military equipment and other devices. To start the film Tony is in Afghanistan when he gets abducted by terrorists and forced to build one of his electromagnetic weapons. However, Tony tricks them and instead builds an iron suit that allows him to break free and fly to safety.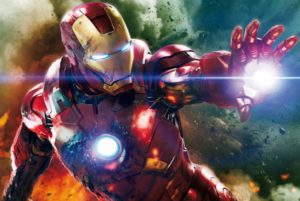 Once he is home he refines his suit and decides to stop selling weapons and use his new powers to do good instead of evil. We then meet his assistant Pepper Potts, mentor Obadiah Stane and friend Colonel James Rhodes.
There are a lot of things that make "Iron Man" work well. First of all, the casting. Robert Downey Jr is tremendous as "Iron Man". You buy the ego but he also remains likable. He was a risky casting decision for Marvel at the time because of his history of drug addiction but I think that past makes his portrayal of Tony more grounded than it otherwise might have been.
It is also cool that Tony's superpower isn't really his suit. Sure that helps him be more powerful but what really makes him special is his intellect. Now the Tony in subsequent movies loses some of that intellect making stupid decisions but in this film he is smart. I love a conversation between Obadiah and his crony William Ginter Riva:
Obadiah Stane- "Tony Stark was able to build this in a cave! With a box of scraps!"
William Ginter Riva: "Well, I'm sorry. I'm not Tony Stark."
Tony is what makes "Iron Man" special and it is this problem solving ability that makes Iron Man a good hero for you and your kids. Sure he can be a bit of a player but I think that is a shallow understanding of his character. He's an orphan with unlimited funds who acted out to get attention. But when he was faced with the realities of war he changed and used his intellect to save himself, save the world, and make things better.
It is also a well written movie with some good one liners.  And Jeff Bridges makes a decent villain.
I know some people have superhero movie fatigue but I think it is important to keep yourself open to great films in any genre. Marvel has produced a fantastic film in it's most recent installment "Captain America: Civil War".  But it all started with another fantastic movie- Iron Man.
What do you think of Iron Man as a character, all the films, and the first Iron Man movie?  Stay tuned for my review of "Captain America: Civil War" next week.
About Rachel Wagner

Twitter •