By the time you read this post most of you will have probably seen "Captain America: Civil War" and I hope you enjoyed it. I certainly did. You can see my review here:
So instead of repeating what I and other critics have said I thought I would take a different approach. At first glance it can seem like there is nothing to take away from a film about fighting and violence that is helpful for a family. However, if we dig a little deeper there are valuable lessons to be found. A lot of it comes from looking at the entire story that Marvel is telling more than just the story of "Civil War".
Captain America and Iron Man are the two lead characters within the Marvel Universe with perhaps Thor thrown in the mix. They have had the most stand alone movies and get the most screen time. So let's look at both of their character journeys to see what we can learn from them.
Iron Man-
Tony Stark as played by Robert Downey Jr started the MCU with a bang with his first "Iron Man" movie. In this film he is brash and cocky but after being held hostage by terrorists he realizes the effects of his cavalier ways and decides to change. This starts the evolution of Tony as a man and superhero. In "Iron Man 2" he lets fame get a little to his head but he also changes a lot in what his company is selling and trying to be a good person.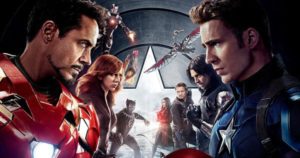 Then we get to the "Avengers" where he takes on Loki with a team of support but Agent Coulson dies and they almost loose. This is clearly affecting him when we get to "Iron Man 3" where Tony is suffering from panic attacks and having a hard time dealing with the pressures in his life.
Then finally in "Age of Ultron" Tony sees a vision of what may happen to his friends and combined with the panic attacks he can't deal with it, so he creates Ultron. Of course, this goes completely wrong and Ultron ends up a villain instead of a support.  This is what brings Tony to the events in "Civil War". He is broken down and insecure about his ability to make choices. He wants to join the Sakovia Accord so that he 'can be put in check' and I think that says a lot about his mental state that such a check would be welcome.
Captain America- 
Then we have Steve Rogers who begins as an eager soldier. He wants to serve his country and is willing to do anything to make that happen. He undergoes the experiment and becomes the immortal Captain America. As a young soldier he sees the corruption around him and is wary. He doesn't want to grant the Sokovia Accord power over him- to take away his agency.
This makes sense when you think of Hydra in the first movie inciting World War and then Alexander Pierce in the "Winter Soldier" film infiltrating Shield. If Shield can be vulnerable than anyone can and he can't be at the whim of corruptible bodies like that.
So you have two sides- one man looking for control and order, and another seeking agency. What a great Family Home Evening talk that could be!  Neither is necessarily wrong but it is their conflicting ideas that lead to the conflict in "Civil War".
There are also other good messages in the film such as loyalty, friendship, forgiveness and bravery. Plus, it's just a ton of fun as well so kids should enjoy it either way.  There is obviously some action that might be intense for very small kids and there is a torture/waterboarding scene I thought was gratuitous but overall I think it is a great comic book movie.
Have you seen it? What lessons did you take from it? I would love to hear your comments.
About Rachel Wagner

Twitter •