Everyone has those guilty pleasure movies. Films you know aren't 'good' but you still enjoy watching. Today's suggestion for Family Movie Night is one of my guilty pleasure films, so I suppose it is a bit of a risk to recommend to all of you. I don't know if you will enjoy it as much as I do. If you hate it I will understand but all of my recommendations can't be predictable can they! Today we are talking about the 1997 classic- The Beautician and the Beast.
I must own to having a weak spot for Fran Drescher. A lot of people find her voice and laugh very annoying but there is a warmth to her that I always respond too. I love her 90's sitcom The Nanny. In that show she played a woman named Fran Fine, a makeup salesgirl, who by mistake ends up getting hired as nanny for a rich Broadway executive named Maxwell Shefield. Fran and Maxwell had terrific chemistry and Fran has a warmth with the children that makes some of the sillier moments work.
In Beautician and the Beast we get a very similar storyline to The Nanny.  Fran plays Joy Miller a hair stylist instructor who mistakenly gets hired as a teacher for the children of an Eastern European dictator named Boris Pochenko (Timothy Dalton). This is of course very silly but once again Fran is winning with the kids. You immediately know that she loves those kids and wants them to be mothered.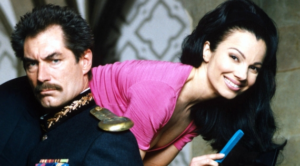 She also brings her sassy New York spirit in her interactions with Boris. He is repulsed by her at first but she keeps on speaking her mind. One of my favorite scenes is when Fran goes with Boris to a factory. He is proud of the feigned obedience the workers are giving him while Fran begins encouraging them unionize and revolt! I like when Fran gets to know the men and women who work for Boris and when she introduces him to them he doesn't even realize they work for him. Fran once again has a winning chemistry with all of them.
There is a lot of funny dialogue and good laughs from Fran. Like I laugh when she says "In our country we can marry who we want. I decided on John Kennedy Jr., and while he's in denial, I'll travel. "
Timothy Dalton and Fran Drescher oddly enough have fantastic chemistry together and Fran is great with the 3 child actors. I love when she is planning the party for Boris and brings in fast food and boxed lo mein. It's just the kind of thing a girl like Fran would do for an easy party! The grumpy prime minister who is trying to shut Fran down is a tired part of the film. It shines when she is with the family more than anything else. Of course, it is also very predictable but I think that can be expected in a fairytale adaptation like this.
I rarely find comedies that make me laugh these days, so I guess I have a fondness for Beautician and the Beast. I know it is pretty corny and not a 'great' movie but I still really like it. It's one of those movies that when I'm sick I put it on and have a nice laugh and enjoy my guilty pleasure.
Do you have a guilty pleasure film? Have any of you seen Beautician and the Beast? What about The Nanny?  If you do get a chance to see it let me know what you think.
About Rachel Wagner

Twitter •