It's kind of a funny world we live in where if you mentioned the names- Donatello, Leonardo, Rafael and Michelangelo people don't think of famous artists but of mutant turtles who are skilled in ninja. That's right The Teenage Mutant Ninja Turtles are probably one of the strangest comic book properties but they are massively popular with generations of kids. Recently we saw the release of Teenage Mutant Ninja Turtles: Out of the Shadows, which I didn't hate.
However, it's nowhere near as good as the turtle film of my youth, Teenage Mutant Ninja Turtles. Arriving in 1990, the original Turtle film gave us a wonderfully balanced enjoyable comic book movie and I think it is a little bit underrated. It's not just a watchable movie but it is a genuinely good film with likable characters, good action scenes and a balanced tone. So, it is my pick for family movie night this week and let's talk about why I love it.
The best thing about Teenage Mutant Ninja Turtles is it combines a cheeky sense of humor, with a mystery and action scenes. We also get an origin story without it feeling like an origin story. The Turtles Rat sensei Splinter sneaks in a little bit of origin while talking to April O'Neil (Judith Hoag) but it feels natural and not overbearing. It's just kind of an introduction to both April and the audience at the same time.
With the Turtles we have 4 brothers and in this film it feels like brothers. They have their roles to play- Michelangelo is the cool one, Donatello the nerd, Leonardo the leader and Rafael the strong one, but they aren't slaves to their type-cast and feature different emotions and expressions, which I like. It is also the only superhero I can think of that is made up of siblings and it feels like it. They operate like a band of brothers with Splinter being their father. There are jealousies, contention with support and love there as well.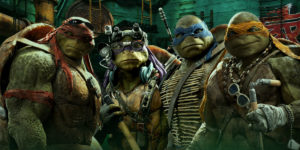 What's unique about the Teenage Mutant Ninja Turtle of 1990 is the film is set up as a detective story. Crime is happening all around NYC and April/The Turtles are trying to figure it out. Shredder, the villain, is more of a crime boss in this film using influential teens to do his dirty work for them. For some reason other versions have been hesitant in showing Shredder as the grizzled, armor-clad character he is and the movies suffer as a result. Shredder here is a take no prisoners crime Lord and I like that. I always like it in comic book movies when the battle between good and evil is clearly delineated.
As the Turtles and April get deeper into Shredder's plans they meet a man named Casey Jones (Elias Koteas) who fights crime wearing a hockey mask. April's boss Charles and his son Danny also become involved with the Foot Gang and Shredder's underworld.
The most important thing Teenage Mutant Ninja Turtles gets right is the balancing of tone- not an easy thing for comic book movies to do. Some of them seem so heavy handed when the action or scares go on to long (Batman v Superman/X-Men Apocalypse) and others let silliness overtake the picture (Green Lantern, Batman and Robin). Here we get darkness from Shredder, real ninja fighting action and then the lighter moments with the boys eating pizza and high fiving each other. It's a really tricky balance they pull off.
I don't want to give away any spoilers but Teenage Mutant Ninja Turtles ends up being a very enjoyable comic book movie. And I think it is a good one for a family because it is essentially about a family. There are lessons to be learned throughout and it doesn't take itself too seriously.
I guess there could be some kids who might be scared by Shredder but most of them will probably be fine. It's not much scarier than the typical animated cartoon these days. It should also be noted the amazing puppetry from Jim Henson's team. The way the Turtles move and fight it's hard to believe they are mostly puppets. The voice synchronization with the puppets is perfect and what could look really cheesy works.
I bet creators Kevin Eastman and Peter Laird are blown away by the continued popularity of their creation Teenage Mutant Ninja Turtles but whether they intended to or not they created a pop culture phenomenon. The 1990 film about the Turtles is I believe still be best and a great choice for you and your family. Let me know what you think and if you like the new one that would be great to know as well.
About Rachel Wagner

Twitter •