Lately at the movies the golden ticket has become the family film. Every studio is trying to make movies that appeal to as many demographics as possible. This makes sense because it gives them a maximum number of people that can buy tickets to movies. However, the problem with this strategy is certain age demographics almost inevitably get the short end of the stick. One such group is the tween group- 9 to 13. In my opinion it is this tweener demographic that is the explanation why High School Musical became such a massive success- and the fact that it is super cute.
High School Musical came out in 2006 and is directed by Kenny Ortega who had previously directed Newsies and Hocus Pocus. Plus he had been a choreographer on many popular films such as Dirty Dancing, Ferris Bueller's Day Off and Xanadu. He brings this exuberance to High School Musical and the energetic dance numbers make the movie.
They were also lucky in casting. Zac Efron has of course become a great star but they also found talent in Vanessa Hudgens, Ashley Tisdale, Lucas Grabeel, Corbin Bleu and Monique Coleman. All of these actors felt believable as high school students and had a nice chemistry between them. Monique Coleman is the only one that is significantly older but it is still believable.
The plot is nothing to write home about. Basketball star Troy (Zac Efron) falls for nerdy Gabriella (Vanessa Hudgens) on vacation and much like Grease it turns out they are going to the same high school. They both worry about being with the other because of their peer groups.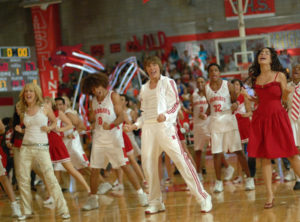 There is also a dynamic of the high school musical which is a nice device for the original songs; although it strains belief to think a high school student wrote these songs it doesn't really matter. I'm willing to go along with that plot. Gabriella wants to audition and Troy wants to impress Gabriella so they both sign up. However, Troy's father is the basketball coach and isn't happy to see his son distracted by drama.
Then you also have Sharpay (Ashley Tisdale) and her brother Ryan (Lucas Grabeel) who are used to ruling the school, especially the play. They hate these new people honing in on their turf and try to sabotage them in any way they can.
The adults, Ms Darbus (Alyson Reed) a drama teacher, and Jack Bolton (Bart Johnson) Troy's father and basketball coach, are thoroughly lame. Ironically they are both the worst actors amongst the young inexperienced cast! Whenever the adults get involved it feels like a sitcom.
But nobody watches High School Musical for the plot. We watch it for the energetic songs and choreography and Ortega delivers this in spades. Some of my favorite numbers are "We're All in This Together', 'Stick to the Status Quo' and 'Get'cha Head in the Game'. They are catchy songs and I like the dancing and creative way they are staged.
High School Musical also teaches a nice message for kids that could lead into helpful family discussions. The main theme is the labels we put on ourselves. Troy wants to be in drama, another kid wants to bake, and another loves hip-hop dancing, and yet they all feel this is out of their defined label. By the end of the film they have ditched these labels and embraced what they love to do. Especially when you are dealing with kids and middle/high school this is a tremendously important message to share.
So I like High School Musical. Sure it's not going to be winning any Oscars (or in this case Emmys) but it's cheerful and I like the music. They have an engaging cast and good dance numbers. It checks off all my boxes for this kind of movie. I think you will enjoy watching it with your family.
If you get a chance to see it let me know what you think. Do your kids like this kind of entertainment or has it passed its appeal? Thanks!
About Rachel Wagner

Twitter •